Music News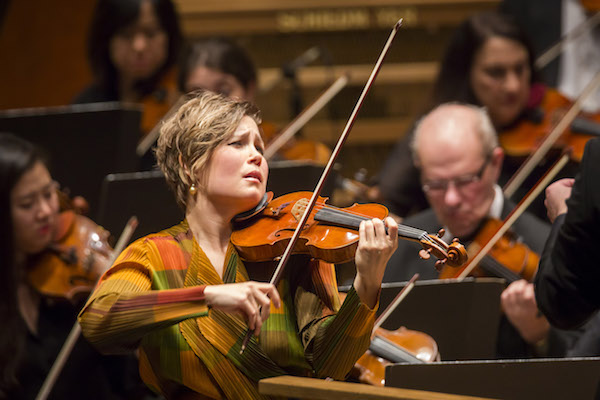 Symphony Preview: Points of departure
David Robertson conducts the St. Louis Symphony Orchestra this Friday and Saturday in a program consisting of just two big works: John Adams' 1993 Violin Concerto and Beethoven's Symphony No. 3 in E-flat major, Opus 55 (or the Eroica) from 1803. Despite the 190 years that separate them, they have something in common: they both represent a distinct stylistic departure for their respective composers.
Beethoven's departure came about as a result of a re-evaluation of his life, described in an 1802 document now known as the "Heiligenstadt Testament." That document, as most classical fans will recall, is a letter Beethoven wrote to his brothers Carl and Johann at the town of Heiligenstadt (now part of Vienna) in which he told of his despair over his increasing deafness and his struggles with thoughts of suicide. The letter was never delivered (it was found among his papers after his death in 1827) and seems, in retrospect, to have acted as a kind of catharsis for the composer.  Before the "Testament" he was a composer/pianist. Afterwards, he would be exclusively a composer.
It also marked the beginning of the emergence of his unique compositional voice. His first two symphonies were clearly in the mold of Haydn and Mozart. But with the Eroica Beethoven created, as Paul Schiavo writes in his program notes, "a new musical genre, the Romantic symphony."
And what a symphony! Those first two big chords are almost like a gauntlet thrown down to challenge established notions of what a symphony should be.  Indeed this first movement displays, in Mr. Schiavo's words, a "dramatic intensity [which] was unprecedented in symphonic composition and remains rarely, if ever, equaled two centuries and more later."
The drama continues with the heroic funeral march of the second movement, the restless energy of the third movement scherzo, and the towering finale--a set of elaborate variations followed by a powerful coda. It clocks in at around fifty minutes, which no doubt seemed absurdly excessive to audiences accustomed to symphonies half that length. "One early critic," writes Welsh musicologist David Wyn Morris, "described it as 'a very long-drawn-out daring and wild fantasia' which, at least, reveals a response to its emotive power."
The finale is also a classic example of musical recycling. The theme that serves as the basis for the variations was originally part of a set of twelve contredanses Beethoven wrote between 1791 and 1802. It seems to have been a favorite of his, popping up again in (among other places) his score for the 1802 ballet "The Creatures of Prometheus." Composer and writer Drerk Strahan has suggested that Beethoven saw it as a "hero" theme. It certainly becomes heroic in the course of the final movement of the Eroica.
The departure for John Adams was somewhat less dramatic, and it was the choice of the violin as the solo instrument that initiated it. "A concerto without a strong melodic statement is hard to imagine," recalls the composer. "I knew that if I were to compose a violin concerto I would have to solve the issue of melody. I could not possibly have produced such a thing in the 1980's because my compositional language was principally one of massed sonorities riding on great rippling waves of energy. Harmony and rhythm were the driving forces in my music of that decade; melody was almost non-existent."
"As if to compensate for years of neglecting the 'singing line,'" he continues, "the Violin Concerto (1993) emerged as an almost implacably melodic piece--a example of 'hypermelody.' The violin spins one long phrase after another without stop for nearly the full thirty-five minutes of the piece. I adopted the classic form of the concerto as a kind of Platonic model, even to the point of placing a brief cadenza for the soloist at the traditional locus near the end of the first movement."
Having listened to the concerto, though, I have to say that I'm not sure it's as big a departure from the composer's usual style as his comments suggest.  His "hypermelody" does, indeed, unfold as described, but it's ultimately composed of the kind of individual motivic "cells" that characterize so much of the composer's other works. Add up enough minimalism, it seems, and you get a long and winding road of lyricism.
The singing first movement gives way to a second movement based on the old Baroque form of the chaconne, which features a series of increasingly elaborate variations on a simple theme repeated in the bass line. That theme might sound familiar to sharp-eared listeners since it's remarkably close to the little sequence that underscores the words "Space: the final frontier" in the theme of the classic TV show Star Trek. If you doubt me, take a few minutes to view CBC Radio 2 host Tom Allen's little video documentary on the lineage of that theme; it's fascinating stuff. I don't know whether Mr. Adams was ever a Star Trek fan or not but he's of the right vintage, so anything is possible.
The concerto ends in a blaze of virtuoso fireworks with the driving "Toccare" third movement. It's the sort of thing that gives a truly proficient violinist a chance to show off and, as the composer notes, "many violinists have taken on the piece, and each has played it with his or her unique flair and understanding. Among them are Gidon Kremer (who made the first recording with the London Symphony), Vadim Repin, Robert McDuffie, Midori and, perhaps most astonishingly of all, Leila Josefowicz, who made the piece a personal calling card for years."
The soloist this weekend will, in fact, be Ms. Josefowicz. So it looks like we can expect an authoritative performance. Mr. Robertson has also shows a strong affinity for the music of John Adams, so the work will be in good hands.
The essentials: David Robertson conducts the St. Louis Symphony Orchestra with violin soloist Leila Josefowicz on Friday and Saturday at 8 p.m. September 30 and October 1.The concerts take place at Powell Symphony Hall, 718 North Grand in Grand Center. The Saturday concert will be broadcast, as usual, on St. Louis Public Radio.
Related Articles