Classical
Classical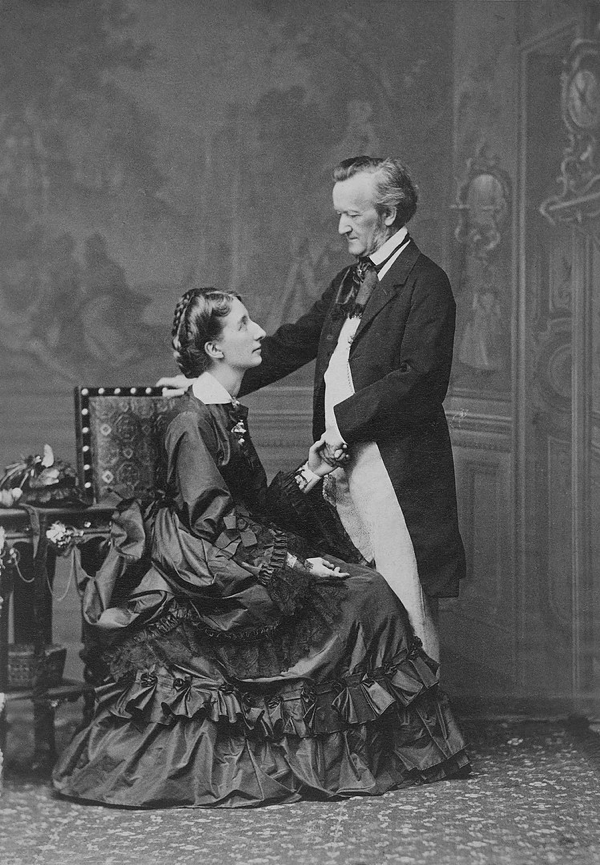 Symphony Preview: Triple play
By Chuck Lavazzi
This weekend (Saturday and Sunday, January 18 and 19), Stéphane Denève conducts the St. Louis Symphony Orchestra (SLSO) in an evening of music by Wagner, Liszt, Richard Strauss, and contemporary (b. 1980) British composer Anna Clyne. At first glance, these four composers might not appear to have a great deal in common, but as SLSO program annotator Tim Munro points out, the first three are links in a late 19th/early 20th century chain.
Wagner in 1871
en.wikipedia.org
"Without Franz Liszt," he writes, "there would have been no Richard Wagner: Wagner absorbed Liszt's musical voice, and Liszt was a passionate early Wagnerian... Without Wagner and Liszt, there would have been no Richard Strauss: He learned his trade from Liszt's orchestral poetry, from Wagner's all-embracing operas."
There might also be a tangential link from Ms. Clyne's work, "This Midnight Hour" back to Liszt, but I'll return to that anon.
Liszt may be the start of the chain, but Wagner is the start of the program this weekend. Specifically, it begins with his charming "Siegfried Idyll" from 1870. It was written as a birthday/Christmas present to his wife Cosima (born on December 24th), who was Liszt's daughter (yes, another link). And it was inspired by the birth, in 1869, of the composer's son Siegfried.
The piece was originally titled ""Triebschen Idyll with Fidi's birdsong and the orange sunrise, as symphonic birthday greeting. Presented to his Cosima by her Richard." "Fidi," notes Wikipedia,, ""was the family's nickname for their son Siegfried."" Mr. Munro adds that the orange sunrise refers to "the orange sun that warmed a wall of his bedroom."
A very cozy domestic image, in short.
The first performance took place not in a concert hall, but on the stairs of the Wagner family home in Tribschen on Christmas morning, 1870. The musicians were members of the Tonhalle Orchester Zürich. Cosima was awakened by the first gentle strains of the music and was, as you might expect, completely enchanted.
"As I awoke," she would later recall, "my ear caught a sound, which swelled fuller and fuller; no longer could I imagine myself to be dreaming: music was sounding, and such music! When it died away, Richard came into my room with the children and offered me the score of the symphonic birthday poem. I was in tears, but so were all the rest of the household. Richard had arranged his orchestra on the staircase, and thus was our Tribschen consecrated forever."
"Liszt at a Piano"
Drawing by Sir Hubert von Herkomer, 1904
As I wrote in my preview article for the SLSO's last performance of the "Siegfried Idyll" in 2014, Wagner never intended the piece for public performance, but financial considerations obliged him to produce a more heavily orchestrated version for just that purpose. It is, in any case, as disarming a piece as you are likely to hear, and utterly unlike the more grandiose gestures most people associate with Wagner. It's a reminder that even that great egotist had his moments of intimate reflection. And it also reminds us that winter is about the warmth of family as well as the cold weather.
Up next is music by the first link in the chain, the Piano Concerto No. 2 by Franz Liszt. The concerto's composition process, as James M. Keller writes program notes for the San Francisco Symphony Orchestra, was a lengthy one:
Liszt first drafted it in 1839, returned to it a decade later, and brought it to a provisional completion in 1856, in which form it was premiered in 1857. Even after that, Liszt continued revising it until 1861. Throughout that process, the work's manuscripts carried the title Concerto symphonique; not until it appeared in published form, on the Schott imprint in 1863, was that heading transformed into "Second Concerto for Piano and Orchestra."
But that wasn't unusual for Liszt. His Piano Concerto No. 1 took 25 years to come to fruition, while his "Symphony to the Divine Comedy" (a.k.a. the "Dante" Symphony) took 17 years. His flashy "Totentanz" ("Dance of the Dead") for piano and orchestra was initiated in 1838 but didn't reach its final form until 1859. That's largely because, as Mr. Keller points out, "Liszt could turn out facile piano solos at the drop of a hat [but] he tended to agonize over works that he envisioned more for posterity, like works in the 'big' forms of the symphony or the concerto."
And then there's the fact that the Second Concerto was, like many of Liszt's later works, a daring and forward-looking break from the traditional mid-19th century model. Instead of being cast in three or four separate movements, it unfolds in one movement with six separate sections.
More significantly, though, it breaks with existing models of musical structure in that it is organized, not along the lines of the classical sonata form (exposition, development, recapitulation, and all that other Music 101 stuff) but through the use of thematic transformation. An elaboration of the old "theme and variations" concept, thematic transformation involves organizing a work around variations, transformations, expansions, and other forms of metamorphosis on a single theme.
In the case of the Liszt Second Concerto, the theme is presented in simple and sweetly lyrical form by a small choir of woodwinds at the very beginning, in a section marked adagio sostenuto assai (roughly, "very slowly and sustained"). It's both memorable and open to a lot of variation--a good thing, since over the next 20 minutes or so you'll hear it in multiple guises, including a noble march (marziale un poco meno allegro) in the penultimate section.
That's followed by a flurry of keyboard pyrotechnics that brings the piece to a rousing finish. Because, while Liszt often treats the piano as a partner rather than star player in this piece, it's still technically challenging, and Liszt the virtuoso showoff couldn't be expected to keep his light under a bushel the entire time.
Anna Clyne
Photo by Jennifer Taylor, annaclyne.com
At the concert grand this weekend will be the Jean-Paul and Isabelle Montupet Artist-in-Residence, pianist Jean-Yves Thibaudet. As such, he'll be returning for more concerts later in the season and will also present an evening of chamber music with SLSO members on Friday, the 17th, at Washington University's 560 Music Center.
Anna Clyne's "This Midnight Hour" is next. First performed in 2015, the work opens with agitated passages in the low strings that suggest a chase scene from a suspense film before morphing into a tipsy dance that fights it out with the "chase" music before finally lapsing into a sweetly nostalgic melody that prevails almost until the end, when a final bang from the percussion section brings everything to an abrupt finish.
If you're the sort of music lover who has tired of new works that sound more like mathematical exercises than music, I think you'll find Ms. Clyne's "This Midnight Hour" to be a welcome change of pace. In his program notes, Mr. Munro writes "Clyne's work evokes a mysterious journey of a woman in the hour after midnight" which draws inspiration from two poems: Baudelaire's 1857 "Harmonie du soir" and "a very short poem from Juan Ramón Jiménez: 'Music, a naked woman, running mad through the pure night.'" The somewhat tangential link back to Liszt goes through that first poem, since the title of his "Transcendental Étude No. 11 is "Harmonies du soir" (although we can't ignore the possibility that Liszt, roué that he was, had his share of experience with les femmes nues).
Granted, Liszt wrote "Harmonies du soir" six years before Baudelaire's poem but, as Sara Zamir and Juliette Hassine point out in a 2008 paper for the Journal of Music and Meaning, "the absence of a proven interaction between Liszt and Baudelaire is irrelevant" because both were likely inspired by "the Soleil Couchant [sunset] literary theme and its aesthetic implications in French Romantic poetry":
It is well-known that the Romantic Movement recruited natural phenomena to the aesthetics of the self-focused yearning to the unattainable and converted them into a vehicle for sentimental inconsistency and to the transformation of the sensation into a vision. A cause-and-effect relation between nature and overflowing powerful feelings was gradually established as an immanent part of the Romantic tradition, where nature turned into an expressive, mediating artistic language.
In short, they both drank from the same nocturnal spring. It's a bit sketchy and I wouldn't swear to it on a stack of Grove Dictionaries, but it's a provocative notion in any case.
L-R: Amanda Majeski and Sophie Koch
as The Marschallin and Octavian
Photo: Cory Weaver, Lyric Opera of Chicago
This weekend's concerts conclude with a suite of music from the wonderfully lush and engaging score of Richard Strauss's bittersweet romantic comedy "Der Rosenkavalier" ("The Knight of the Rose"). First performed in Dresden in 1911, "Rosenkavalier" was an immediate success with both audiences and critics alike. Today it's easily Strauss's most popular opera and a part of the core repertoire.
Much of the opera's success stems from the depth and intelligence of Hugo von Hofmannsthal's libretto. Working closely with the composer, von Hofmannsthal took what started out as a typical romantic farce about young lovers Sophie and Octavian (the titular cavalier) outwitting the boorish Baron Ochs, who is being forced on Sophie as a husband, and added a worldly-wise depth to it with the character of Octavian's older lover, the noblewoman Marschallin.
In her mid-thirties, the Marschallin is nearly twice Octavian's age and sees all too clearly that their affair must eventually end. Her Act I ruminations on the transitory nature of happiness and her final renunciation of Octavian in the exquisitely beautiful trio at the end of the third act lend her character a richness that makes her immediately appealing. That final trio, along with the duet for Sophie and Octavian that follows, also gives the comedy a rueful edge that contrasts wonderfully with the door-slamming farce that has gone before.
The 1945 orchestral suite of selections from the score (assembled with Strauss's approval but apparently without his participation) opens with the opera's overture, an unabashedly erotic depiction of Octavian and the Marschallin's night of passion (Con molto agitato, complete with orgasmic whoops from the horns) that is a neat bit of tongue-in-cheek comedy. It ends with the "fast waltz" (Schneller Walzer, molto con moto), in which Baron Ochs gets his comeuppance.
For this weekend's concerts, though, Maestro Denève has rearranged the order of the selections to more closely track the arc of the libretto. That means that the suite ends, not with that lavish waltz, but rather with that final, beautiful trio. So even if you heard this music when the SLSO last played it in 2013 under the baton of then-Resident Conductor Ward Stare, this rearranged version might shed new light on it all.
The Essentials: Stéphane Denève conducts The St. Louis Symphony Orchestra and pianist Jean-Yves Thibaudet on Saturday at 8 pm and Sunday at 3 pm, January 18 and 19. Performances take place at Powell Symphony Hall in Grand Center. The Department of Music at Washington University presents Jean-Yves Thibaudet and members of the SLSO in a program of chamber music by Poulenc and Shostakovich on Friday, January 17, at 7:30 pm. That concert takes place in the E. Desmond Lee Concert Hall at the 560 Music Center in University City.
Related Articles