Classical
Classical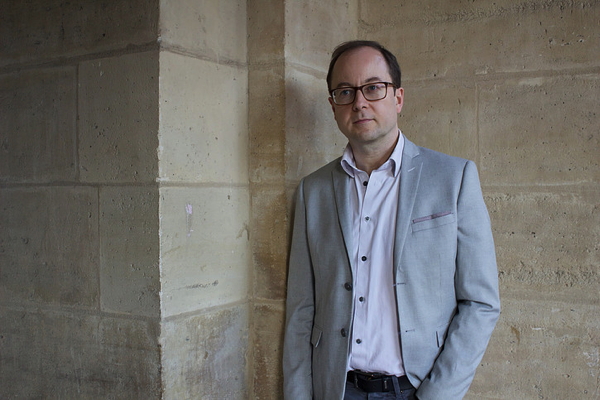 Review: Stéphane Denève conducts a sizzling mostly-French program at Powell Hall
By Chuck Lavazzi
If St. Louis Symphony Orchestra (SLSO) music director Stéphane Denève wants to make a case for the inclusion of more French music and more contemporary music in SLSO programs, he need only point to the success of last Saturday's concert (March 7th). Four of the five pieces on the program were French, nothing was written earlier than 1923, and everything was a pleasure to hear.
Stéphane Denève
The concert opened with the John Adams's 1986 "Short Ride in a Fast Machine," a snappy portrayal of a hair-raising ride in a friend's sports car. Running around four minutes, it conjures up images a headlong rush down narrow country roads. It requires (and certainly got) a lot of precise work from the players, especially the percussion section. Mr. Denève's interpretation seemed to have just a bit more of a hysterical edge than I have heard from this work in the past. That feels entirely right, given that the composer explains the title by posing the question: "You know how it is when someone asks you to ride in a terrific sports car, and then you wish you hadn't?"
Up next was Arthur Honegger's 1923 "Pacific 231," a piece inspired by the composer's love of train travel. Its description of a massive engine picking up speed, flying through the countryside, and then finally coming to a stop at its destination is so vivid that it actually served as the soundtrack for a 1949 film that featured footage of locomotives synched up with the music.
As in the Adams, Mr. Denève's performance enhanced the visceral impact of the piece. This was another showpiece for the band as well, with a special shout-out owed to the horns, trumpets, and trombones for their prominent roles.
In fact, the entire evening could be characterized as a showpiece for the SLSO musicians in general and for guest saxophonist Tim McAllister in particular for his performance of the next work, Guillaume Connesson's saxophone concerto "A Kind of Trane."
Inspired by the work of the jazz sax legend John Coltrane, and first performed at the World Saxophone Congress in 2015, "A Kind of Trane" is scored for two saxophones (soprano in the first and third movement and alto in the second) and, in fact, was played by three different soloists at its premiere. For the local premiere this weekend, Mr. McAllister played all three movements with superb virtuosity and artistic sensitivity.
Timothy McAllister
Photo courtesy of the SLSO
The former was most obvious in the wildly energetic finale, "Coltrane on the Dancefloor," which builds to a wild climax until the solo line collapses into a few quiet toots, as though the exhausted Coltrane has collapsed into a chair and reached for a stiff drink. Mr. McAllister gave it everything he had, and (as the old ragtime song goes) "that's a plenty for me"--or anyone else who appreciates truly outstanding musicianship.
Mr. McAllister's ability to lay bare the music's soul, on the other hand, was most noticeable in the "Ballade" second movement, with its nocturnal, film noir feel. This is the music Philip Marlowe would hear as he sat in a late-night jazz club where the air was thick with smoke and regret. Mr. McAllister's performance was moving and compelling.
After intermission came another captivating performance, this time of Albert Roussel's Symphony No. 3 in G minor, Op. 42, from 1930. Last performed here back in 1981, it's music that Roussel insisted had no explicit program, but which (as I noted in my symphony preview) is nevertheless is colorful enough to suggest a variety of images. For me, it was memories of Paris. For someone else, it could have been entirely different, which probably justifies the composer's insistence that it's "absolute" music.
It was, in any case, given an authoritative performance by Mr. Denève, who recorded all of Roussel's symphonies for Naxos back in 2010. Conducting without a score, he insured that we heard all of this work's many moods, from the "machine age" intensity of the first movement to the rowdy energy of the finale. He got great playing from the orchestra as well, including some fine work from the woodwinds in the second movement (with its Prokofievian sarcasm) and Concertmaster David Halen's solo in the last.
The evening came to a big, splashy, "kick out the jams" reading of Ravel's "Boléro," performances of which inevitably remind me of Garrison Keillor's joke that the worst pumpkin pie you'll ever eat isn't that much different from the best pumpkin pie you'll ever eat. It's hard to screw this music up as long as the orchestra's technique is solid.
Even so, Mr. Denève's approach was a masterpiece of slowly uncoiling tension, leading up to the inevitable big bang of a finale. The main attraction of "Boléro," though, is the many prominent solo and small ensemble passages, and here the SLSO musicians were all in fine fettle.
I have always thought the hardest solos are the ones at the very beginning, when there is nothing supporting you except the faint snare drum and pitzicatto strings. Principal Flute Mark Sparks, Principal Clarinet Scott Andrews, and Principal Bassoon Andrew Cuneo deserve praise for their work here, with a special nod to Mr. Cuneo for playing a tune that pushes him up to the top of his register. Principal Trombone Timothy Myers successfully met the same challenge later in the work.
I was also very much taken with one of Ravel's more inventive bits of orchestration: the combination of the flutes, piccolo, and celesta. When I first encountered "Boléro" back in the old analog LP days, I was not quite sure what was making that unearthly sound. It was, in any case, expertly done Saturday night by Mark Spark, Jennifer Nichtman, and Ann Choomack, with Peter Henderson at the keyboard. The sax solos had an nice jazzy feel, with Mr. McAllister returning on soprano along with Nathan Nabb on tenor.
The French connection continues this coming weekend as Maestro Denève conducts The St. Louis Symphony Orchestra and Chorus Children's Choirs in a performance of Berlioz's légende dramatique "The Damnation of Faust" on Friday and Saturday at 8 pm, March 13 and 14. Vocal soloists are Isabel Leonard, mezzo-soprano (Marguerite); Michael Spyres, tenor (Faust); John Relyea, bass (Méphistophélès); and Anthony Clark Evans, baritone (Brander). The work has long been one of Mr. Denève's favorites and is much anticipated. Performances take place at Powell Symphony Hall in Grand Center.
Related Articles