Classical
Classical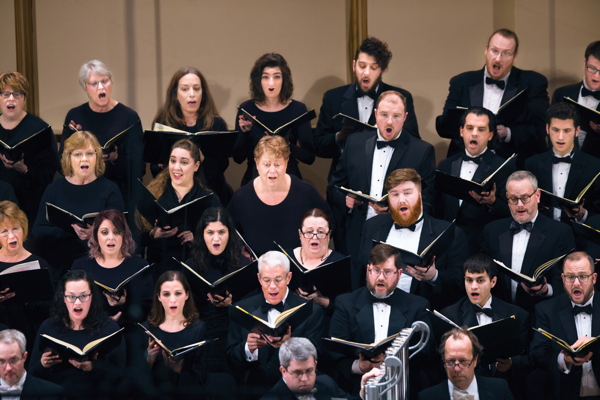 Charisma and the chorus: Part 3 of a conversation with Stéphane Denève
By Chuck Lavazzi
The St. Louis Symphony Orchestra (SLSO) may have suspended its current season because of the COVID-19 threat, but the 2020/2021 season is scheduled to go forward as usual. In February, I sat down with SLSO Music Director Stéphane Denève to talk about the new season. Here's part 3 of that four-part conversation, with minor edits for clarity.
Nicola Benedetti
CL (Chuck Lavazzi): I wanted to talk a bit about the Artist-in-Residence next season, Nicola Benedetti. Why did you choose her and what do you think she'll bring to the season?
SD (Stéphane Denève): For many reasons, actually. I would say the first one is because she is a great violinist and I have known her for many years.
We met around 17 years ago. She was very young, around 16 or 17 when we first met, and I have seen her grow into her career and become an international artist. She's very famous now.
And she is a very special personality. She's very warm, to start with, and she has a special charisma. She's very well spoken and engaging. I used to live in Scotland and she's from there; she's half Scottish and half Italian. And she has the best of both worlds, I would say. She has this kind of romantic Italian blood and she also has this very friendly, well-educated Scottish style.
She does a lot for education. She has the Benedetti Foundation, for example. She's not as famous as Jean-Yves Thibaudet [the current Artist-in-Residence], so I think it's an opportunity for people to get to know her here.
CL: So she's a great artist and also is doing outreach.
SD: Yes, and that's important in the position of Artist-in-Residence, where you do more than just coming for the concert, where you really interact with the orchestra and also with other activities, like education and playing chamber music.
CL: Let's talk about the chorus for a bit. You have some really interesting things planned for them next season.
SD: Yes, they really know I love voices. You know, I used to be more of an opera conductor at the start of my career, and now it's the opposite, I do almost all symphonic conducting, because I have a daughter now and I don't want to be too far from her while she's growing up.
Amy Kaiser
Photo: Gerry Love
I love the chorus here. They're very good, a very high level chorus, both the St. Louis Symphony Chorus and the IN UNISON chorus. It's a very big luxury to have two of them. That will let us do some very special pieces that have never been performed here before. The really big thing is [Honegger's] "Joan of Arc at the Stake"--"Jeanne d'Arc au bûcher"--because that's a real event. It's a huge oratorio for actors, singers, adult chorus, children's chorus. It's a huge piece and it's epic. And the subject is very special. I recorded this piece, actually, with the Amsterdam Concertgebouw Orchestra. At the end, if you don't cry, I'll pay you back!
CL: And it's going to involve some staging?
SD: Yes, with James Robinson. So that's a big event for me. And then there is the big piece at the end of the season, [Puccini's] "Turandot." I'm very excited that we will have Christine Goerke, who is an old friend of mine.
CL: Yes, I saw her last summer at the Tanglewood Festival in "Die Walküre," and she was very impressive.
SD: So "Turandot" will end the season with a blast because it's a very cool opera.
And speaking of the chorus, I'm also excited to be doing the last scene from Poulenc's "Dialogues des Carmélites" ("Dialogues of the Carmelites") and the "Stabat Mater," which has never been sung here. Which is weird because it's really a masterwork. I have also recorded that.
CL: Yes, Poulenc is another composer we really don't hear from as often as we should. You mentioned the IN UNISON chorus, and they're going to be part of the regular season for the first time in ten years.
Kevin McBeth
SD: Yes, I am very pleased to present a new piece that was composed for them. The composer isn't listed in the season brochure because they were still working on the contracts when it was printed, but her name is Nathalie Joachim. I worked with her in Philadelphia and she's very creative. I glad she is going to come here and really tailor the piece to the chorus. It will be at the end of the season on the same program with the Dvorak [Symphony No. 9] and the Florence Price [Symphony No. 3]. She writes a lot for voices because she's a singer herself, and she may even sing as well here.
I'm glad to be working with the IN UNISON chorus because I conducted them at the beginning of the season in Forest Park and it was great, very beautiful. I also love Kevin McBeth [the director of the IN UNISON chorus]. He has been here for ten years and [St. Louis Symphony Chorus Director] Amy Kaiser for 26.
CL: Another thing I wanted to bring up was the New Year's Eve concert. You conducted last year's concert, which my wife and I enjoyed immensely. But the 2020 concert will be conducted by Leonard Slatkin.
SD: Yes, that's for family reasons. I need to spend the holiday with my in-laws. So I won't be conducting it every year. But 2019 was my first one and I really enjoyed it a lot. The mood was very special. It was a very gala feeling and everybody was so well dressed. It was a full house, good energy, great fun. I hope you liked the concert.
CL: I did. I really liked the "New Year's Eve around the world" concept, but it was also very Viennese, with the "Radetzky March" and "Blue Danube" at the end.
Next: What's new and notable in the coming season and how assembling a symphony season is like putting together a jigsaw puzzle with moving parts.
Related Articles