Classical
Classical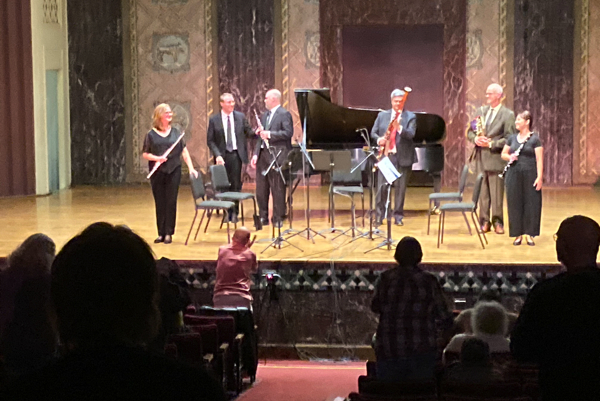 Review: Ariel Concert Series showcases woodwind chamber music
By Chuck Lavazzi
In the comparatively niche and low-click world of classical music, chamber music occupies its own sub-niche. This may be partly due to its inherent nature, which involves smaller numbers of musicians compared to a full orchestra. Or in other words, chamber music doesn't have rock 'em, sock 'em blockbusters like Beethoven's Ninth Symphony, The Rite of Spring, or The Planets that pin audiences to the walls with waves of opulent sound from large ensembles. Without that wow factor, chamber music demands enhanced concentration and brain-focus. Ironically, one consequence of the COVID-19 pandemic for classical music was a resurgence of chamber music as a performance outlet. Pre-vaccines, it became clear that chamber music involved comparatively reduced infection risks among assembled groups, as smaller numbers of musicians could be socially distanced in performance. This was especially the case with string players, pianists, harpists, and percussionists, who could mask up and perform comparatively unencumbered. The challenges were greater for woodwind and brass players, since while they could socially distance, they couldn't mask, for obvious reasons.
The venue that most prominently brought chamber music to the forefront of pandemic-era classical music performances arguably has been Wigmore Hall, in London. Wigmore Hall began video streaming of concerts in June 2020, without in-person audiences, with no less than the guest soloist for this past weekend's St. Louis Symphony Orchestra concerts, the since-knighted Stephen Hough, alone on stage as pianist. Streaming videos quickly became the new pandemic normal with classical music organizations. More locally, in University City in March 2020, the Jöstlein family began hosting what quickly became a legendary series of outdoor performances on their front lawn, to support local musicians in multiple genres, with tip jar at the ready, who lost all their work after the pandemic forced closures of performing venues.
Separately, another local pandemic-inspired music series has been the Ariel Concert Series, sponsored by Ariel Premium Supply. Like the Jöstlein series, the Ariel Concert Series started with outdoor performances. Into the COVID-vaccine era with returns to in-person concerts, the Ariel series has continued indoors, at scattered venues in the region, with its performances offered free of charge to audiences. Their latest offering was this past Friday night at Washington University's 560 Music Center, with an audience of about 45-50. This concert showcased woodwinds (flute, oboe, bassoon, and clarinet) and brass (French horn), joined by a piano, in 3 works for a concert of about an hour's duration.
The opener was the "Ballade, Pastorale, and Dance," from 1992-1993, by the contemporary American composer Eric Ewazen (born 1954), scored for flute, French horn, and piano. The respective musicians were Jennifer Nitchman, Thomas Jöstlein (yes, the U. City porch concert co-impresario), and Peter Henderson. In the first movement "Ballade", which has a standard classical-era slow introduction prior to its subsequent faster sections, the piano acts very much as the "rhythm section", deferring to the flute and horn in terms of carrying main ideas. At the start of the "Pastorale" slow movement, however, the piano sets the mood with a rippling, "water music" passage. The third movement, "Dance", starts with an Irish jig-type of passage from the flute. This was my first live experience with Ewazen's music. Ewazen composes in a tonal manner that "goes down easy", with plenty of energy and forward motion. However, Ewazen's writing often struck me as unnecessarily busy, where each movement is nice to hear, but runs on…and on…and on...and on. Still, even with personal reservations about the work (and your own listening mileage will certainly vary), it certainly shows enterprise and deserves praise to program music by an unfamiliar composer to general classical music audiences who may not know more than the usual suspects. (Another Ewazen work is scheduled for the Ariel Concert Series on December 5, for a chance to compare and contrast.)
The next work was from a much more familiar composer, Francis Poulenc (1899-1963), his Trio for Oboe, Bassoon and Piano from 1926. If the word "snark" can apply to any composer, Poulenc is that composer, with a spirit of raucous cheekiness in so much of his music, especially his 1920s works like this Trio. By luck, this month has been a treat for Poulenc fans in St. Louis, with the recent SLSO concert featuring his Stabat Mater and final scene from Dialogues des Carmélites, and this concert with his Trio as a nice pendant. Aficionados of Poulenc's music will recognize his familiar fingerprints, where the high spirits of the outer movements are balanced with the comparative tenderness of the middle, slow movement. As well, in comparison to Ewazen, Poulenc says more in less time, with fewer notes per phrase and measure. Featured for the Poulenc were Philip Ross on oboe and Andrew Cuneo on bassoon, joining Peter Henderson.
For the last work on the program, clarinetist Tzuying Huang joined all the other musicians for the Divertimento, op. 51, by the Russian-born composer Paul Juon (1872-1940). Juon made his way to Germany before the 1917 Revolution and spent the last years of his life in Switzerland. Sometimes known as "the Russian Brahms", Juon is an almost completely forgotten figure now. This is a shame, based on hearing this one work, another first-ever personal live hearing experience of any music by Paul Juon. His op. 51 Divertimento is in five movements, scored for wind quintet and piano, and features a nice variety of moods. The first movement has an occasional whiff of "exoticism" in the manner of Rimsky-Korsakov's Scheherazade. The second movement, and first of the two 'Intermezzo' movements, has a stately feel. The third movement 'Fantasia' features the clarinet quite prominently, especially after the piano starts the proceedings. The fourth movement, the work's second 'Intermezzo', is more light-hearted compared to its sibling second movement, assisted undoubtedly by its triple-time minuet rhythm. The fifth movement finale, titled 'Rondino', closes the work in upbeat mood, with a "name that tune" moment about a third of the way through, which made at least this reviewer wonder where I'd heard it before. This work was the real discovery of the concert. It would be great to hear more of Paul Juon's music either in this series, or elsewhere in St. Louis.
Given that the woodwind and brass players are all SLSO members, and Peter Henderson is a regular keyboard player with the SLSO, it's no surprise that the evening's musicianship was solid. This was actually the musicians' second concert of the day, after the SLSO morning concert, so this may have led to a very few fractional slips. But these were of no import and did not detract from the experience.
Revisiting the issue of audience numbers to close: earlier last week at the 560, on Monday night, about 80 people were in attendance for the Chamber Music Society of St. Louis performance, the same order of magnitude as with this Ariel Concert Series performance. Perhaps it's too much to expect audiences of 1100 people at the 560 Music Center, or 700 people at The Sheldon, for chamber music concerts. But chamber music offers its own subtle, and subtler, rewards, and deserves audiences certainly more than 40-80 people per concert, especially as St. Louis has an impressive roster of chamber music organizations and performances, like this series, worth seeking out.
Related Articles