Classical
Classical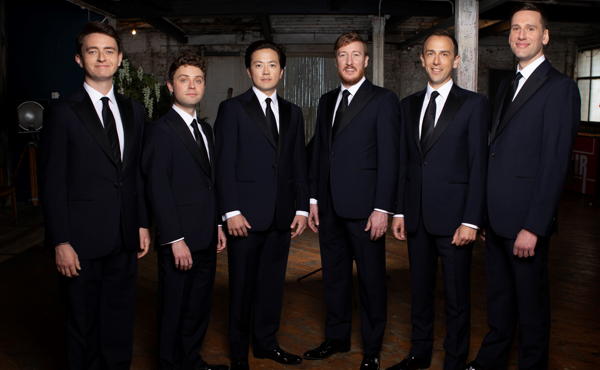 Review: The Kings Singers serenade 'A Sacred Place'
By Chuck Lavazzi
Concertgoers seldom hear a vocal ensemble that truly delivers on the the saying, "they sing as one instrument." The St. Louis Cathedral concerts (4 November 2022) gave us The King's Singers, the durable British a cappella sextet, in a varied program they titled "A Sacred Place." On this night, their only US appearance this autumn, these men truly integrated their sound, as though six strings on one instrument; one senses that they always do.
The King's Singers feature a roster of two countertenors, a tenor, two baritones and a bass, maintaining that composition for over five decades since their founding in Cambridge, as individual singers enter and retire from the group, twenty-two alumni plus the current six. (Patrick Dunachie and Edward Button, countertenors; Julian Gregory, tenor; Nick Ashby and Christopher Bruerton, baritones; and Jonathan Howard, bass). Their focus remains ecclesiastical music, but around that they array other religious settings by Classical composers, contemporary choral works including commissions of current composers, standards, pop songs of the last sixty years, and a range of other genres.
I'd not heard them live, only some of their discography, none recent enough to feature the current singers, so it was striking, and eerie, to hear them sound just as perfectly balanced as their 1980s counterparts did in a studio. Arranged from left to right, descending from countertenors to bass, rarely does one man solo, then only briefly. Often they sing in close harmony. Their vocal production stays pitch-dominant; occasionally you'll hear some vibrato for color, but sparingly. Though beautiful, this "King's Singers sound" comes at a price, an aural homogenizing of their repertory. Centuries elapse, they move from Byrd and Weelkes to The Beatles by way of the turbulent Nineteenth Century, and their serene presentation changes little. It's a sort of vocal comfort food, certainly reassuring if lacking spice. It tastes good.
Their sound made its best impression in the earliest works. The program chunked into sections, beginning with a plainchant, and two hymns by Thomas Weelkes (1576-1623), and two by William Byrd (1540-1623), as the quadricentennial of their deaths approaches. The plainchant and the first Weelkes hymn treated Palm Sunday, with strikingly dense counterpoint after the introduction. Their polyphony created the aural effect of an undulating stagefront, individual voices rotating "forward" and receding, popping out irregularly. Again, their balance can amaze. Paired perfectly with that, the first Byrd piece, an Aquinian hymn, "O salutaris hostia," maintained that undulatory texture. Then in Weelkes' lament for his friend the composer Thomas Morley (1557-1602), "Death hath deprived me," their utterances fluttered from right to left, from bass clef to treble, as a soul rising in departure from the body. Byrd's motet, "Praise our Lord, all ye gentiles" finished the set with a jaunty, almost gossipy rhythm.
We stayed in Britain with a couple contemporary settings, first, a madrigally flavored Petrarchan number on a text by poet William Baldwin (d. 1563), composed by King's Singers alumnus, Bob Chilcott (1955-). Probably owing to the composer, this really played to the group's strengths. Howard, the bass, seemed to move through the other voices rather than anchoring them, and Dunachie and Burton, the countertenors,  also wove through rather than perpetually floating above. Bruerton, baritone, received the first brief solo moment of the evening describing how fair the beloved, to lovely effect.
Chilcott's piece transitioned the program to another set of four motets, three "Ave Marias" and a Marian hymn by John Tavener (1944-2013). The first seemed even more peaceful than preceding works. Igor Stravinsky's (1882-1971) "Ave Maria" employed only four of the voices, minus Ashby and Button, which served to underscore how their signature sound depends upon their precise number, which seems to produce twice the sound of four, rather than half again. The textural magic of six returned with Robert Parsons (1535-1572), whose text laser-focused on Mary's wombly role, and on Jesus, the fruit thereof, abruptly excising the "ora pro nobis" section with a quick "amen." Here, the singers' dynamic control dazzled, again in early music. Mary's slate ended with Edvard Grieg's (1843-1904) "Ave maris stella," which took a more thorough look at her résumé before turning to the Trinity, as the countertenors really soared at the close "Tribus honor unus, amen" ("one honor to all three").
After Norway, then Sweden and Finland, as Brueton again soloed in Waldermar Åhlén's (1894-1982) "Sommarspalm" ("Summer Hymn"), set on the Book of Peter, its third stanza a memento mori. Though they performed in Swedish, they toggled back to English for Jean Sibelius' (1865-1957) "Finlandia," a great contrast from his tone poem of the same name. To close the first half, they semistaged "Tonight as I was trying to keep cool…" from "Pilgrim Strangers" by Ned Rorem (1923-), an anti-war plea set in a military hospital, and the most dissonant piece since the Weelkes' lament.
A brief intermission preceded two twentieth century French works and the anticipated vernacular finale. Maurice Duruflé (1902-1986) , no stranger to the motet, brought a fresh sonic language with his "Ubi caritas," and Francis Poulenc (1899-1963) offered the longest and heftiest selection, his "Quatre petite prières de Saint François d'Assise." Poulenc usually sounds like he's attempting to figure something out, and the Singers effectively conveyed his wandering, searching ethos, his chromaticism. After so many amens to close, the Singers closed Poulenc's prayerful journey with its contrastive "Ainsi soit-il" ("so be it.")
The King's Singers are known for closing with their arrangements of popularly situated songs, frequently improving upon the vocal stylings of The Beatles. They treated us to Billy Joel's "Lullabye," the Fab Four's "I'll Follow the Sun" and Beth Orton's "Call me the Breeze," all great choices. Conscious practices in 2022 might dictate against six white men choosing the African American spiritual, Wallace Willis' (1820-1880) "Steal Away;" and "This Little Light of Mine," was playfully arranged but delivered unidiomatically.
Critic Sarah Bryan Miller frequently rued the effect of the Cathedral's acoustics on Classical concerts she reviewed; choral music works better than, say, brass instruments. The transepts do seem to curl sound back toward the altar, creating muddiness, and the last encore was instructive. Referencing the dome of a German church where they've performed, the Singers moved from the choir to the central dome of the church to deliver "Danny Boy." Text, which I'd struggled to distinguish at times, became crystal clear. A fitting end to a serene evening at the Cathedral.
The Cathedral Concerts continue Sunday, December 11 with "Christmas at the Cathedral."
Related Articles