Classical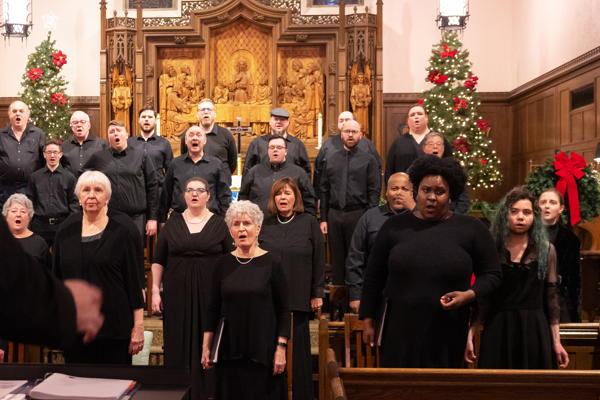 Review: The black tulip chorale shines calm and bright
Written by

Gary Liam Scott
Choral music brings unity to diversity like no other force. A strong, well-rounded resonant chorus empowers members of all ages, abilities and walks of life to shine together as a single beacon to audiences. Each individual within a chorus becomes an important facet of the whole. The Black Tulip Chorale, about to embark upon a celebration of the successful conclusion of its fifth season, exemplifies the values of teamwork and cooperation united to achieve common goals.
Conductor and Administrator Robert Stumpf has worked tirelessly throughout his career to instill tolerance and respect in performers and audiences as well as sound artistry. The Chorale's most recent performance, themed "All is calm, all is bright" (December 9th and 10th), drew inspiration from the traditional Advent model of lessons and carols, introducing reflections on the issues faced in our present day, informed by Jewish, Christian and civil rights traditions.
Among many great strengths of BTC is its choice of repertoire. Robert Stumpf selects works carefully. Traditional hymns ("Once in Royal David's City"), spirituals ("Rise Up, Shepherd," "Good Trouble"), Hanukkah songs ("Rock of Ages/Maoz Ts'ur"), comical songs ("Ding-a-ding-a-ding," "Fruitcake") share the stage with haunting tributes to World AIDS Day ("I Come from Good People"), the Transgender Day of Remembrance and the departed ("Pie Jesu" from the Faure Requiem). The program closed with a resounding rendition of Handel's Hallelujah Chorus. All works displayed hard work on the part of the performers and a commitment to sharing a wide palette of musical styles. Diversity is not preached so much as it is simply demonstrated.
Although each work and each accompanying reading was moving in its own right, but the words of reader Ken Haller, detailing his personal experiences dealing with the AIDS crisis from its inception to the present day as both a physician and a gay man, were particularly poignant and reminded us all that each day of our lives is both precious and often unknowable.
One of the refreshing aspects of BTC's persona lies in the fact that the organization promotes its ideals of acceptance and inclusivity not by attacking any potential critics, but simply by living according to their principles. As such, the ensemble and staff are quick to affirm that all are welcome to their ranks, regardless of race, gender, ethnicity or religion--but no further litmus test seems to be applied. One gets the feeling that a member of a faith community or political party of differing views would still be accepted as long as that individual demonstrated respect and kindness to others regardless of their personal orientation and beliefs.
A successful chorus or choir requires strong, steady and confident vocal sections--soprano, alto, tenor, bass--who blend to produce a resultant harmony that speaks with the clarity of a single voice. Strong sections and good balance have always been a hallmark of BTC. Moreover, the balance between voices and piano or organ was excellent at this performance. Successful choruses also require skilled and sensitive instrumentalists to undergird and enhance their efforts, and pianist Curtis Farrell and organist Bill Wade provided that abundantly. The dedication of each member of the group, whether singers, conductor, keyboard players, or support staff clearly stood out. It would be impossible to list each person by name, but each one is to be commended.
Related Articles