Classical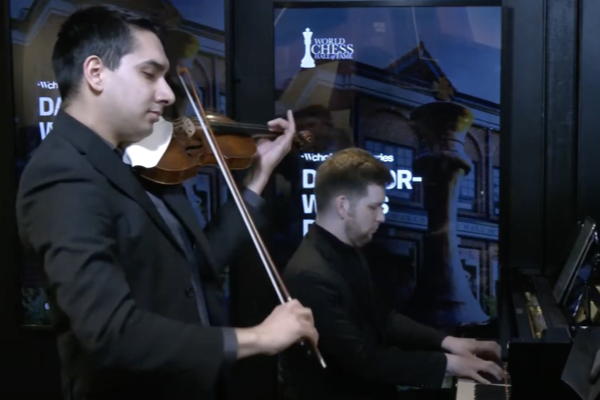 Video Review: Violin and piano duos at the World Chess Hall of Fame
Written by

George Yeh
One good cliché attached to classical chamber music is the idea of music-making among friends. That certainly held true at the March 2 concert at the World Chess Hall of Fame, part of WCHoF's on-going classical concert series, with the Dastoor-Woods Duo, violinist Daniel Dastoor and pianist Brian Woods. Dastoor and Woods formed their musical team at the Royal Conservatory of Music, Toronto, during the COVID-19 pandemic. Dastoor, a Montréal native, is continuing his studies at the San Francisco Conservatory of Music, while St. Louis-area native Woods is now one of the co-music directors at WCHoF and a regular performer with various STL classical music organizations.
This WCHoF concert showed enterprise in that while its 3 composers were quite familiar names (especially the last), the first 2 selections were not the most obvious. The opener was the Violin Sonata of Francis Poulenc (1899-1963) from 1942-1943, during the Vichy occupation. While this is Poulenc's only sonata for violin and piano, it does not appear on programs nearly as often as Beethoven or Brahms, so any chance to experience it in concert is welcome. Poulenc dialed down his characteristic snarky cheekiness / cheeky snark for this work, although, being Poulenc, it's certainly not all doom and gloom. The mood lightened for the program's second work, by the great Viennese violin virtuoso Fritz Kreisler (1875-1962), his 'Viennese Rhapsodic Fantasia', a more extended selection than his more famous shorter works like 'Liebesleid' or 'Liebesfreud'. This writer had not heard this Kreisler work before in any form, and it felt a bit long for its material, IMHO, though unsurprisingly, Kreisler's violin writing is always idiomatic. The final selection is meat-and-potatoes repertoire for this combination, the Sonata No. 3 of Johannes Brahms (1833-1897), his op. 108 from 1886-1888. Interestingly, the published score originally states the work as being "for fortepiano and violin", though it is common practice now to state this sonata, like Brahms' two others, as being "for violin and piano". Dastoor and Woods gave solid, fine performances, with very understandably a clear and easy musical rapport between them.
The "(video)" part in the by-line now needs explanation. By an accidental and unintended, but nonetheless inappropriate, brain lapse, this reviewer was unable to attend this concert in person, because of a previously scheduled event on the same evening. This review is thus based on the archived YouTube video, well after the date of the live performance. Watching a video of a concert, compared to experiencing that concert live, raises obvious questions about choice of perspective. In the concert space, one's choice of seat clearly dictates what one can and cannot see, apart from potential questions of instrument balance, depending on if you arrive early enough to get a center-section seat, or otherwise end up sitting more off to the side. With a video, however, the sound is limited to just one aural perspective, by default. More importantly, the videographers control the visual choices and perspectives. At some moments, a "short attention span theater" ethos was overly present, with quick shots in succession lasting barely a very few seconds each happening often enough that this reviewer noticed. The opposite to that, to the videographers' great credit, was several passages with a nice and extended use of split screen between Dastoor's left hand in motion and Woods' hands at the piano, without cutting too quickly or often.
Given the spatial limitations of WCHoF's third floor, much balancing is clearly needed to accommodate the musicians, an audience, and the tech crew all in that one room. Some degree of visual repetition is unavoidable in the videography, but classical music videos are like that generally, being in their content pretty much the antithesis of action movies. Even though a concert video is never quite the same experience as being in "the room where it happens", WCHoF's video production does a good job in balancing visual variety with cleanly displaying the musicians' work. The WCHoF Music Series continues on April 20, in collaboration with Opera Theatre of Saint Louis.
Related Articles