Classical
Classical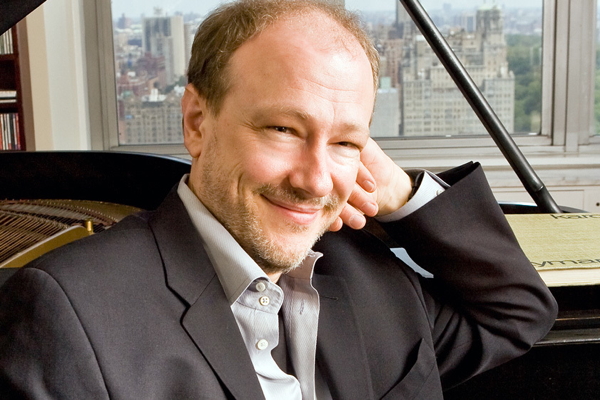 Electrifying Tchaikovsky and elegant Ravel with John Storgårds, Marc-André Hamelin, and the SLSO
By
"Nothing," wrote Mary Ann Evans (a.k.a. George Eliot) "is so good as it seems beforehand." Had she seen the St. Louis Symphony Orchestra in action on Saturday, November 11th (unlikely, given that she died in 1880), she might have revised that aphorism a bit.
I'll admit that I was looking forward to this concert. The program included my favorite Tchaikovsky symphony -- the Fourth, in F minor -- as well as Ravel's endlessly inventive Piano Concerto in G, and the guest conductor, John Storgårds, impressed me mightily when I last saw him in back in April. I was not, however, expecting to be quite as blown away as I was.
Things got off to a fine start with the local premiere of the Tänzchen im alten Stil ("Little Dance in the Old Style"), composed in 1918 by one of the great names in Hollywood film music, Erich Wolfgang Korngold. It's an ingratiating gloss on the classic Viennese waltz, with a slyly humorous beginning and a middle section with echt romantisch solos for cello and horn, followed by a coda that cleverly combines both themes. 
Mr. Storgårds gave it a very idiomatic treatment, complete with those small pauses between the first and second beat (luftpausen) that characterize the Viennese waltz. The orchestra played beautifully, including solos in the opening section from Associate Principal Flute Andrea Kaplan, Associate Principal Clarinet Diana Haskell, and bassoonist Vincent Karamanov. Principal Cello Daniel Lee and Associate Principal Horn Thomas Jöstlein carried out their solos with equal aplomb.
When pianist Marc-André Hamelin joined the orchestra for the Ravel concerto, though, it quickly became clear that the evening wasn't just gong to be good, it was going to be great.
When Ravel wrote the concerto, he set out to make it technically challenging, hoping that it would force him to improve his own game at the keyboard. That didn't happen; Paris Conservatoire piano professor Marguerite Long played at the 1932 Paris premiere. But it did create a work that demands, especially in the wistful second movement, a pianist with technique and soul.
Mr. Hamelin displayed both Saturday night, dashing off the flashy stuff in the first and third movements with ease while caressing that long-limbed waltz theme in the second. He was completely in synch with Mr. Storgårds's loving and rhythmically free approach to that movement as well as his more dynamic interpretation of the other two. Mr. Storgårds also highlighted lots of little details like Principal Harp Allegra Lilly's solo in the first movement and the run up the piano keyboard to the first restatement of the main theme.
And speaking of solos, let's direct some applause to Cally Banham for that yearning English horn line in the second movement.
The concert concluded with what can only be called a kick-ass performance of Tchaikovsky's Symphony No. 4. Written in 1876-77, at a time when the composer's mood swung between hope and despair, this is the most compact and dramatically expressive of all his symphonies. From the commanding "fate" motive first intoned by the brasses at the beginning to the nearly hysterical triumph of the finale, this is a piece that grabs you by the lapels and doesn't let go until the end.
Which is exactly what Mr. Storgårds and the SLSO did Saturday night. If you were there, you know what I mean. Starting with a brilliant statement of the "fate" motive by the brass section, this was a Tchaikovsky Fourth that commanded one's attention and simply crackled with energy. 
There were so many great moments in this express train of a performance that I really can't list them all here. I loved the relentless "march of doom" at the end of the first movement, for example, as well as the barn-burning intensity of the finale. For me, Mr. Storgårds delivered a Tchaikovsky Fourth against which all others must be measured, with the high drama of the music accentuated by the conductor's magisterial podium presence and big, dramatic, full upper-body gestures.
Everyone played their hearts out, both in the many solos and in the ensemble overall. The melancholy main theme of the second movement was beautifully rendered by Principal Oboe Jelena Dirks and Associate Principal Bassoon Andy Gott. The string section played the pizzicato third movement with intense concentration (you could see it on their faces as well as hear it) and impressive precision. The horn and brass sections were stunning all the way through. And Thomas Stubbs deserves a particular shout-out for doing such a great job with the insanely fast cymbal part in the finale. 
Not surprisingly, the applause following this was thunderous as the audience leapt to its feet. I don't think standing ovations at Powell Hall are always justified, but I had no hesitation about joining in this time.
Since this was Veteran's Day (originally Armistice Day, which I've always felt was more appropriate), the concert was preceded by a short speech honoring the Gold Star families present by SLSO trumpeter Jeff Strong, who is a former member of the US Marine Band. It was tastefully done, and an appropriate reminder.
Next at Powell: David Robertson conducts the St. Louis Symphony Orchestra and Chorus, along with Joélle Harvey, soprano; Kelley O'Connor, mezzo-soprano; Stuart Skelton, tenor; and Shenyang, bass-baritone in Beethoven's Missa Solemnis Saturday at 8 and Sunday at 3 p.m., November 18 and 19. There's also a free Youth Orchestra concert Friday at 8 p.m. with Resident Conductor Gemma New at the baton. The performances take place at Powell Hall in Grand Center. 
Related Articles