Film Reviews
Film Reviews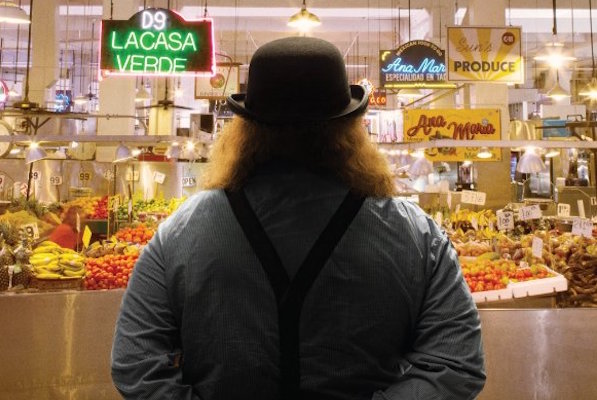 'City of Gold' promises to give you an appetite
By Diane Carson
Celebrating the diversity of Los Angeles' residents and neighborhoods through their food, Jonathan Gold is a reviewer who appreciates all kinds of culinary fare and champions it in his extraordinary ability to describe in tantalizing details food's look and taste. In director Laura Gabbert's documentary City of Gold, Jonathan makes a cultural tour of L.A. through its food.
That means Gold will stop in the San Gabriel Valley, along Pico Boulevard, in Hollywood, Boyle Heights and elsewhere at numerous small, hole-in-wall eateries as well as food trucks. As owners testify in on-camera interviews, their restaurants stayed in business because of Gold's influential LA Times reviews, so powerful is his opinion. Gold savors Korean, Ethiopian, Oaxacan, Thai, Sichuan, Mexican, and just about any other cuisine you can name, as long as it's authentic.
City of Gold begins with graphics on screen quoting from M.F.K. Fisher's The Art of Eating (1954): "First we eat. Then we do everything else." For us foodies, that gets it just right, and Gold lives his foodie life in unique ways. Calling himself a "culinary geographer," he learns about thriving communities through their restaurants. Gold began food reviewing in 1984 for the LA Weekly and now writes for the LA Times. He crafts superb essays on food's appeal and context, in 1997 winning the Pulitzer Prize for criticism, the first food critic to be so honored.
Gabbert's documentary, running just over one and a half hours, goes slack in the last third, meandering through details of Gold's early life as a cellist, dropping in on a couple radio sessions, eavesdropping on a lunch with John Powers and his environmentalist brother Mark who notes, ironically, that Jonathan eats all he's trying to save. Mark is grateful that Jonathan spoke out against shark fin soup, but these scattergun scenes feel tacked on rather than integral to a fine appreciation of Gold's genius.
Do not go hungry to City of Gold, the tantalizing food will challenge you. It will also elicit an increased appreciation of good ethnic offerings, especially those that don't require a rich person's budget. At a Landmark Theatre. Showing through Thursday, April 7 at the Plaza Frontenac Cinema.
Related Articles