Film Reviews
Film Reviews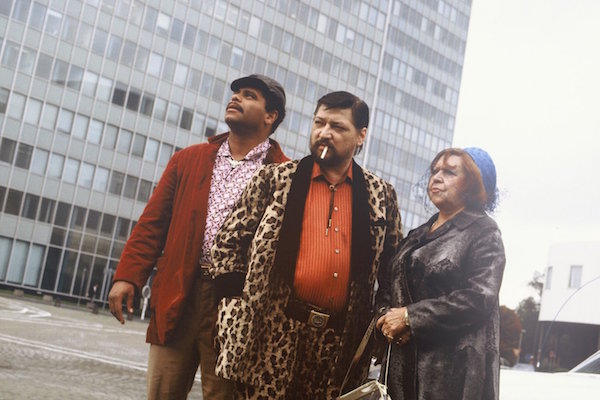 'Kamikaze 89' envisions a dystopian society still relevant today
By
Made in 1982 by German director Wolf Gremm, Kamikaze 89 opens with narration boasting a perfect 1989 Federal Republic of Germany. Richest country in the world, West German industry has solved all problems: everything is green, no pollution, no inflation or unemployment, no harmful drugs, and all entertainment and information is formulated and transmitted by one single combine. 
The ruthless president, known as "The Blue Panther," has only one enemy, Krysmopampos, a.k.a. the "spirit of evil." This state nemesis and other intellectuals worry that citizens have lost the ability to think and need their minds stimulated. Blue Panther calls in detective lieutenant Jansen and his assistant Anton.
Based on Per Wahlöö's 1964 novel Murder on the Thirty-First Floor, Kamikaze 89 stars the prolific New German Cinema director, writer and actor Rainer Werner Fassbinder, in his last acting role. As Jansen, he and Anton, Fassbinder's real-life companion Günter Kaufmann, pursue the emerging corporate conspiracy behind bomb threats and murders, learning of a thirty-first floor secret department that hunts evil conspirators for the totalitarian, family owned conglomerate. 
Kamikaze 89 dramatizes a dystopian, camp future. Through exaggerated stylization it satirizes a dysfunctional, oppressive society. Co-screenplay writer and director Gremm uses deliberate, highly theatrical artifice to make his points, using all elements of art direction: costumes, décor, and lighting. Some scenes are bathed in red, blue or green light; Jansen wears a faux leopard skin suit throughout the film, and assassins cross dress in black lingerie. Anyone expecting a conventional narrative will have to look elsewhere, not this punk-inspired world. At an hour 45 minutes, the story does drags on too long, but it is also striking that the satire hits home even today. 
In German with English subtitles. Kamikaze 89 screens at Webster University's Winifred Moore auditorium Friday, October 14 through Sunday, October 16 at 7:30 p.m. each evening. 
Related Articles