Film Reviews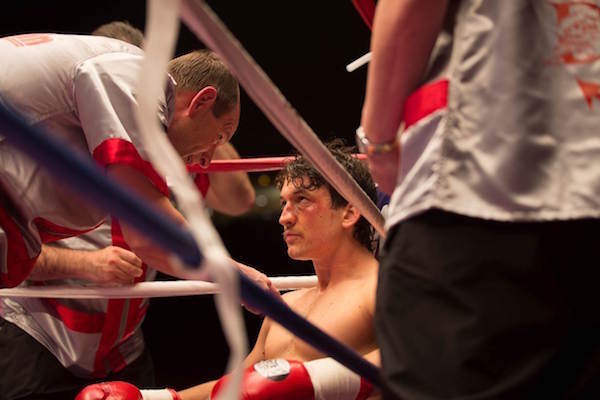 'Bleed for This' dramatizes Vinny Pazienza's fights in and out of the ring
Early in writer/director Ben Younger's Bleed for This, world lightweight boxing champion Vinny Pazienza suffers a humiliating defeat in his 1988 junior welterweight bout against world champion Roger Mayweather. With his reaction to that loss, including the difficulty of making weight, Vinny reassesses his prospects and, in sometimes humorous consultations among his team, redefines himself. 
Based on Vinny Pazienza's real experiences, that unexpected and unprecedented reevaluation is the heart and soul of Bleed for This, a good boxing film peppered with noteworthy bouts and a strong location presence for this Rhode Island native. A winning fighter in three different weight classes (lightweight, light middleweight, and super-middleweight), Vinny improbably ends up fighting Roberto Duran in the super-middleweight championship match. But as visceral as the boxing is, it doesn't dominate the action. That centers on the intense psychological battle Vinny wages against his physical limitations after a catastrophic automobile accident left him with serious spinal injuries and a broken neck. His medical prognosis is that he may never walk again, much less box, and watching Vinny move with his four-pronged "Halo" headgear puts the real fight into another arena, one that invites heartfelt empathy for injured individuals in all walks of life.
As in his film Boiler Room, director Ben Younger shows a rare ability to fold a wealth of details into a character-driven story. In that regard, Miles Teller made a strong impression with Whiplash, and he again conveys a charismatic, muscular intensity as Vinny. Equal on every level and a real standout is Aaron Eckhart as Kevin Rooney, Vinny's alcoholic trainer and confidant. Eckhart grapples with his own demons right alongside Vinny, and their pas-de-deux is a marvel of graceful and ferocious nuances. As Vinny's parents, Katey Sagal and Ciarán Hinds bring an authentic working-class attitude, as does Ted Levine as the manager.
Paz's painful, uphill comeback battle defines his character and lends unusual insight into obsession and, not incidentally, the needed desire to achieve what seem impossible goals. "Bleed for This" is a boxing movie that isn't just for boxing fans. At several area cinemas, check the listings.
Related Articles