Film Reviews
Film Reviews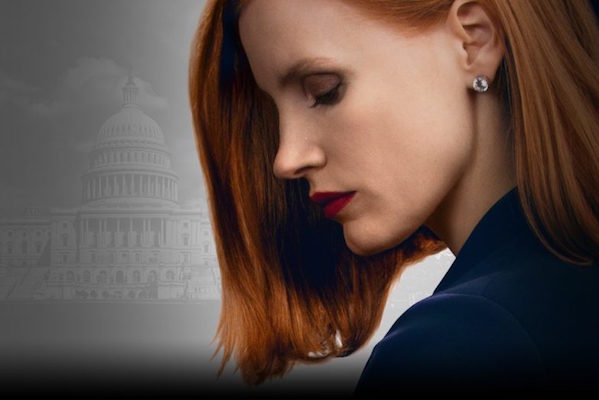 'Miss Sloane' twists and turns in the lobby
By
Women often are castigated as devious when they're clever or smart. Miss Madeleine Elizabeth Sloane will be so denigrated, plus she will be compared to a man in her position. She is a lobbyist, and she knows to do a work-around without smearing her blood-red lipstick.
Liz Sloane works hard for one company until her values -- yes, this lobbyist has values -- are compromised by a gun bill. So she high-heels over to the smaller, grubbier competition with her sharp skill set to see that the bill passes in Congress by whatever it takes. That might include espionage with a robot-roach, gossip-mongering, tallying, betraying, exploiting people, crossing lines, and campaigning.
Lobbying, she says -- and practices -- is about foresight, playing your trump card. Miss Sloane has given up everything for her career, which leaves her paying for sexual pleasure. She has left chits everywhere, to be called in as accounts receivable. She outsources social interaction. She is like a coach, ordering in brief, succinct bites, brooking no nonsense. Her sound bytes include "get going" and "you're fired." She leaves bits of mystery in and outside the film.
Jessica Chastain embodies Miss Sloane with every fiber, her right index finger pushing that strand of hair away from her face, yet revealing nothing. She is supported by the excellence of Sam Waterston, a lawyer; John Lithgow, a senator; Jake Lacy, an escort; Gugu Mbatha-Raw, an operative; and Alison Pill an insider. Director John Madden, who also directed "Proof" and "Debt," reveals only as needed and still leaves questions. He moves in and around a trial without making that trial a climax, following John Perera's first screenplay.
Miss Sloane is a Greek tragedy set in Washington, D.C. It is an admirable study in morals and character and deviousness -- and filmmaking.
Related Articles