Film Reviews
Film Reviews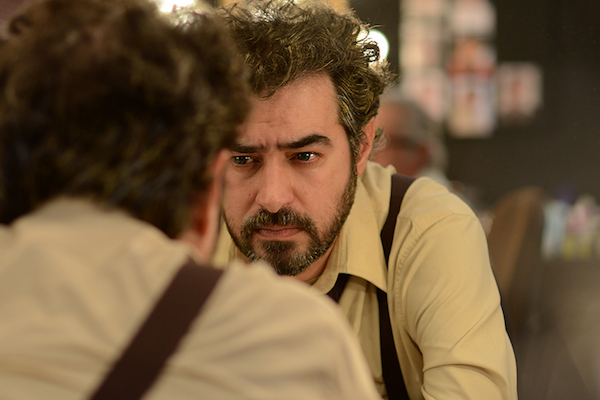 'The Salesman' confronts revenge vs. forgiveness in Tehran
By Diane Carson
Iranian writer/director Asghar Farhadi blends personal and political drama suffused with metaphoric commentary in his intricately constructed The Salesman. The Tehran theater group for which Rana and Emad perform is staging Arthur Miller's Death of a Salesman. As Farhadi says in an NPR interview, Willy Loman's dreams turned to nightmare parallels what will follow for Rana and Emad. 
In the opening scene, the partial collapse of Rana's and Emad's apartment building suggests their physical and emotional trouble to come. The heretofore happy couple must find another place to live, and thus begins their tragedy. Unaware of the previous female tenant's sexual activity and thinking her husband returns home, Rana buzzes in an unknown man, leading to head injuries for her after an incident in the shower never fully explained. It is clear that the ripple effects reach to neighbors, colleagues, and, with staggering impact, Rana and Emad whose desire for revenge drives his actions. 
Except for the theater scenes, cinematographer Hossein Jafarian shot this superbly constructed film almost entirely on location, handheld, lending an unstable feel to events. He used cooler lighting in the abandoned apartment, while for the theater he relied on reds and blues since, as he says in January's American Cinematographer, "I thought they were very American colors" for Miller's play. 
This mesmerizing, two-hour film subtly but surely indicts what Farhadi calls Iranian theocracy, that is, the government prescribes behavior replete with oppressive gender and class inequities. It is clear why Emad dismisses involving the police as a bad idea, and, adding education as an area for implicit indictment, Emad teaches teenagers, all male. A song was taken out by censors, since that's forbidden. Further, in its staging and lighting, a long concluding scene blends real life with stage performance, expanding social criticism by suggesting that in such a society everyone performs all the time.
The Salesman won this year's Academy Award for Best Foreign Film. But, in his own political statement, the Iranian Farhadi, whose "A Separation" won 2012's Best Foreign Language Film Oscar, refuses to attend the ceremony even if granted the waiver he'd require. In Persian with English subtitles, showing in an exclusive engagement at Landmark's Plaza Frontenac Theatre.
Related Articles