Music News
Music News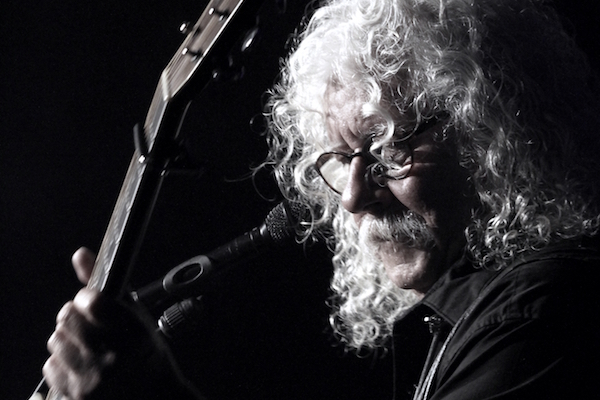 Arlo Guthrie brings the family
By
Fifty years ago 19-year-old Arlo Guthrie released his debut album, "Alice's Restaurant" weeks before his legendary father, Woody, succumbed to a 15-year battle with Huntington's Disease. To mark the anniversary Guthrie and two of his adult children -- Sarah Lee and Abe -- have been touring with three generations of their family's justice-minded songs. He took time to reflect on his music, his family, and what's happening at Alice's Restaurant these days.
---
Robin Wheeler: How many years have you been touring with your family now? Will any other relatives be joining you, Sarah Lee, and Abe in St. Louis?
Arlo Guthrie: Abe and Sarah Lee have been doing shows with me, off and on, for about 20 years. Annie and Cathy, my two other kids, have also joined us from time to time. For the upcoming show Abe & Sarah Lee will be with me but unlike we've done in the past, we'll be sharing the stage for the entire evening. That's a first.
RW: Take a moment to brag about the projects your kids and grandkids are doing.
AG: It would take more than an interview. It would take a book to get into all the things my kids and grandkids are doing. They're all doing really good stuff.
RW: Are you still taking your break from making new music? A few months ago I read an interview where you said that the protests and issues in your back catalogue are still applicable. Do you still feel that way?
AG: I've never taken a break from creating. it's like breathing for me. Having said that, yes the world hasn't changed all that much. People are about the same as we've always been. In that sense the tradition of playing music holds up pretty well.
RW: I love the box set of the 1968 and 1970 tribute concerts to your dad that were released a few months ago. Can you talk about the experience of being a part of those shows just as your own career was beginning?
AG: It was always a little awkward for me personally, in that the Woody Guthrie tribute shows we originally did in the late '60s and early '70s were, at least in part, fundraisers where I was in both a part of the fundraising effort by virtue of being a performer, and a recipient by being one of my father's kids, at the same time. In spite of that I went ahead and did the shows. Now after more than four decades have gone by and what holds up is the caliber of the music and the performers who made it all happen. It's an amazing bit of folk history.
RW: Based on the timing, how did your first Carnegie Hall show tie into the 1968 Woody tribute that was held there?
AG: I don't think there was any tie-in between my own performance and the Tribute show at Carnegie Hall. It's just what was happening at the time.
RW: I've been working on a book about Woody for six years, and have seen Nora speak many times. She tells a great story about the day Bob Dylan showed up at your family's door, looking for your dad, and how we have you to thank for Bob, since you let him in after she slammed the door in his face a few times. I've always wanted to hear your version.
AG: That's another book. But my sister's version is probably based on my account as she was a few years younger and may not have recalled those years as well as I did. I remember that Bob was only one of a dozen musicians who came to the house in those days. I liked his shoes.
RW: About five years ago I was lucky enough to spend a very spiritually fortifying day at the Guthrie Center [The church in Great Barrington, Massachusetts, where "Alice's Restaurant" was set. Guthrie and his late wife Jackie purchased the building for the Guthrie Foundation. It serves as an interfaith cultural center.]  I had a great time at the weekly hootenanny that night. George offered to let me take out a bag of trash at the end. Tell us about the center and its mission.
AG: We're constantly working to make our place feel like a home to people who have like minded hearts, and who are willing to put aside the usual and embrace the more unusual. It's become just that to a lot of people around the world, and we keep trying to build on that feeling.
RW: How was your return to Woodyfest in Okemah last year?
AG: I had a great time last year. I don't get there nearly as often as I'd like. But, I always love catching up with family and friends, and it's a great event for doing that.
RW: In January I spent two weeks researching in your family's archives in Tulsa. I got sucked into a series of notebook/letters your parents exchanged when your mom was pregnant with Cathy. We all have our notions - correct and caricatures - of Woody, but I'm continually impressed with your mother. Woody's influence on your life and career is well-documented. How did Marjorie influence you? How do you see her impact in your siblings, kids, grandkids?
AG: It was my mother who first showed me a few chords on the guitar, and who insisted that I study music - both theory and execution. I don't think she imagined that I'd actually make a living doing it, but she encouraged creativity whenever she could. I left home for boarding school when I was 13, so I had different opportunities than my brother Joady and sister Nora had. Us kids have stayed pretty close over the years, although I'm closer to my kids and grandkids than previous generations could afford to be. My mom was a great woman in her own right, and I think she'd be very proud of how we've all turned out.
---
Arlo Guthrie brings his Re:Generation Tour with Sarah Lee and Abe Guthrie to The Sheldon on March 9th as a Friends of The Sheldon Benefit.
Related Articles