Music News
Music News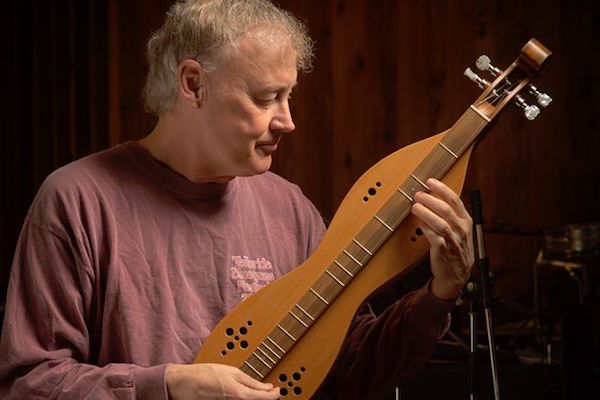 Bruce Hornsby shows his lighter side with a new dulcimer-focused album
By Amy Burger
Grammy-winning singer, songwriter and multi-instrumentalist Bruce Hornsby returns to St. Louis on Saturday, May 21 at River City Casino with his longtime band The Noisemakers, touring in support of their new album, Rehab Reunion, which drops on June 17. It's the first studio album of new songs from the band since 2009's Levitate, and unlike their prior work, it features Hornsby taking the lead on the dulcimer rather than his signature piano. Rehab Reunion expands upon the dulcimer acoustic mini-sets that Hornsby and The Noisemakers have been incorporating into shows for several years and which have become fan favorites. 
In a recent phone interview, Hornsby explained that his fixation with the dulcimer developed slowly over the past couple decades. "It's an area of my music that's been growing gradually ever since I bought a dulcimer at the Galax Old Time Fiddler's Convention in Galax, Virginia in about 1995 or 1996," he says.
"It started insinuating itself into my music in 1998 on my record Spirit Trail, particularly in the song 'Shadow Hand,' which is a big favorite among my true fans. Dulcimer was a big part of that record. On Halcyon Days in 2004, a song called 'Mirror on the Wall' featured dulcimer a lot in parts; and then in 2009, I wrote an entire song on the Levitate album on dulcimer called 'Prairie Dog Town.' So, starting on that Levitate tour, we began having this stripped down acoustic section in the middle with dulcimer and it gradually became a very popular part of our show." 
As the dulcimer sets grew in length and popularity, Hornsby began writing more songs on the instrument, expanding his catalog, and eventually realized there was enough to begin focusing on an entire dulcimer-led album.
"It's a very different thing, but in a way, it's the most similar to my first record ever since, because my first record was featuring mandolins and fiddles and hammer dulcimers and accordions, so it had a lot of that acoustic feeling to it. So this, really in a sense is going back to that first record," Hornsby says. 
The album features 10 tracks, including a delightfully stripped down version of Hornsby's 1988 hit "Valley Road," and is bookended with two special guest vocal appearances -- Justin Vernon of Bon Iver and the legendary Mavis Staples. 
"It's fantastic to work with great musicians who have their own very recognizable sound and stamp -- they sign their name on it whenever they sing because you just know who it is," he says. "In the case of Mavis and Justin, you have two very different generations -- I think they are 40 years apart in age." 
Vernon provides soft backing vocals on opening tune "Over the Rise," which came about following the pair's collaboration on the soon-to-be-released Day of the Dead Grateful Dead tribute compilation put together by brothers Aaron and Bryce Dessner of The National.
"I had this song that I really heard his falsetto on and he had called me to work on this Grateful Dead tribute record," says Hornsby. "So Justin and I and his old high school band [De Yarmond Edison] performed a version of 'Black Muddy River,' the good old Grateful Dead song. Then I said, 'Hey, how about you singing on my record?' So he sang on 'Over the Rise,' which is really the cherry on top of that whole song and is our band's favorite song on the record and the one that we get the deepest emotional reaction from." 
As for the collaboration with Mavis Staples, who shares vocal duties on album closer "Celestial Railroad," Hornsby says it was actually many years in the making. 
"I wrote this song years ago in the early 90s and thought it would be a good song for The Staple Singers. So, through my great friend Bonnie Raitt -- she gave it to Mavis and The Staple Singers -- they started working on it and recording it and they really liked it; but they ended up not using it," he explains. "Mavis told me on this session that Pops Staples never really felt like he was doing it justice. So all these years later, I thought this song was a pretty good fit for this record, and I reached out to Mavis to see if she wanted to do it on her own. And she said yes, she remembered the song and could still sing it to you. So I went out to Chicago to record it, and we had a great time doing it -- just laughed our way through the session. I like people who laugh at my jokes and she's one of them." 
Hornsby's whimsical sense of humor is on proud display in the lyrics on the album, including title track "Rehab Reunion," as well as other lighthearted tunes like "Tipping," "Hey Kafka" and "T.S.A. Man," which Hornsby explains is about "airport security as a sensual experience."
The move away from some of his previous heavier and more soul-searching material was a conscious one, he says. "The heavier stuff is mostly the older music. As I've gotten older, I just like to have a laugh. I've always been a big Randy Newman fan, so I have my Randy moments. A lot of songs on this record are an attempt at getting a laugh out of people."
As for his tour with The Noisemakers, Hornsby's upcoming show at River City Casino has been long awaited. The band was scheduled to appear there last July, but was forced to cancel so Hornsby could perform with the remaining members of the Grateful Dead at the epic Fare Thee Well concerts in Santa Clara, California, after those dates were added. (He'd already committed to the Chicago shows and all rehearsals leading up to them). Hornsby was a natural fit, as he'd performed more than 100 shows with the original Grateful Dead in the early 90s following the untimely death of keyboardist Brent Mydland. This go-around was a bit different, Hornsby explains.
"Well of course it was truly amazing and unlike some of the shows I played with them in the early 90s. There were a few issues back then -- Garcia was really in and out of his using, so that made for an erratic situation. I wouldn't trade my time with the Dead for anything -- I'd get chills playing with them it was so great; but there were also times when it was tough. So with this situation, everyone was all there; everyone is doing well. Phil's health is good and he can stand there with that heavy bass for four or five hours -- it's just exemplary. And it was great to play with Trey -- I'd never played with him except for one song one time. The crowd was so intense. So yeah, another transcendent moment with the Grateful Dead."
Always keeping his Dead roots close, Hornsby often performs the band's songs at his own shows as well and happily contributed to the Day of the Dead compilation when Vernon approached him about it. 
"I think people are really realizing, particularly in the indie-rock world, the true greatness of the Dead on a songwriting level," he says. "They've always been underrated and under-appreciated as songwriters. I've been proselytizing for them as songwriters for 25 years, and I think it's finally starting to seep in that the songbook of the Dead stands up to any other songbook. And I mean Lennon and McCartney, Lerner and Loewe, Harold Arlan, obviously Dylan, Stevie Wonder, Paul Simon. To me Garcia/Hunter and Weir/Barlow -- that's right up there."
In addition to the new album and current tour, Hornsby will headline his very own festival this summer. The veteran of numerous big summer music festivals, including Bonnaroo, has curated the Funhouse Fest, which will take place June 24-26 on the lawn of the Art Museums of Colonial Williamsburg in Williamsburg, Virginia. The idea is something he's kicked around for a long time. 
"We'd talked about for years -- me and my managers -- but we always thought we'd do it in Asheville, North Carolina," he says. "It's a great music town, and we always had a great following there, but we never really got it together. Finally, I was approached by the Virginia Arts Festival, a group here in Hampton Roads, Virginia, and Tidewater, where I live; and they were approaching their 20th anniversary. They asked if I'd do this to mark that milestone for them. So I thought, here's the way to do this -- it's easy. I can walk from my house to the gig and walk home. So we said yes, and it allowed me to call a bunch of my friends and say 'Hey, how about it?' We've got a great stylistically disparate list from the great Jack DeJohnette to Matt Garrison and Ravi Coltrane, to Shawn Colvin and Steve Earle, to Taj Mahal. So it's a big range, which is what I'm all about. I'm playing one night solo, one night with Skaggs/Hornsby and two nights with my band." 
While Hornsby's own music has always embraced a wide stylistic range, from his early pop radio hits, to his classical solo piano work, to jazz, to his bluegrass collaboration with Ricky Skaggs, he says he feels most "at home" musically when he's playing with The Noisemakers. 
"I think I also feel most at home over the years playing solo, like I did at The Sheldon about a year and a half ago," he says. "Solo is much more demanding than playing with the band. Playing with the band is like a big party, and that's the way we approach it. It's very loose and all about having a laugh. We don't take ourselves too seriously."
Though Saturday's show at River City Casino will feature the acoustic mini-set with dulcimer tunes from the new album, fans can still expect plenty of classic Hornsby on the piano. "There will be loads of piano -- to start and end," he says. 
Related Articles