Music News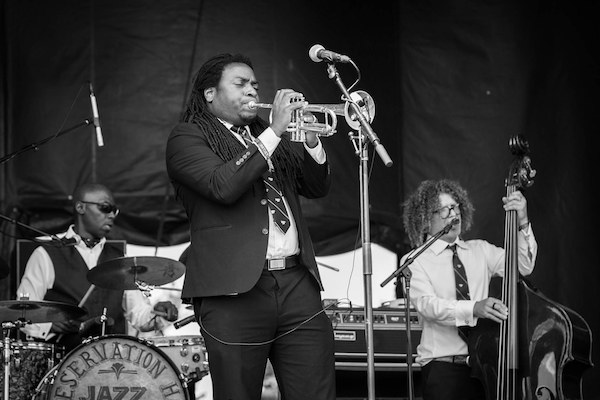 Preservation Hall band continues evolution of jazz at LouFest, September 10, 2016
With longtime bandleader Ben Jaffe at the helm, Preservation Hall Jazz Band made their first appearance at LouFest this weekend. Although they've performed several times at area venues in the past, including The Sheldon and Powell Symphony Hall, there's a special sound they've been adapting for the festival circuit. The seven-piece jazz band, comprised of several stellar players over the years, has been in full, New Orleans swing since the 1960s, when Jaffe's parents created the Preservation Hall in the French Quarter. Of the current lineup, 84-year-old saxophonist Charlie Gabriel is the senior member and a seventh generation musician. The band's set offered a string of original, NOLA style tunes and ended with a tuba-centered medley of Michael Jackson and Stevie Wonder. Afterward, Jaffe, who plays bass and tuba, had a chance to sit down to talk about the festival sound and the band's purpose as a gateway to a world of jazz for a newer generation.
KK: How long have you guys been doing the festival circuit now?
BJ: It's interesting. The first time I got the band into this environment was when we played Bonnaroo in 2006. That got us starting to penetrate some of these unorthodox festivals with jazz. Normally, they might present something esoteric, where Herbie Hancock might jam with Phish or something, but Bonnaroo was the first time we started getting in there and meeting people and becoming a part of this community. We're kind of like gypsies traveling the festival circuit.
KK: You guys have really gotten into it over the last few years. How have the crowds reacted?
BJ: You start seeing the same people, same bands, and we just hit the scene at a time when music was transitions from CDs to digital -- electronic music was starting to headline these things. I remember the first time I heard Skrillex at Austin City Limits, we were backstage and you could just sense that something was about to go down -- the energy was starting to move towards this one area, and we went up on the stage and looked out on the crowd and the energy was like nothing I'd ever seen before. I mean, I saw the Red Hot Chili Peppers play when they were still a punk band and it was like that -- the energy was wild and the crowd was swaying and then this guy comes out and rips it up. Completely out of left field for me. And it was really cool that the promoters were putting us on the same bill with these artists and kids were getting to hear all of us at the same festival.
KK: Are there many jazz acts who get in on the festival scene or do you find that you guys are kind of loners out here?
BJ: We're probably one of the few who makes an effort to do it. A lot of bands maybe wait to get a call and it's very hard for them. We've made a real effort to discover our sound in a festival environment, that's something a lot of artists in jazz don't do because they're used to playing small clubs and concert halls and it's a completely different level of knowledge. Just because you're a great musician doesn't make you a great recording artist and vice versa. For me, it was important to learn how to record with headphones and tracking and to think about building on the Preservation Hall experience, but I realized early on you can't replicate that, so don't try to, or you're just gonna fail. That's what a lot of jazz bands try to do -- they try to replicate a concert hall experience in an amphitheater environment and that's not what you're there to do. You're there to throw sound out into the audience. It's taken us years to find how best to do that because you have to find the right engineer to work with acoustic instruments -- it's finding all the things that work with the band. None of us grew up performing with mics so that process of playing and having a balance on stage with a big audience, it's taken us time but I think we've finally found our stride.
KK: And that experience has really helped the band find a signature sound.
BJ: Right before we recorded That's It, we went on tour with My Morning Jacket and we decided that if we were going to play in this environment, we had to learn the language of monitors, production value, microphones, stage volumes -- night after night, we had that opportunity to practice that. Up until then, we would hit a festival and hope and pray. That touring experience gave us a lot of practice. But we're not trying to recreate that Preservation Hall sound of New Orleans jazz, which shouldn't be confused with modern forms. I think of what we're doing with our sound as part of New Orleans modern jazz, because we're all from jazz families. And when I think of modern, I'm not necessarily thinking Coltrane, I'm thinking of the next evolution of a tradition, so we're like the next evolution of the Preservation Hall Jazz Band, which in turn was the evolution of Jelly Roll Morton and King Oliver, so we just keep moving it down the line.
KK: What do you think the next evolution looks like for the band after today?
BJ: I think you heard some of it today! It's definitely tuned into the way people experience music now, very tuned into dance music -- because New Orleans jazz is dance music. Dance music isn't new, it's been around a long time. So in some ways, dance music is our tradition.
KK: Are you surprised at the number of younger crowds who love your shows? What do you think they're getting from it?
BJ: I think we're introducing them to something really important. We're a portal into a whole genre of music. Several generations of music-lovers learned about Coltrane and bluegrass from Jerry Garcia for example -- he was the portal through which a lot of people entered this universe. If you tackle Preservation Hall and start digging, you're gonna uncover The Meters, Lee Dorsey, Irma Thomas, and eventually, the rhythmic root and soul of all of this is going to bring you back to West Africa. But everybody needs an entry point and that's what distinguishes the band to me -- I hope we're that portal for them.
Click below for more photos of Preservation Hall Jazz Band's performance at LouFest.
Related Articles