Music News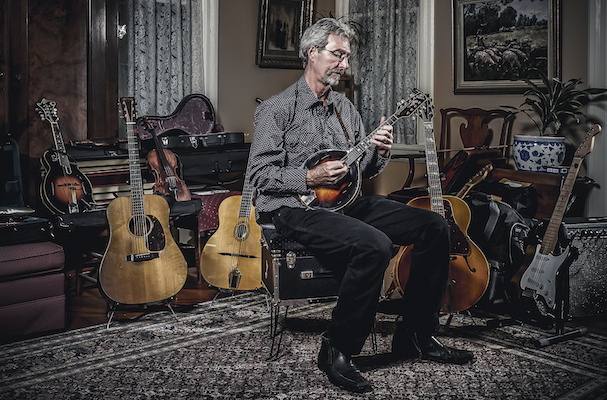 Steel Wisdom: An Interview with Gary Hunt
Gary Hunt is a very quiet guy. The first couple of times that I met him were in jam sessions, and I don't believe that he said a single word during those encounters. Until this interview, it's quite possible that Gary and I had never exchanged more than a couple of sentences over the past couple of years since we met. When I booked the interview with him, I asked him to schedule two hours on his calendar so we had plenty of time to talk. He replied, "I've never talked to anyone that long."
I believe him. Dry-humored and stone-faced, he cracked a smile only after an hour into our conversation, although it's hard to tell at first whether it's due to him being brusque or humble -- or maybe a bit of both. Gary's memory seemed to often fail him conveniently when asked about his personal accomplishments, yet he could recite longs lists of who played with who on records cut 40 years ago.
A multi-instrumentalist fluent in a number of Americana styles (as well as the gypsy jazz scene we both participate in), Gary Hunt has become one of the most valuable sidemen in the region.  He's played guitar, mandolin, fiddle or dobro with Swing DeVille, Rockhouse Ramblers, The Grovers, Tim O'Brien, The Palominos, Hot Club Caravan, The Poor Mountaineers, Colonel Ford, Son Volt and Jay Farrar, with whom he'll be performing on October 1 at the Delmar Hall as part of the Jay Farrar Trio. As Gary was about to start the tour, I had the opportunity to sit down with him and learn more about the life of this storied sideman who, from just outside the spotlight, has contributed so diversely to so many bands.
VT: So what instruments do that you play, I've seen credits for you on guitar, mandolin, fiddle and a dobro.
GH: I play steel...
VT: Pedal steel?
GH: Nah, I used to play pedal but I have just a straight double-eight string steel.
VT: Is that what they call a lap steel?
GH: No, this one has legs, so you don't play it on your lap. It's actually what a steel guitar was before guys put pedals on them. Buddy Emmons and those guys put pedals on them. It doesn't have any levers at all. So in order to get the twangy sound, you have to pull behind the bar to get the twang, that's how I do it. So I can get the sound like a pedal steel.
VT: You've played at Stovall's often.
G: I play Stovall's all the time. For the last 25 years. I've played with Colonel Ford, I've played with Rockhouse there, I played with The Grovers there, and I've played with the Rock Creek Country Boys there. I first started playing there in about '89 or '90.
VT: Well, that place, that's the real deal as far as we have here in St. Louis.
GH: No, it's the last of the Honky Tonks.
VT: It's like walking into a movie set.
GH: I tell people that all the time, I've said, "You have to go, because the chandeliers are wagon wheels with lanterns on them."
VT: I think I've figured out that on May 31st everybody changes from black hats to white hats, and then after Labor Day they go right back to wearing the black ones again.
GH: Well, you're supposed to wear your straw then, but most people don't. That's the change-off, straw from felt.
VT: I didn't know there were official fashion rules.
GH: You should have seen it in the '80s and early '90s, it was pretty rough -- I mean there was no fighting, but it wasn't as nice. The bathrooms were rough, everything was rough. You know, it is what it is. Everybody liked it anyway.
VT: So in addition to all the Americana genres you're known for, you've played rock as well...
GH: I've played blues and rock, yes. And I've played with Jay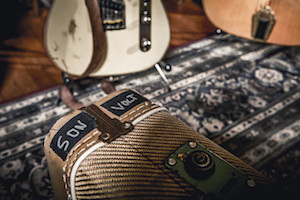 [Farrar] who I guess you could call alt-country or country rock. I mean, they say Uncle Tupelo was kind of the inventor of alt-country. That's what they say.... I don't say that, but that's what a lot of people say. I mean the "No Depression" magazine was titled after the Uncle Tupelo album, so it's kind of what started that movement in the early '90s, late '80s. So we did some Son Volt tours when the "Honky Tonk" record came out in 2013, and then the majority of our performances were duos -- then this last fall and going into this year we're doing a 20th anniversary of Trace, which was the first Son Volt album, as the Jay Farrar Trio. The steel player that played on the original records, Eric Heywood, is touring with us. He's really something.
VT: So you've played in a lot of bands, Swing DeVille, Rockhouse Ramblers, The Grovers, Tim O'Brien, The Palominos, Hot Club Caravan, The Poor Mountaineers, Colonel Ford, Son Volt...
GH: I also played in the Hell Band [aka the Mid-Missouri Hell Band]. I mean there's more but you don't need any more.
VT: How many of of those did you start?
GH: Start? The Colonel started from Rockhouse, but I didn't start that. The Grovers I started.
VT: There seems to be this strange family tree of these bands. It seems very convoluted 'cause you have like a couple of guys here and another couple of other guys here.
GH: A lot of it is the same guys with different guys, but then they played a little bit different kind of music. But yeah. The Palominos was western swing, but it had Justin [Branum] from Colonel and Swing DeVille. That's when Justin was just starting to play more ... When I met Justin he was just playing like fiddle tunes and jazz and I got him to start playing country and got him in a band, and then he played some bluegrass gigs with me, and then the western swing band. This [Hot Club Caravan] was with Sandy Weltman.
VT: Where are you from, originally?
GH: Here.
VT: Did you grow up in the city or the county?
GH: We lived in Florissant till I was four, then we moved to Rock Hill. I lived in Rock Hill till I was 14, and we moved to Manchester/Ballwin. I've lived in Kirkwood since '85, but I didn't go to school here, I didn't grow up in Kirkwood. My wife is from the East and the homes were nice and kind of small towny. We got a line on a house that needed rehab and got it cheap and rehabbed it. It's an 1880 Victorian -- a beautiful house. I had to gut it, it was condemned.
VT: As a little bitty boy, what was the first thing you remember hearing musically?
GH: I don't know, probably Frank Sinatra records. My Dad was a big singer, Frank Sinatra singer, sang just like him...or sang along with him, I should at least put it that way. Swing and that kind of stuff...Dean Martin.
VT: So how did the twang get introduced into your life?
GH: Well, they made me play piano, my parents did, when I was five, so I took piano lessons for, I don't know how many years, 6 or 7 years? And then the Beatles kind of hit and so we got guitars. My grandpa was a drummer and a singer, went and bought my brothers and I some drums and guitars and a bass.
VT: Oh, you decided to make your own band then?
GH: Well, we had a brothers band. I have two brothers, it was a trio. But then we played with other bands. My older brother plays the drums. He's involved with the Blues Society and all that. He's been around...him and I played in the Hell Band together. He played with older guys, he was older than me, so I kinda got to play in some of those bands when I was pretty young. We played like parties when I was in sixth grade.
VT: Let's talk about famous musicians that you admire and/or have influenced you. I assume Bob Wills was a big influence?
GH: Yep. I remember when that "For The Last Time" record came out, it was probably in '73, '74. It's right before Wills died, and then I think [Merle] Haggard might have had something to do with that, but I think he was on a couple of tracks, and Johnny Gimble. It was all like a bunch of the old guys got back together, I think Wills was like in a wheelchair and didn't really play, but I think he was there. But it's a good record and then I obviously branched out into more of his material, but that was released right when I was 18 I guess, or something like that.
VT: Was that the first you had heard of him, or had you heard his older stuff first?
GH: That might have been the first I heard of him at that time. I mean, it was never on the radio, it was never anywhere. If you didn't know someone who knew what it was. It's like bluegrass, at that time if you didn't know what bluegrass was, you wouldn't know what it was, because it wasn't anywhere except maybe like I'd hit on it on like a folk radio show. It just wasn't. Not like today where with the internet and everything else, you can find anything.
VT: So is there a particular period of Wills work that you're most interested in?
GH: I don't mind the horn stuff, but I like the string stuff better. It's kind of interspersed throughout, but the singers are all good, Billy Jack Wills did some singing with him and, you know, the whole band is usually good. But the Tiny Moore mandolin stuff is good, the "Tiffany Transcriptions" I think it's called. I don't mind the horns, but I've always played the strings.
VT: You have two fiddles then?
GH: Sometimes we use two. In the bands I'm in right now, no there's not two. Swing DeVille used to have two, and then sometimes in the Palomino's Justin and I played fiddles, there was two. And on the "Honky Tonk," Jay's [Farrar/Son Volt] record we played two. There's twin fiddles on that.
VT: That's a cool sound, distinctly Bob Wills too.
GH: Yeah...the Wills Sound.
VT: I read somewhere that Norman Blake influenced you, I don't know who that is?
GH: Norman Blake was kind of a real hillbilly guy from Tennessee. He played a bunch of instruments like mandolin and guitars and he always had old, he was one of the guys in the '60s that knew about old instruments. So he's like 75 or 80 now, I think. I guess he was hanging around Nashville and got in Johnny Cash's band. If you look at Johnny Cash videos from his TV show from Nashville, he's in the band. And then he was in John Hartford's Aereo-Plain Band. Then he started his solo career and his solo record came out, him and Tut Taylor [dobro] did a record, and from there he recorded a lot of great old-sounding songs.
VT: What was it about him that was such an influence on you?
GH: Well at that time he was the first real hot flatpick guitar player. It's like Clarence White and him were the two big ones, and Doc Watson, those are the big three from the '60s up till Tony Rice came around really. I think Blake also played on Dylan's Nashville record. He's on that -- and Charlie Daniels is on that. So he was involved in a lot. The John Hartford album was the first real "newgrass" record and then came Sam Bush after that.
VT: Was Blake more sessions, or was he an on the road guy?
GH: He probably did sessions in Nashville, but he toured with Hartford and then started touring on his own. I saw him a couple of times in the '70s and '80s.  His songs are awesome. If you like folk kind of old-sounding songs that are new but sound old, he's the real deal. His guitar playing at that time was amazing because no one could do it except him and a couple of other guys. Now it's more common.
VT: Doc Watson we've talked about a lot, but was there any recording that really stood out?
GH: The record with his son, I think it's called "On Stage." It's on Vanguard. He tells little jokes between songs, and it's just a duo. It's really something. And it's great guitar playing. If you want to learn how to play rhythm to folk music songs, and play hot guitar solos, fingerstyle, flat pick style, it's all on there. It's a lesson in American guitar/ folk guitar.
VT: Would you say he's been the most proficient in that style?
GH: At that time he was. I mean, after Clarence White heard Doc Watson play, and then Clarence White became this whole thing. I don't know if you know who Clarence is, but he really took the Doc Watson flatpick style and made it his own. He was in The Byrds, he was in Kentucky Colonels, he was on "The Andy Griffith Show" when they were pretty young. But he was a big influence on like Tony Rice and all the guys after 'cause he played more syncopated and more, I don't know, just a more complex style. Blake and Doc played more like rolls and runs -- and good -- but Rice took it to something almost like swing jazz. I think he was influenced by Django [Reinhardt] 'cause he played stuff like "Sheik of Araby" besides country bluegrass songs.
VT: So speaking of Django, when did you first pick up gypsy jazz?
GH: In the early '80s we played some swing and some Django stuff, and then I kind of got out of it, got busy and was playing more country, and then got back into it, in and out of it, you know. And then finally I went ahead and got a Selmer copy, a French one made by DuPont, so I get the sound then.
VT: So how does somebody who listened to all of this twang go into Django?
GH: It's similar, I mean if you listen to like the Wills stuff you can tell they listened to Django. The Wills fiddle players, they listened to [Stephane] Grappelli and Joe Venuti. Guys like Jimmy Bryant who is a swing/jazz/country guitar player from the '50's, also played violin, he was a Django guy. Chet Atkins was a Django guy. All those guys listened to Django, because he was "the guy!" Because he played toward the guitar, his soloing was like guitar sounds, whereas Charlie Christian's was more a horn sound. He influenced a lot of other guys, but the Django sound is more guitar-ish, you know with the big runs and the glissando and all the fast strumming. They don't do that on horns, but Charlie Christian learned to play from Django records also, it's kind of all intertwined..
VT: How many guitars do you own?
GH: I don't know. I have a guitar for each style of music. Like I have a couple of Telecasters that I use with touring with Son Volt, and playing in country bands. And I have a Django guitar, and I have a bluegrass guitar, and I have archtop jazz guitars and a Stratocaster and dobros. I think I have like three fiddles and three or four mandolins, so I have tons of stuff.
VT: What kind of guitar do you use when you play blues? Do you go more electric?
GH: I have a Les Paul, it's all electric, Telecasters.
VT: So what is a Telecaster really?
GH: The first Fender guitar made was the Telecaster. It's basic -- you could unscrew the neck, and you could take it all apart and put parts from other ones in and put it back together -- all Fender were made like that. You could work on it. That's what the whole idea was. It's simple to build, it's not like a Gibson where it was a dovetail joint and had to be fitted, and if the neck broke you had to take it to the factory.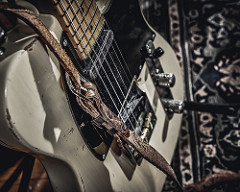 VT: And Fenders are still made that way?
GH: Yeah. Eric Clapton on the Derek and the Dominos record -- the guitar in that.... Clapton was in Nashville and he bought like five Stratocasters and he took the neck off of one, put it on the body of another one and came up with the body of that guitar. So the Telecaster is not only a kind of guitar but it's a style of playing. The Telecaster Style. You play with a pick and your fingers. It's called hybrid picking. Sometimes people use all three of 'em. So you can play like "bump-chink-bump" like Chet Atkins or you can do rolls like banjo, or you can do what's called chicken pickin' where you'd pop the strings: "pop-bock-bock!" So, it's a whole thing. Danny Gatton was a Tele guy -- and Clarence White. Marty Stuart plays Clarence's old Telecaster. James Burton was a Tele guy. It's a thing.
VT: So did you tour a lot when you were younger?
GH: I toured when I was younger -- and the Hell Band, we toured and played clubs in the Midwest and then I quit playing on the road, had kids, stayed home, played around town. Played a lot around town, different bands, and then I did some gigs with Tim O'Brien and then this Jay gig started in 2010.
VT: I recently saw a video, a "Live @ KDHX" performance and there you were playing with Laura Cantrell!
GH: That was me.
VT: How'd that happen? And does that happen all of the time?
GH: Mark Spencer plays with tours with her, I think it was in the fall, so they were probably playing at the Americana Festival in Nashville, and then I don't know if I got her the gig at Bottleworks, or Charles, or somehow, but Spencer asked, "Do you wanna play the gig?" and I said, "Okay." So then she came to my house with Mark and we ran through a bunch of songs, and then he said, "Oh, we're gonna play on the radio -- you wanna go play?" and I said, "Okay." I mean, I didn't know any of it! I have no idea what the songs were. She's really awesome. I had met her in New York a couple times when Laura and Mark opened for Jay and when we played at City Winery or somewhere up there. Something similar happened with Carl Sonny Leyland who plays all over the world -- I mean he's good. He's not like as popular as she is, but it doesn't happen very often. Most people have a touring band. I mean I've backed up like Roy Head, which you probably don't know who he is, but he was a '60s white soul singer. And I've backed up Merle Haggard's ex-wife, Leona Williams. A couple of times I played with her. I can't think of her name, she lives in Missouri now.  And I also backed up Hank Thompson, another Country Music Hall of Famer. He's from Oklahoma.
VT: Do you teach guitar at all?
GH: No, I don't have time to teach. I taught myself, it's hard for me to teach beginners. My kids friends wanted lessons, and I'm like, "No!"
VT: So I asked Paul Davis his first impression of you, and he says you're a very chromatic player, and that he wasn't expecting you to be as modern in your playing. He was amazed that you were able to play modern jazz and chromatically over Django's style and that it worked.
GH: That was my plan. When I first met him, he asked, "What kind of Django do you play? Thirties or modern?" And I go, "Huh? I just play." I mean, I've listened to it for so long. And I'm into learning some of the solos and I did it, but it's not like that's the only way I play. I try not to just play like that.
VT: Paul also said that your "an encyclopedia of music." He said that you'll look over at him when you're playing and that he can tell that you're thinking, "Hey, you want to play Django's solo together?" But that the thing is he'll only know the first chorus of the solo, but you'll know all of the choruses.
GH: Ah, I know some of 'em, but Paul's on it. He's obsessed with it still. Man, I was like that, probably ten years ago or so, where it was all Django. It was all I wanted to learn, but I was still playing in other stuff too, I still had to play country music, but I was focusing on Django. My violin playing just went to hell. I was focused on that style and now I'm not so much anymore.
VT: Was there somebody else that broke your concentration?
GH: Well, I started playing and touring with Jay, and it's a whole different way of looking at music. I mean, I play a lot of gigs where I have to be a backup, you know, where you're kind of just making the song sound like they want it to sound or sound like a songwriter when you're backing up their voice and phrasing, so it's not all about the guitar. It's about the sound. It's a whole 'nother way of playing music when you back up people. A lot of respected people tell me that I back Jay up as good as anyone ever has, so I must be doing it right.
VT: So, how is it when you're the singer?
GH: When I'm the singer it's more like free-for-all gigs. The band's I'm in we have systems where like you take turns doing the backup. Like on the first verse the steel guy'll do the backup for the singer, then on another chorus another guy backs it up, and then you flip back and forth, so it's like a cycle. In the bands I'm in everybody has played together long enough and knows the way it's done. But that's what you do, it makes the song flow from one guy to the next where it doesn't always sound the same. So it's not everybody playing at the same time, so it takes a long time to be able to realize what's going on. A lot of guys, the young guys, they just want to play all the time. But you have to know your stuff.  You can't improvise all of the time. With bluegrass songs, if you don't know the songs, you can't play 'em. It's like any song. It might sound simple, but there are subtle changes. You have to know 'em. I mean, I've had people say "Oh country, I can play country," and then you get 'em on a country gig and they can't play country. But then a lot of people think, "Ah, it's just country," because they've heard one or two songs by Hank Williams, you know? But even if they're all a basically simple structure and follow patterns, some are more complicated. It's like any kind of jazz, you have to know it. If you want to play jazz you gotta know the songs, you have to know the tools to play. To play country, you gotta have the tools to play country.
Click below to see the full portrait session by Chris Malacarne.
Related Articles