Music News
Music News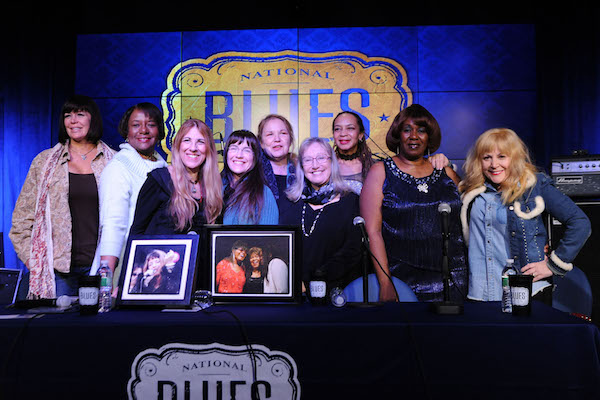 The Women of the Blues come to St. Louis
By
"Women of the Blues: A Coast to Coast Collection" took mainstage at the Scott and Dianne McGuaig Gallery in the National Blues Museum Friday, January 6 for a three-month appearance. The exhibit is a story of empowerment -- a celebration the lives of women blues artists and the photographers who have captured their images in performance.
The bevy of blues divas and photographers that came to town and St. Louisans who turned out to celebrate the opening is a tribute to the hard work of curator Lynn Orman Weiss. She said, "I never thought I would be a curator." Her game was photography and a love for the blues: "I've always had a camera. I've been in a lot of photo pits over the years and rubbed elbows or shoulders or lenses with so many photographers in so many small juke joints, festivals ad studios across the country." She talks the blues too as the host of two different weekly blues shows in Chicago on WLUW at Loyola U and WNUR at Northwester U.
The genesis of "Women of the Blues" grew from Weiss' experiences behind the lens and on air hearing the stories of women blues artists. She calls herself "a storyographer because I tell a story more than I am a fine photographer." In 2012, those experiences drove her to produce an election night show "Chicago Blues Mama's for Obama" with 12 Blues Divas onstage where they sang and shared stories. Shirley King, BB Kings daughter, was able to say "thank you Barack Obama for having my father in your living room. You're the first one to ever welcome him to the White house." Everyone involved was exhilarated and empowered. It planted the seeds for doing more that bore fruit in the run up to the 2016 Chicago Blues Fest which draws more than 500,000 fans.
The idea was to do a gallery show of women blues artists in conjunction with the 2016 Chicago Blues Fest. Firecat gallery stepped up as a home for the show. Lynn knew little about curating but she got inspiration from the Central MS Blues Society Peggy Brown and advice from life mask artist Sharon McConnel-Dickerson (featured at NBM Sept-Dec 2016). The Firecat show featured 60 photos from 15 photographers that drew crowds and rave reviews. The festival used some of the images on their jumbotron projectors and a curator for the Chicago Medical Complex asked to host the exhibit next. It was seen daily by thousands of patients, visitors and hospital staff.
By the time "Women of the Blues" made it to St. Louis it had grown to include 20 photographers and 80 images. Exhibit photographers Amanda Gresham, Peter Hurley, Terry Abrahamson and artist Carol Boss were present for the opening reception as well as local blues photographer Reed Radcliffe. Weiss worked with the St. Louis Blues Society to be sure St. Louis was represented in the show. You will find Radcliffe's photos of Sharon Foehner, Kim Massie, Renee Smith and Marsha Evans on the wall. Guests mingled at the reception while Erika Johnson and Tom Byrne provided but it wasn't long before the blues artists joined in after a short greeting by Weiss. It was a warm up of what was to come at BB's Jazz, Blues and Soup later that evening.
At BB's Laura Green with the Green McDonough Band warmed up crowd with a smoking set as the Divas began to arrive. They were ready and rarin' to go for an all-woman show and they loved what they were hearing from Green and McDonough. After the break, Aaron Griffin and Paul Niehause joined Rich McDonough as BB's all-star band to back the singers. It was a long list of blues royalty: Anne Harris, Sreamin' Rachel Cain, Jan James, Markey Blue, Renee Smith, Deitra Farr, Nellie "Tiger" Travis', Holle Thee Maxwell and Shirley King (daughter of BB King).
Anne Harris electrified the packed house with her fiddle mastery and high energy stage presence. Every other artist asked her to join them onstage. It was inclusion, mutual respect and women's power at every turn. The visitors and St. Louisans took turns on stage impressing each other and the audience. Nashville was there too, represented by Markey Blue whose powerful soulful set had the crowd moving. The artistry of McDonough, Niehause and Griffin kept up with them at every turn and drew their praises during the show and into the next day.
On Saturday afternoon NBM Director of Internal Affairs, Jacqueline Dace, moderated a curator's panel discussion that included, Lynn Orman Weiss, photographer Amanda Greasham, Anne Harris and Shirley King. They discussed the meaning of the exhibit, the breadth of the genre, the Great Migration, and how to pass the torch. Shirley King, who in her words "grew up as a juke-joint baby," spoke of the blues is universal language. She remains amazed by foreigners who cannot speak a word but they can sing a blues song word for word. She is uplifted and draws strength from working with kids through Blues in the Schools. Amanda Gresham believes that to reach young people "you need to take people to the music, touch ground, relate to music personally, and hear the stories." For her, "Every genre has a blues connection."
Anne Harris loves the exhibit: "It lifts up the gender -- it's about equality. It represents the underrepresented, a hard-working group that does it all." She also believes that there is an "unspeakable power in art that is musical and visual when combined makes people experience things on a visceral level." She wants people to be moved to be a Gandhi, King or Obama. Her words echo Weiss who says it was "passion for social justice, civil rights and the sharing of the stories" that drove her vision: "I just wanted to know about the women the legacy where they came from -- all the different stories of women of different race, different generations, different sexuality and it's all in this one show."
Lynn Orman Weiss promises to return in March for more educational and music programming at the National Blues Museum during women's history month. In the meantime, "Women of the Blues" will be playing there every day through March 31.
For more of Bob Baugh's photos of the opening and performances, click the image below.
Related Articles