Music News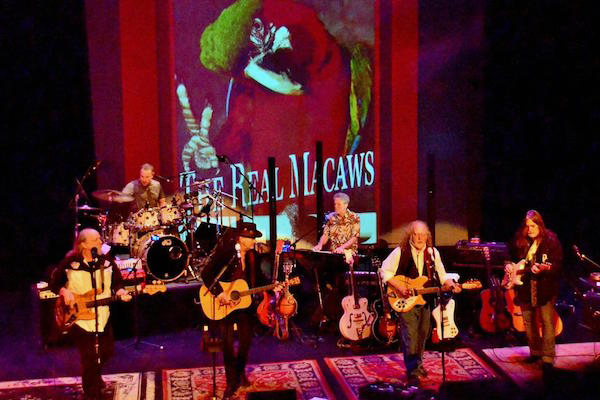 The Real Macaws coming to the Old Rock House, August 11
When you see the Real Macaws you've entered a funhouse tunnel from the '70s reverberating with original tunes and the refracted echoes of Crosby, Stills & Nash and the Byrds. The band, whose members' careers stretch back to the early wave of the country-rock movement, will be performing at the Old Rock House on Friday, August 11. 
The Real Macaws are Terry Jones Rogers (guitar, vocals), Scott Nienhaus (guitar, vocals), Michael 'Supe' Granda (bass, vocals) and Tim Politte (drums, vocals). Joining the band for the August 11 show will also be Steve Scorfina (guitar, vocals), best known for his work in Pavlov's Dog. They'll bring original Americana from their 2011 album Standing Alone and other projects, and they'll no doubt serve straight up a couple-three Byrds songs with all the honeyed vocal blends and jangly guitars that you remember from the record. (They do a powerhouse extended version of "Eight Miles High" that will leave you trying to find your sea legs.)
Speaking from his home in Maplewood, Terry Jones Rogers told me a little of the Southern-rock side of his life and how that connects to the band: "I grew up in Macon, Georgia. My father was a veteran Navy guy so we moved all around the country and ended up in Macon when I was about four years old. Of course there's a rich musical heritage to that town and so I was greatly influenced by all that; Otis Redding, James Brown and Little Richard had quite a presence in Macon back in their day. Then the Allman Brothers came to town in 1969 and that kind of turned everything on its head there."
Rogers played in Macon-based groups like Pound & Rogers and interacted in the music scene. "One of the things that's a slight link to the Real Macaws," he said, "is that after Gregg Allman recorded his first solo album in 1973, Dickey Betts recorded a solo album Highway Call the next year. He went back to a lot of his roots on that recording including bringing in Vassar Clements to play on that record and the tour that followed, which is when I had the opportunity to meet Vassar in those days. Years later when I ended up moving to Nashville, I was able to reconnect with Vassar around the time we were putting Real Macaws together. Vassar was part of the original lineup there in Nashville which of course is a wonderful memory and experience that we all had." 
This early ensemble played venues such as the Boardwalk Café and the Station Inn in Nashville — unfortunately, they did not have a chance to record with the bluegrass jazz great Clements. 
Scott Nienhaus came to the band as a recent arrival from St. Louis, where he'd performed and recorded with Acousticity. The introduction to Rogers set in motion a collaboration that has lasted ever since. Having relocated to St. Louis, Rogers & Nienhaus perform as a duo and in the tribute/heritage groups Younger Than Yesterday and 4&20, which include former Acousticity drummer Tim Politte. 
Nienhaus penned a song that the Real Macaws can be expected to play called "On the Water," a finely wrought acoustic song originally performed in 1995 by Rogers & Nienhaus with Skip Battin (Byrds, Flying Burrito Brothers). The song became the basis recently for a video for the Missouri Department of Conservation. The "On the Water" video is done in a Playing for Change style of musicians in the open air, in this case along the water, the camera moving from one gorgeous location to another, eight watery Missouri places in all with guests including Supe Granda, Ingrid Berry, Rusty Young (Poco) and Javier Mendoza. 
Supe Granda of the Ozark Mountain Daredevils is part of legacy that helped define '70s country rock. Anyone needing a refresher on the OMD's country rock bona fides should consult their self-titled debut and It'll Shine When It Shines, which were both co-produced by Glyn Johns and David Anderle. Renowned for his work with the Stones and the Who, Glyn Johns was an old folk music lover at heart and he helped mold the multiple songwriter approach of the new, unknown Daredevils into works of lasting beauty. 
A mainstay in the Dares since their founding in late '71, Granda has long been active in solo endeavors. In 2016 he released two CDs on his own Missouri Mule label: Supe & the Sandwiches' Too Pooped to Pop, a rock 'n' roll album, and Silly Grandpa's Chicken in the Yard, an album of children's music. Granda gets bookings all over Nashville to do Silly Grandpa performances for kids and says he likes the hours. He also does "Supe's On" solo performances in which he sings and plays and reads from his memoir, It Shined: The Saga of the Ozark Mountain Daredevils. He is booked for one of those gigs August 12 in Columbia, MO. 
Meanwhile, Steve Scorfina of Ferguson started playing in bands locally in the '60s and was in an early incarnation of REO Speedwagon. More famously he was a charter member of Pavlov's Dog, whose Pampered Menial and At the Sound of the Bell epitomize the new progressive rock that was finding a home on FM airwaves. 
Today Scorfina leads the blues-rock band Soul Steel and has been collaborating with Granda. He also recently took part in a local all-star mix of "Johnny B. Goode" that featured David Sanborn and Michael McDonald and the posthumous piano playing of Johnnie Johnson; the project raised funds for an indie documentary on Johnson.
Recalling the recording of Standing Alone, Terry Jones Rogers was unequivocal about Scorfina's mastery: "When we recorded the CD, we had several guests that we brought in on that recording. Slide guitar was a big part of that record and certainly that is one of the things that Steve Scorfina does so well, so we're bringing him in to do some of that stuff as well as other guitar work. He's just such a great player and a great friend."
Related Articles