Music News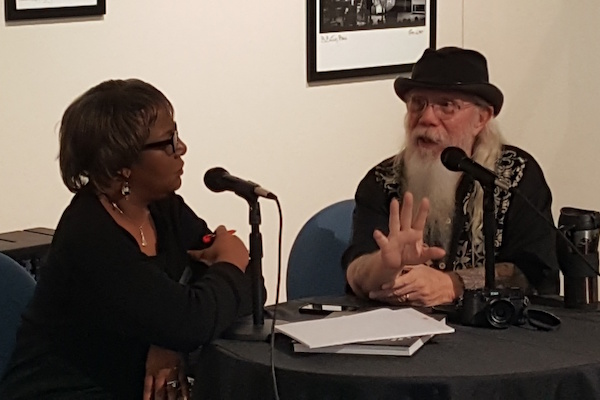 The National Blues Museum presents Kirk West: The Blues in Black and White
When Kirk West got a camera as a gift he began shooting his life. What started with model cars and toy tracks grew to muscle cars, drag strips and hippie dreams of rock music and girls. His camera took him from small town Iowa to the Chicago blues scene, Nashville, arenas, twenty years with the Allman Brothers Band and a book and exhibit, The Blues in Black and White, at the National Blues Museum. 
West grew up listening to country music but by the mid 60's he heard the siren songs of the summer of love. San Francisco, The Jefferson Airplane, Grateful Dead, Byrds and Chambers Brothers called to him but so did another sound. It was an album a high school friend played: "Paul Butterfield's East-West album changed my life," Kirk says, "it hooked me, hooked me good. It blew my mind. It was very much like what the Allman Brothers became." 
Chicago was closer than San Francisco so after high school in 1968 West moved there and shot his first rock concert, Frank Zappa and the Mothers of Invention. Being entrepreneurial, he mounted his Grateful Dead photos on cardboard and sold them outside the shows. Eventually he and his Nikon hit the road taking odd jobs, shooting concerts and selling pictures but always returning to Chicago. It was more a hobby than a career plan until he crashed and burned in Florida. 
Clean and sober he returned to Chicago in 1976 with the idea that he could make a living through photography. Over the next 24 years he would become a well-known portrait, country music and concert photographer because "that's where the money was" but his passion was the Chicago blues scene. 
At night he would hit the club scene shooting and learning with a group of other photographers. He went to north and south side clubs "stepping lightly" as he says, "because I didn't know any black people growing up." He found friends like Willie Dixon "who was warm, friendly and wanted to teach and share" and Junior Wells who "was tough and wanted to test you."  
He became a regular at Buddy Guy's Checkerboard Lounge and spent time at Elaine's, the Delta Fish Market and other clubs. It led to lifelong friendships with the musicians and their extraordinary level of comfort with him shooting them in formal and informal settings.  West says to capture the energy and honesty of a performance or performer, "you need to be invisible as a photographer and know when not to take pictures."  
It also takes skill to capture skin tones, images in a club lit by a 100-watt bulb, and faces covered by hats. And, pre digital era photos like these required serious dark room hours to define the shadows and shades of gray that tell a story. The skills and the stories shine through West's 65 photo exhibit.   
You can see it in the sweat dripping off Etta James's chin as she hunkers over belting out the blues or Bob Marley's dreadlocks in full flight as he throws his head back in song.  The Delta Fish Market photos take you to the honesty of the people, streets, and music of a Chicago neighborhood. St. Louis's Albert King, who West says, "always got my vote as greatest living guitarist," is there puffing his pipe as he plays. And, there is the unforgettable sequence of James Cotton and Buddy Guy at Muddy Waters wake toasting him and dissolving into laughter.  Talk about capturing a moment. 
One of West's favorite photos in the show is the one he shot for the Allman Brothers 1991 album Shades of Two Worlds. The setting is the porch of a shotgun shack he found in Memphis with the band, homeowners, neighbors and a couple of women and kids dressed up for their church services down the street. He was there because he joined the Allman Brothers tour bus in 1989 as a photographer but ended up riding it for 24 years as their tour manager. "I never stopped shooting but it meant less time in the pits ... even worse," West says, "it was my job to enforce the photographer rules that I hated as a shooter."  
When he finally got off the bus for the last time Kirk began to think about what next. He and his wife Kirsten had relocated to Macon GA in the early 90's. They bought the old Victorian mansion the Allman brothers rented when they first started.  Eventually they restored it and turned it into a museum. It was there he looked at his 45 years of archives he realized "my past is my future." 
His first effort was a Kickstarter financed photography book about the Allman Brothers years, Les Brers -- Kirk West's Photographic Journey with The Brothers. It took a year and sold over 4,000 copies. He approached the 200 photo newly published The Blues in Black and White the same way. He is thrilled to be exhibiting at the National Blues Museum because "it is a teaching museum that tells the story of the blues and the trajectory of the music."  
West first approached the National Blues Museum staff during its April 2016 grand opening. Jacqueline Dace the Director of Internal Affairs was interested: "We try to think a year ahead about our traveling exhibits. I particularly like black and white images because they force you to look closer and see the expressions a little more and this is a personal collection so there are stories behind every picture." You can hear Kirk tell a few of those stories on the NBM podcast. 
Kirk West will always keep his Nikon D750 and 28-55 lens ready but for now his future will be residing in the National Blues Museum Scott and Diane McCuaig and Family Gallery through February 4, 2018. Blues in Black and White is an intimate insider's camera lens view of the world that will appeal to photographers and blues fans alike. Don't miss it.
Related Articles