Music News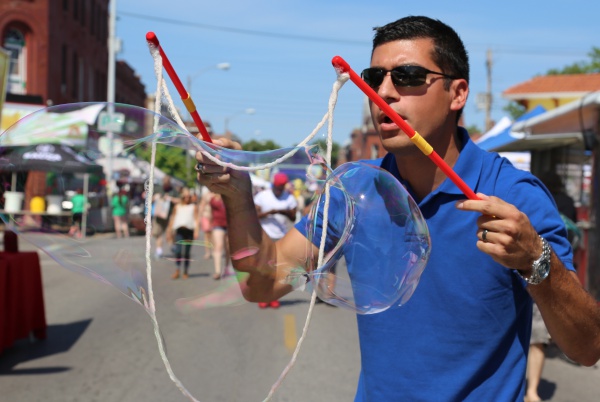 Festival photos: Cinco de Mayo Festival on Cherokee Street, Saturday, May 7
Everywhere I looked I saw brightly colored storefronts and Mexican flags. The aroma in the air suggested tamales and margaritas.
No, this wasn't Ladue -- I was obviously on Cherokee Street during the annual Cinco de Mayo festival. The 2016 version of Cherokee Street's Cinco de Mayo fell on Siete de Mayo, but nobody seemed to mind that it wasn't technically the fifth.
The first band to take the stage was the Tommy Halloran Trio. After the set Halloran told me it's a little more challenging using a small band -- and all strings -- on a large stage. "You never know what's going to happen," he said.
Accompanying Halloran was brother and sister Andy Hainz on bass and Abby Steiling on violin.
Over on the California Street stage, the 4th City Rag offered up its unique mix of ragtime and rockabilly, offering the two styles up in separate sets, not at the same time. Drummer Glenister Wells told me that the group enjoyed mixing up their repertoire. The band also includes Matt Maher, Brandon Karras and Knighton Clark. They began gigging at weddings and birthday parties, but now play bigger venues and have recently released their first EP.
Photos by Bill Motchan
Click here to see the complete collection of photos.
Related Articles