Music Reviews
Music Reviews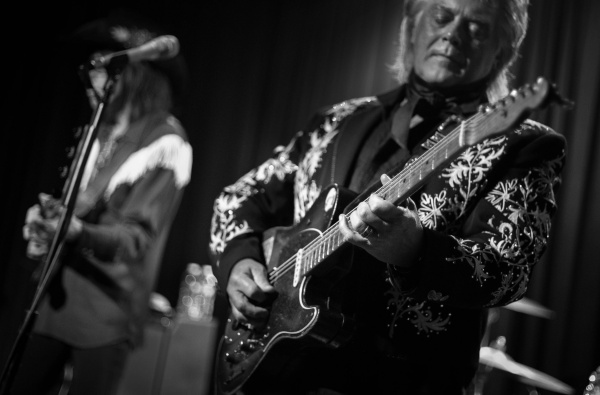 Marty Stuart turns it up at Open Highway, August 3, 2016
By
At the end of the night, a thin layer of sweat covered the floor of Off Broadway. This past Wednesday was the second night of the Open Highway Music Festival headlined by Marty Stuart and His Fabulous Superlatives with Cory Branan opening. The room hosted most facets of Americana fans, those who saw Marty from his beginnings, young country boys ready for the southern honesty of Branan and the familiar faces that move in and through the doors of Off Broadway. Whenever Stuart and his band come to town there is an excitement surrounding the show and hearing songs that cover all spectrums under the banner of country music.
Cory Branan joyfully bounced on stage with his guitar as if he were on a mission. "I'm going to start out the night with a love song, about whiskey" and with the opening notes of "Sour Mash" the audience witnessed a punk rock energy brand of modern folk that is more akin to the story telling of John Prine (with his wit and humor), the longing of Uncle Tupelo and melodies that resonate the power of Woody Guthrie. "I'm going to keep it happy for a while, it's not my forte but that's what I'm going to do." Instead of bogging himself down with introspection he was playing to his own excitement of being on the same bill as Marty Stuart. "I'm going to try and keep this moving because I want to get a good spot to see Marty." Branan ripped through a set that featured the songs "Wayward and Down," "The Prettiest Waitress in Memphis," "The Only You" and "Tall Green Grass." He was in his element; cracking jokes, telling stories and playing the songs that have, rightfully so, been give rave reviews.
It has been a while since Marty Stuart and His Fabulous Superlatives have taken a stage in St. Louis. The last time he hosted his brand of hillbilly rock was within the beautiful walls of the Sheldon Concert Hall but this time around was a treat. Brandishing the two Tele attack of Stuart and guitarist Cuzin' Kenny Vaughan with the powerful pocket tight rhythm section of Handsome Harry Stinson on drums and the newest member, bassist (and steel guitar player) Professor Chris Scruggs. The band laid down a honky tonk groove so powerful it could peel paint off the walls. It was a rare occasion that this band played such an intimate venue, outside Nashville, where one could easily touch the performers and this edition of the Open Highway Music Festival gave fans that opportunity to watch the ambassador of Country music that close.
Just to remind people of the eclecticism of the crowd make up, the band launched into a version of "I Know You Rider," a song that is associated with the Grateful Dead but it's roots trace back to Blind Lemon Jefferson. To see Marty Stuart and His Fabulous Superlatives is a history lesson in Country, Folk, Blues, Rock and Roll, Gospel and Bluegrass. He has taken that history and processed it through his unique style that comes out traditional but completely fresh. The band rocked through songs like George Jones' "Old, Old House," Woody Guthrie's "Pretty Boy Floyd," Marty Robbins' "El Paso" but of all the hits Stuart had in the 90's only "The Whiskey Ain't Workin'" and "Tempted" found their way early into the set. This made room for the band to showcase their talents as musicians, singers and songwriters with Stuart stepping aside to let each member shine. Even though Gospel is a staple in every show during the encore we sent a little prayer up to a great icon we recently lost as the band played a high octane version of "Mama Tried" with everyone's voices lifted into the rafters.
"Hey Pokey!" Stuart said looking off to the side of the stage where St. Louis' own Pokey LaFarge was hanging out, even though he was trying his best to be somewhat inconspicuous wandering through the crowd. "They called me and asked if we wanted to play St. Louis. I said ask Pokey, this is his city, if he's ok with it, we'll play" and that moment summed up the evening. Whether it was Cory Branan pounding out his signature songs or the powerhouse that is the Fabulous Superlatives, it was a good for many to stay out past their bedtime, sweating the St. Louis humidity on a Wednesday night to see an intimate show cranked to eleven.
Photos by Monica Mileur
Click here to see the complete collection of photos.
Related Articles