Music Reviews
Music Reviews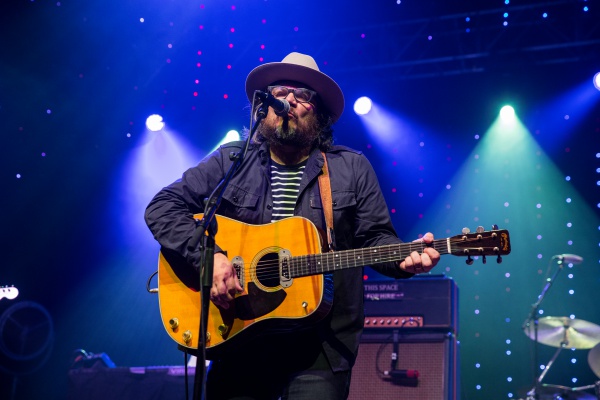 Wilco performs career-spanning set to a packed house at The Fabulous Fox on Wednesday, August 17, 2016
By
A St. Louis Wilco show is always a special affair. Though based in Chicago, the band's founder/leader Jeff Tweedy grew up in Belleville, Ill. and cut his teeth playing St. Louis clubs with alt-country pioneers Uncle Tupelo as well as working in area record stores. He jokingly "reminded" the crowd at The Fox on Wednesday night of this fact, saying, "I'm from around here. Did you guys know that?"
Of course this was not news to most local fans, some of who were lucky enough to catch an afternoon set by the band at Euclid Records (a former employer of Tweedy) in Webster Groves in promotion of their forthcoming album, Schmilco. 
Throughout Wilco's nearly two-hour show, Tweedy continued to reminisce and mention how happy he was to be back, noting that in his early days the gorgeous Fox was the "last place" he ever imagined himself playing.
After a brief instrumental opening set by Nashville guitarist William Tyler, Wilco kicked off with the first four tracks from their 2015 release, Star Wars, as strings of lights twinkled behind them. Tweedy was in perfect voice and the band sounded tighter than ever, boosted by the exceptional acoustics afforded by such a stately venue.
After working through more recent material, Wilco pulled out an early-in-the-set heavy hitter with the sublime "I Am Trying to Break Your Heart," a favorite of die-hard fans. Heavy, trippy "Art of Almost" gave guitar virtuoso Nels Cline an opportunity to work his array of pedal effects in a dizzying solo as drummer Glenn Kotche pounded a tribal beat. 
A mid-set trio of tunes from the album "A Ghost is Born" was another highlight. Cheery and melodic "Hummingbird" gave way to John Stirratt's familiar bass lead-in on "Handshake Drugs" before Cline again took over with his signature piercing shred melting into controlled chaos. Sprawling "Spiders (Kidsmoke)" with its rapid-fire bass and drums built slowly to a crescendo marked by a carnival of keys by Mikael Jorgensen. 
Fans also delighted in early cuts like "Via Chicago" with Tweedy on acoustic guitar and songs from the band's seminal album, Yankee Hotel Foxtrot including "Jesus, etc." with Cline on steel guitar; "Heavy Metal Drummer," which Tweedy noted mentions certain parts of this city (Laclede's Landing); and the upbeat and infectious "I'm the Man Who Loves You." 
The band performed only two songs from Schmilco (coming out September 9) -- the already released single, "If I Ever Was a Child," a melodious, contemplative tune with gentle twang, and the unreleased "Nope." They focused instead on a truly retrospective selection of the best work from across their lengthy catalog.
Gorgeous "Impossible Germany" with its melancholy melody morphed into yet another astounding display of guitar acrobatics by Cline, his entire body convulsing as his fingers flew across the fretboard.
Wilco closed out the main set with "Late Greats," taking a brief break before returning to encore with a seven-song mini acoustic set. Grouped closely together at the front of the stage and basked in simple white light, they began with fan favorite "Misunderstood," the audience repeating the ending chant of "Nothing!" in more of a whisper than a scream. 
Stirratt took the microphone to croon the twangy "Just That Simple" before Tweedy treated Uncle Tupelo fans to "We've Been Had." Yet another local nod came with a stripped-down version of "Casino Queen," which nearly always gets a performance at the band's St. Louis shows. Tweedy encouraged more sing-alongs on closers "California Stars" and "Shot in the Arm," on which Cline nimbly translated his signature shred on the steel guitar.
Throughout the evening, it was nearly impossible to keep up with the striking number and variety of guitars interchanged by the band's technicians for Tweedy, Cline and Pat Sansone. The complex layering and array of instrumentation is key to Wilco's sound and their ability to continuously explore and push the boundaries of what they've done before is what makes them one of the most consistently excellent live acts touring today. 
Mostly, they never seem to be phoning it in. Though Tweedy can often come off as sarcastic and even unenthusiastic, once the band starts playing, they put their all into it, leaving the audience spent and satisfied; and Wednesday night's performance was no exception.
Photos by Dustin Winter
Related Articles