Music Reviews
Music Reviews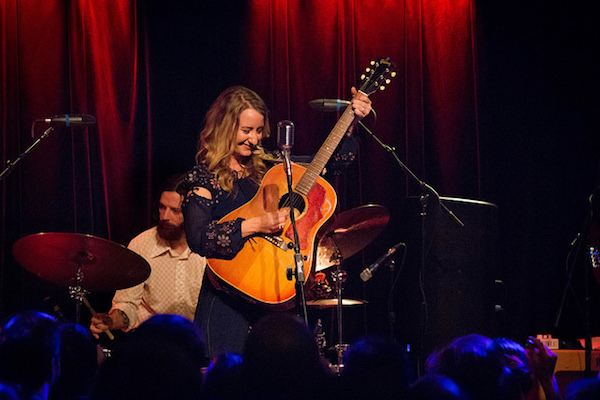 Retro country star Margo Price comes out swinging at Old Rock House
By Kevin Korinek
Alt-country legend in the making, Margo Price has been putting in some heavy hours traveling the long, touring road, starting out from her main thoroughfare of Nashville, TN and making stops all throughout the States, including a special stop in St. Louis at the shotgun stage of Old Rock House on October 29.  
"Y'all want to hear some shit-kicking country music?!" Price screams mid-performance, her long blond hair flowing beside her shoulders. Nobody in St. Louis would say no to that and the sold-out crowd at Old Rock House answers the call. 
If you haven't heard of Margo Price yet, it's really just a matter of time before you do. With the release of her acclaimed 2016 debut record, Midwest Farmer's Daughter, she's now officially part of the country nouveau roster -- Sturgill Simpson, Whitey Morgan, Daniel Romano -- country music that is less "alt-country" and more "country the way it's supposed to be." Purists will rejoice. Pupils will recognize. 
When Price and her four-piece backing band take the stage, the crowd gathers in close succession, packing the small venue, top to bottom, jockeying for a good vantage point. (Insider tip for late-comers: at the Old Rock House, it's on the first floor, at the top of the stairs next to the engineer's booth.) When she begins the solo chords of "Since You Put Me Down," the band joins in after a few bars and the jovial crowd sings in unison -- "I killed the angel on my shoulder / when you left me for another." The melody makes me homesick for lost love and I want to hear a version of this song with an upright bass, in a Southern honky-tonk. These are the new classics, ready to accompany you on the bender of a lifetime. "You all sound beautiful," she commends the crowd on their singing prowess, but she's just being nice: crowd sing-a-longs are rarely in time or key.  
Price's music is made unique by her similarity to country pioneers who came before and by a superfluous singing voice that floats above antiquated western progressions, with new songs that give a gracious nod to the jukeboxes of yore -- they're as straight as a shot of Evan Williams, as sultry as an old record and a last cigarette. Her backing band makes easy work of the semi- country funk of "Tennessee Song," the 1-2 two-step of "Desperate and Depressed" and a new song titled "Paper Cowboy," which starts out as a West Texas waltz before flipping into a Nashville-style boogie. There's lots of phaser effect on the guitar, giving you that feel of entering drug-country. 
Perhaps the most alluring aspect of her music is that it's executed in a way that the alternative world of country music desperately needs right now -- a strong, experienced female voice that can eclipse the echo chamber of the more polished country starlets operating today. Price easily showcases honest roots by creating songs that embody both tragedy and humor simultaneously. It's the self-deprecating, country outlaw, who is experienced enough to know trouble first-hand, but honest enough to admit she has no intention of stopping. That blurred edge is the perfect landscape for the style of songwriting that Price adheres to -- she tells a story, usually one that is reflected from her own personal life, and tips her cowboy hat to it before moving on.
Because Price has only the one album to rely on, she breaks out a few covers, breathing new life into songs like Kristofferson's "Bobby Mcgee," Cash's "Big River," and Haggard's "Red Bandana." It's enough to keep the energy of the show to a natural denouement. During her second single, "Hands of Time," she stops a few bars in to scold some front-row drunks holding a loud conversation. The crowd cheers and it's an inspiring moment to witness this talented artist not taking shit from anybody. 
Price saves her first, tried and true single, "Hurtin' (on the Bottle)," for the end of the performance and the crowd goes wild. She comes across as a steady mix of Merle Haggard and Loretta Lynn -- singing about jail time, lost children, jilted love -- all while keeping the necessary wit that all ne'er-do-wells know all too well. In all likelihood, this song will go down in music history as the first great drinking song of the new century, right up there with "Friends in Low Places" and "The Bottle Let Me Down." In fact, listen for it wherever drunken Karaoke singers gather. That's how legends are made. 
Click below to see more of Monica Mileur's photos from the evening.
Related Articles