Music Reviews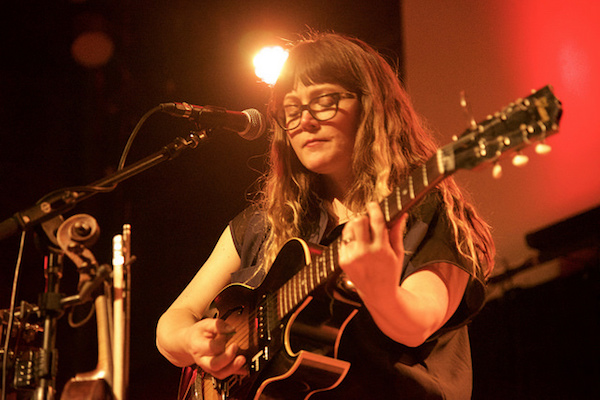 Sara Watkins charms sold-out crowd at the Old Rock House
You can't keep a good fiddle player down. But then Sara Watkins is no mere violinist -- she's well on her way to becoming one of the greats and she proved it with a sold-out show at Old Rock House on Saturday, January 28. 
Late last year, when Garrison Keillor announced he would be retiring from his successful radio program, "A Prairie Home Companion," it didn't take long for him find a replacement -- Watkins' talented Nickelcreek bandmate, Chris Thile. And while Thile is a dynamite showman who is still learning the ropes of wit and wondrous storytelling in the world of Lake Wobegon, you get the distinct impression that maybe Watkins could have upended Thile in pure relatability. She has a natural demeanor with her audience, who fawn over her every flick of the wrist, every note  from her effortless voice -- indeed, it's her voice that acts as a siren call that attracts longtime fans from far and wide. 
But as it stands, Sara is happy to keep touring the country in support of her latest album Young In All The Wrong Ways, her third solo record. Traveling to St. Louis with two talented multi-instrumentalists in tow, the show was an intimate affair for long time lovers of Watkins' signature sound. She opened the set with "You and Me," singing, "I remember the night / I remember the sound." It may have been the quintessential song to being her performance While the drummer easily handled rhythm and backup harmonies, as well as modest bass lines on a keyboard, he had a great time doing it. The guitar player switched from archtop to solid body to electric and gave nuance to the gravitas of Watkins' singing voice. And from a tiny songbird like Watkins, that gravitas came in waves. From songs like "Move Me" to others like "Say So." For her rendition of the Nickelcreek song "Anthony," Watkins encouraged the packed crowd to whistle along at certain intervals and they did so enthusiastically. She returned for one encore, even though the crowd in the balcony came off as though they were there for a dinner party instead of a night of quiet introspection and a reverence for a great performer. But angry fans made their frustrations heard and the  chatty crowd settled down. One thing is for certain, St. Louis takes its bluegrass seriously. 
The effect of Watkins' own multi-instrumentalism was enchanting itself, as she moved fluidly from guitar to ukulele, her lustrous voice never faltering or losing its footing. Indeed, there were times when it seemed like she was unsure of herself on stage, but that really was just her modest demeanor materializing -- she's a showman for sure, but not a showboat and she lets her talent speak for itself. And if you're not listening to Watkins' universal talent, then you're listening to the wrong radio. 
Opener Liz Longley warmed up the crowd with a dynamic solo set that featured music from her latest album, Weightless. A longtime singer-songwriter in her own right, Longley has made a fast name for herself by tirelessly working the performance circuit and connecting with fans across the country. The Berklee trained musician relies on deft fingerpicking skills and award-winning songwriting prowess to make her brief set also one to remember. 
 Click the image below to see all the photos from the evening's performances.
Related Articles