Music Reviews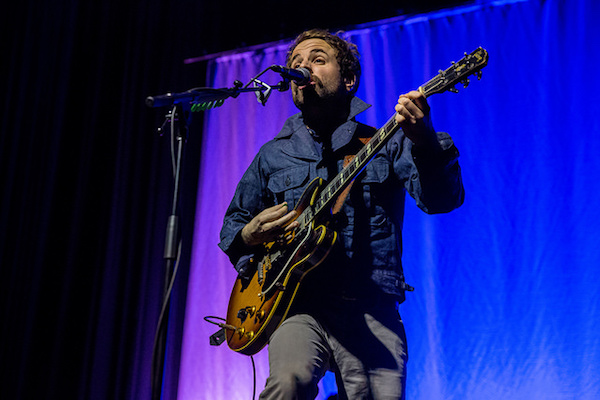 'We're All Gonna Die' and other truths courtesy of the new Dawes
On February 1, a crowd of seven hundred gathered at the Pageant to hear Taylor Goldsmith, front man of Dawes dole out ingenious points of view about life, love, and death.
The latest album, We're All Gonna Die, is a shock to the system and eardrums for fans who were eager for another dose of folk indie rock that initially drew them to the four-piece band in the first place, consisting of Taylor (guitars and vocals) and Griffin Goldsmith (drums), along with Wylie Gelber (bass) and Lee Pardini (keyboards). 
In an interview with Larson Sutton, Taylor explained, "We could have made the same album and no one would have remembered. What would be terrible is if people say Dawes delivered a really dependable Dawes record. Then, no one would care. It's just going to go away." 
There's nothing subtle about the album and there wasn't anything subtle about the performance, either. The experimental, sonic sounds captured on this record infused the live performance with a brand new energy and rhythm. Beginning with the buoyant bass line on the track, "One of Us," the entire first set was a thrilling ride from one song to the next, carried by the bass and made cohesive with piano fills. Lee Padroni joined the band last year and transformed Dawes from a good band into a tremendous one. 
The second set delivered a stripped-down instrumentation of "Florida Key" and "Roll Tide," which focused on harmonies, tambourine, and acoustic guitar. The simple, sincere arrangement was a nod to old fans; it was the signature Dawes that got them in the door in the first place. 
Despite the new electronic elements and experimental beats, Taylor's lyrics remain honest, insightful observations at their finest. "This song is about quitting," he said, echoed by a kick drum and maraca layered beat, before he preached, "Quit wasting my time because pretty soon you'll find. / It's the only thing of value that we own. / You're gonna have to quit everything, until you find one thing you won't." A guitar riff played on nylon strings and distant wailing ride out the song to its abrupt stop. 
Dawes' foray into experimental, atonal beats is reminiscent of when Bob Dylan went electric; there was backlash, but it was worth it. Dylan and now Dawes are examples of innovators pushing past the familiar to become more of the artists they are meant to be. Wednesday night's performance was an unfolding of the evolution of the band. Thankfully, Taylor remains a brutally sincere lyricist, as he sang "Picture of a Man," 
In the heat of an argument 
I got tricked into saying that I knew how I felt
As if you give something a value just by naming it 
I'd be a hell of a vendor if I knew what I'd sell
Taylor is a vendor, alright. He sells gold-plated words. To fans wary of the new sound, remember: "We're all going to die," but more importantly, living is best when challenging expectations and pushing yourself further. We're all gonna die, so we might as well live. In closing, here's one last bit of life advice, compliments of Taylor, "You just roll with the punches. Until you can't feel a thing."
Click the image below to see all of Dustin Winter's photos of the Dawes performance at the Pageant.
Related Articles