Music Reviews
Music Reviews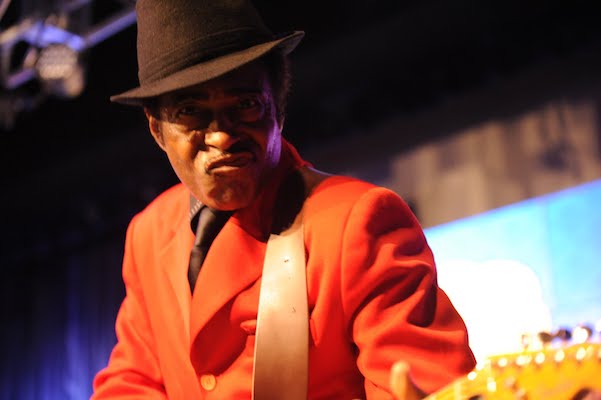 Living History: The Great Migration Tour 
By
When the "Great Migration Tour: Celebrating the Sounds of Mississippi, Chicago and St. Louis" hit the Legends Room stage at the National Blues Museum, it brought Black History Month to life. The concerts of February 24 and 25 performed by renowned blues artist and educator, Fernando Jones, Marquise "The Prodigy" Knox and 2016 Grammy award nominee Vasti Jackson paid tribute to the Delta blues while capturing its present day musical evolution. 
The roots of the blues will always be tied to a system that enslaved and transported more than 12 million West Africans to the Americas. As Vasti Jackson told the Friday night audience, "It's the same boat, different ports, the same cultural and musical traditions that became the blues here influenced the reggae, samba, and conga beats of other countries." The soul and culture of a people that created the Delta Blues would evolve and be popularized by the Great Migration.  
The migration of more than 6 million African Americans between 1900-1970 from the rural south to northern and western urban areas has been called the largest and most rapid mass internal movements in history. NBM Internal Affairs Director, Jacqueline Dace, cites discrimination and poverty as the drivers: "After Reconstruction and with the establishment of Jim Crow Laws, blacks found themselves in an environment that was not only detrimental to their economic advances, it was also detrimental to their lives."
The shift was dramatic. African American population outside the south rose from 10 percent in 1910 to 50 percent in 1970. In that same period, African Americans rose from 6.4 percent of the St. Louis population to 40.9 percent. The two big migratory waves (1900-1930 and 1940-1970) coincide with the two waves of urbanization of blues music.  
Scott Joplin and W.C. Handy urbanized the sound while women like STL's Victoria Spivey popularized the blues by dominating the 1920s record charts during the first wave. Male migrants led the second wave as Muddy Waters electrified the sound and fellow artists like Howlin' Wolf, B.B. King, John Lee Hooker and St. Louis' Henry Townsend, Oliver Sain and others crafted their versions of the blues. The artists of the Great Migration Tour reflect this history.  
Fernando Jones, the son of parents with Mississippi roots, grew up on Chicago's south side, learned to play guitar at the age of four and has been in the business for more than 30 years. He is often called the "Renaissance Man" because of his extensive resume that includes: performer, producer, writer, artist, film, and education. His education efforts run from kids to college. 
New generation bluesman and STL native, Marquise Knox, who says, "the blues was passed to me through the blood," has family ties to Grenada, Miss. and Big George Brock (Mississippi migrant) and Bennie Smith. Brock, Smith, Henry Townsend and B.B. King all helped school Knox in the blues.  
Vasti Jackson, born into a family of fiddle, harp and guitar players, never left Mississippi and now resides in Hattiesburg. He is a highly sought after performer and producer with 40 years of professional experience and an encyclopedic knowledge of music and blues history. He says his recent Grammy loss was still a win because he was on stage with his friend Bobby Rush when he won for Porcupine Meat. Jackson, who helped make that album, laughs and says, "I couldn't lose. I was competing against myself."    
Jackson, Jones, and Henry Townsend's son, Alonzo, were part of a Saturday discussion panel moderated by Jacqueline Dace. In discussing the evolution and future of the blues Fernando Jones said the situation is "unhealthy because the blues genre has failed to grow ... the Grammys only recognizes two categories." All agreed that too many bands play from a limited old catalogue and Townsend noted that often the giants like his father "didn't want to do anything to change the style." Jackson said it was also about labeling and promoters "locked into the imagery of old black men and bad old days." 
The need for variety, younger players and people in the industry were key issues. Fernando Jones believes to connect to kids "you have to make it free, accessible and mobile. . . rent a bus, provide lesson plans for teachers." He has been living these words for 27 years with his Blues Kids Foundation and Fernando Jones' Blues Camp International for kids 12-18 which is free.  The National Blues Museum will host a June 15-17 camp. 
Alonzo Townsend believes he is a "torchbearer for the blues and his father's legacy, but my job is to interpret for a new generation." He does that through the Blues in the Schools Program that has reached over 5,000 young people. He wants to kids to play and instrument or find something that inspires them so that they can have a skill "that no one can ever take away from you."
Vasti Jackson want kids to see the opportunities in "the strategic alliance of industries in music -- set design, construction, lighting, sound engineers, computer programming, technology, food, catering, promotion." Townsend agreed and says he uses his own story as an example for kids: "I'm not a stage musician, but I was interested in the service side of the business promotion, management and food service."  
The late February shows spoke to the issues raised in the discussion panel. 
Fernando Jones, a man of slick suits and clean licks, opened with a "Oil and Water" from his Synesthesia album. The extended song, which opens with some slick guitar driven modern blues, puts the evolution of the blues on display as it takes on a jazzy edge in extended riffs with six string bassist of Felton Crews. There was more of the same to be found through his set and closing number "Just When I." 
Marquise Knox played a set that showcased the new and paid homage to the old. He opened with his show stopping powerful voice and guitar riffs for the first few numbers. Then the harmonica came out for some extended work that spoke to more traditional blues. The Delta was fully on stage when Knox changed keys brought out the slide guitar and sat down for some traditional blues. His close, "I'm a Bluesman" brought us back to the present and the crowd to its feet. 
Vasti Jackson opened with a resonator guitar and selections from his Grammy nominated traditional blues album, The Soul of Jimmy Rodgers.  He mixed his artistry with history telling us, "I'm not a blues museum, I'm a blues man" and why the music needs to evolve. He showed the audience what he meant as he shifted to his searing electric guitar, tearing through the audience, and bringing the house down as he channeled Prince on his rendition of Purple Rain. 
The National Blues Museum should be proud of their contribution to Black History Month. It was a weekend filled with food for thought and music for the soul. To learn more about the Blues Camp auditions click here. To find out more about about the National Blues Museum's summer camp, contact Jacqueline Dace at This email address is being protected from spambots. You need JavaScript enabled to view it.. 
Related Articles