Music Reviews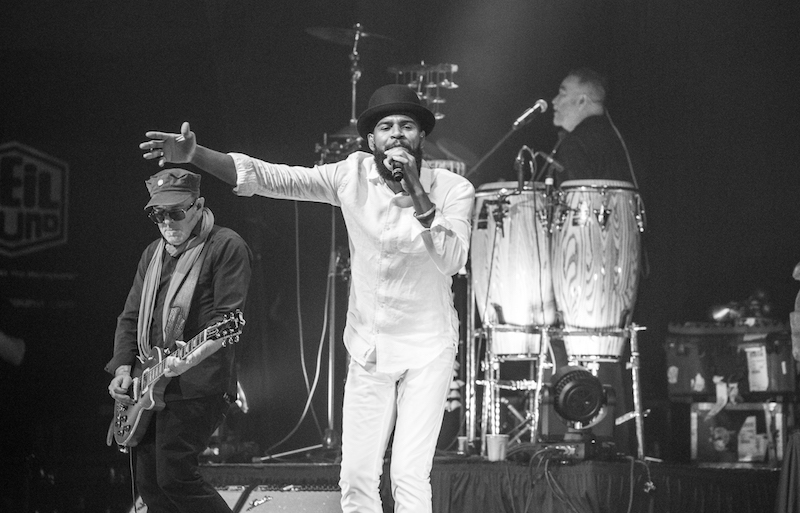 Thievery Corporation make first visit to St. Louis at the Pageant
Back in 1995, when DJs/co-owners of Washington D.C.'s Eighteenth Street Lounge nightclub Eric Hilton and Rob Garza decided to turn their mutual love of a multitude of musical styles into a recording project, Thievery Corporation was officially born. Forming a collaborative of musicians and numerous vocalists around their electronic experimentations, they have released ten studio albums on their own label (Eighteenth Street Lounge Music), along with numerous compilation discs, all expertly and uniquely combining elements of acid jazz, Indian, reggae, Brazilian, trip-hop and downtempo electronica, which have collectively sold in the multiple millions worldwide.
Despite the relatively consistent touring schedule throughout their 20-plus year existence, St. Louis has, peculiarly, never been fortunate enough to have earned itself inclusion on any of their many previous tours. That finally changed this past Saturday, when the patience of the many St. Louis area Thievery Corporation fans was righteously rewarded, at long last, with the Pageant hosting their long-overdue, premier St. Louis performance.
Opening the show was the highly talented Latin-rock quartet Making Movies, who blend together cumbia, Americana and psychedelic rock. Like many of you, I first learned about them through listening to the excellent, long-running program Latin Hemispheres (late Saturday/early Sunday from 1 to 3 AM), since they receive fairly regular airplay on that show. Formed in 2009, the Kansas City-based band, which consists of two sets of brothers with family roots in both Panama and Mexico, warmed up the then-small sized crowd with a sonically diverse mixture of slower, melodic tunes and harder-edged, body-moving rockers. Their charismatic lead vocalist, Enrique Chi, liberally spoke his mind between songs regarding his dismay with our country's current leadership, and briefly held up a sign saying "we are all immigrants" during the set's final song. A drumless version of Tears for Fears' "Everybody Wants To Rule the World' was their set's only cover, and was also the only song sung in English. My only complaint about their set was its too-short length (approximately 30 minutes). Luckily, Making Movies will be returning back to town on October 20, opening for St. Louis's Javier Mendoza at Off Broadway -- a highly recommended show if you are even remotely a fan of Latin-infused rock.
After a short break, during which an odd yet intriguing CD of Portuguese-sung, acoustic covers of David Bowie songs was played, the moment that everyone in the now-comfortably crowded audience had been anticipating (for years, for many of us) finally occurred, at nine o'clock on the dot. For the next two solid hours, five musicians, six vocalists (three male, three female) and one deejay/electronic wizard: Garza (Hilton has not been a touring member for at least a few years) aptly and effectively demonstrated just how cohesive a very wide range of sonic elements can potentially be. Their material's multitude of styles, tempo, and intensity levels never fell into familiar territory for too long before evolving into something fresh and different, and keeping the crowd completely mesmerized (the usual annoying chatter was noticeably and enjoyably absent here) was achieved practically effortlessly.
The cast of constantly-rotating vocalists is one of the features that made this concert so unique. Each of their six singers, all top-notch in both vocal talent and stage presence, lent their own personal stylistic dynamic to their respective songs, which ranged from the sultry and seductive female-sung "Until The Morning," "Sweet Tides" and "Heaven's Gonna Burn Your Eyes" to the powerful reggae-influenced "Warning Shots" and the show's trip-hoppy opener, "Marching The Hate Machines," both sung by males. The vocalist who sung that opening track was also the only vocalist that occasionally played an instrument -- he was the sitar player on three songs, including the excellent (and my personal favorite Thievery song), "Forgotten People," which was the first of five encore selections. Another superb song that included the sitar was the well-known (partly due to its inclusion on the Garden State movie soundtrack) "Lebanese Blond." The afro-beat stylings of "The Heart's a Lonely Hunter" and the haunting "The Richest Man In Babylon," one of the few songs that featured more than one vocalist, were also stand-out selections.
Visually-speaking, the stage was minimally decorated, and the lights occasionally displayed some cool moving colorful shapes on the stage and ceiling, but they never became overused or overpowering; allowing the audience's focus to remain on the organic elements of the music. It was entertaining to occasionally fixate on the barefooted bassist, Ashish Vyas, as he circulated around much of the stage throughout the entire show, with purposeful steps that ranged between a strut and a stomp, depending on the song's intensity level, while always keeping his feet precisely in synch with the beat of the song. It was also interesting to watch Garza, in his back of the stage-center platformed deejay podium, who would often glance down onto the stage, then develop a giant grin on his face, as if he was quite pleased with the activity taking place in his kingdom.
Garza remained on his podium up until the brief break before the encores, giving the crowd a very friendly verbal greeting before introducing all of the musicians and vocalists. Wearing a very shiny metallic shirt, and still maintaining his grin, he played guitar on two of the five encore selections. Then, sadly yet inevitably, at eleven on the dot, the exactly two-hour, approximately 25-song set officially came to a close.
Enough glowing praise cannot really be fully and accurately given to this wonderful, stellar performance by Thievery Corporation, which, despite the way-too-lengthy, multiple years-long delay that preceded it, was completely well worth waiting for, as truly good things usually are.  
Click below to see all of Doug Tull's photos of the night's performances at the Pageant.
Related Articles