Theatre Reviews
Theatre Reviews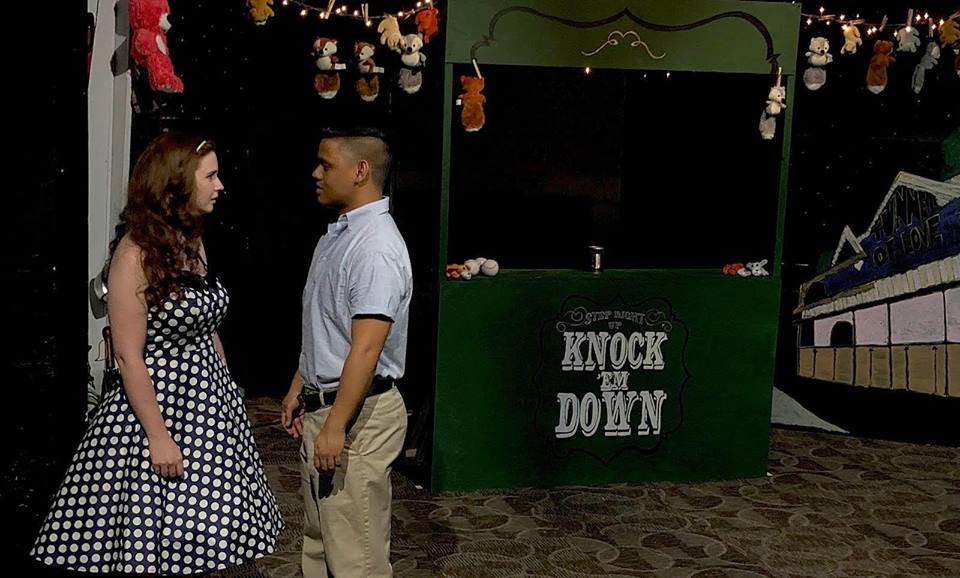 'Spinning Jenny' tries its best to turn tragic circumstances into happily ever after
By
Tesseract Theatre continues its season-long exploration of love with Kevin Ferguson's "Spinning Jenny," a new play that nonetheless feels familiar and nostalgic. Set on the grounds of a rundown traveling carnival, the story introduces us to Jenny, a young girl who longs for an adventure beyond the games and rides, and Cal Lamb, a local boy who falls for Jenny even though he knows better than to believe a sideshow fortuneteller. The fortuneteller is Jenny's grandmother, who operates the carnival with the mysterious Barker while Jenny's father does his best to keep everything running, particularly the old and persnickety carousel.
Jenny's grandmother is all grifter, using and abusing Jenny and her father to ensure every town turns a profit by hook or by crook. But Jenny is tired of the family business and begins to rebel, so grandmother finds a handsome young mark to distract her, and, naturally, the two find a genuine connection and quickly fall in love. Their love story threatens to turn tragic, but Jenny's self discovery and her desperate grab for a chance at a different life make for a compelling story no matter the outcome.
Rhiannon Skye Creighton fully commits to the role of Jenny and Kevin Corpuz enthusiastically dives in as Cal. Corpuz takes another stride in establishing himself as a leading man and Creighton shows promise and an ability to tap into her character's essence. The two create natural chemistry that boosts the play beyond its predictable story arc and trite dialogue. Additionally, there's a shy but playful aspect to their courtship that is quite enjoyable and feels organically derived from the material. Maurice Walters II wrestles with his moral conflict as the father, and we feel his better self struggling with the life he's always known. Darrious Varner is omnipresent and all knowing as the Barker and Helen Pancella is thoroughly and appropriately unlikable as the grandmother.
The show is not without its problems, however, starting with Ferguson's too familiar script. The writing feels contrived in places and the supporting characters are particularly one-dimensional and clichéd. As importantly, the story feels dated with scenes reminiscent of several shows, most noticeably elements from both the primary and secondary plot of "Carousel." If the re-imagining is intentional, "Spinning Jenny" is the name of the family carousel after all, the author should acknowledge the source. Additionally, the set-up for the family-run scam seems somewhat unrealistic from a contemporary standpoint, although Jenny's position as a young girl pushed into the sex trade at the hands of her family resonates as all too sad and true.
Creighton and Corpuz find several emotional levels in their characters, but should continue to work on ensuring every line is internalized and well motivated. The two are moving in the right direction but are advised to continue to dig deeper. Beyond Jenny and Cal, however, director Taylor Gruenloh and the cast stumble in terms of character development and the result is interesting but one-dimensional characters that inevitably fall flat. Varner is convincingly philosophical and mystical, but the bold, busker persona is completely missing and much needed. Pancella lacks vocal variation and her only emotion seems to be anger expressed through bullying and coercion. On a bright note, the fight choreography is well done and the tension and sense of urgency noticeably increases in the second act.
Like the acting, the staging is inspired and ambitious but the execution is not quite to the level the company needs; more attention on fewer set pieces is likely warranted. For "Spinning Jenny" the company may have made better use of their resources by focusing on getting one piece, the carousel, done well rather than attempting to also build a midway full of games. Additionally, if the company plans to continue presenting shows on the theater floor an investment in paintable or flat black flooring must be seriously considered as the patterned carpet proved distracting. Though crude in execution, the set and technical design conveys the idea of a small, rundown carnival and Jenny's entrance on a carousel that mechanically spins is a memorable moment for Cal and the audience alike. From a lighting standpoint, the sense of an approaching storm is persistent and dramatically effective.
Between the complexities of the set design and the need to spend significant time developing believable characters, Gruenloh and the creative team may have bit off more than they can chew with this production. While Jenny and Cal are compelling and interesting, there is an overall need for more motivation and varying emotional levels, particularly in the supporting roles. The second act succeeds in amping up the tension and the fight scenes are quite well choreographed, leading to a satisfying if less than spectacular finish.
"Spinning Jenny," running through June 3, is an entertaining production and Tesseract Theatre is to be applauded for continually pushing their capabilities and remaining committed to producing new works. Even when the work feels derivative, their efforts are enjoyable.
Related Articles