Theatre Reviews
Theatre Reviews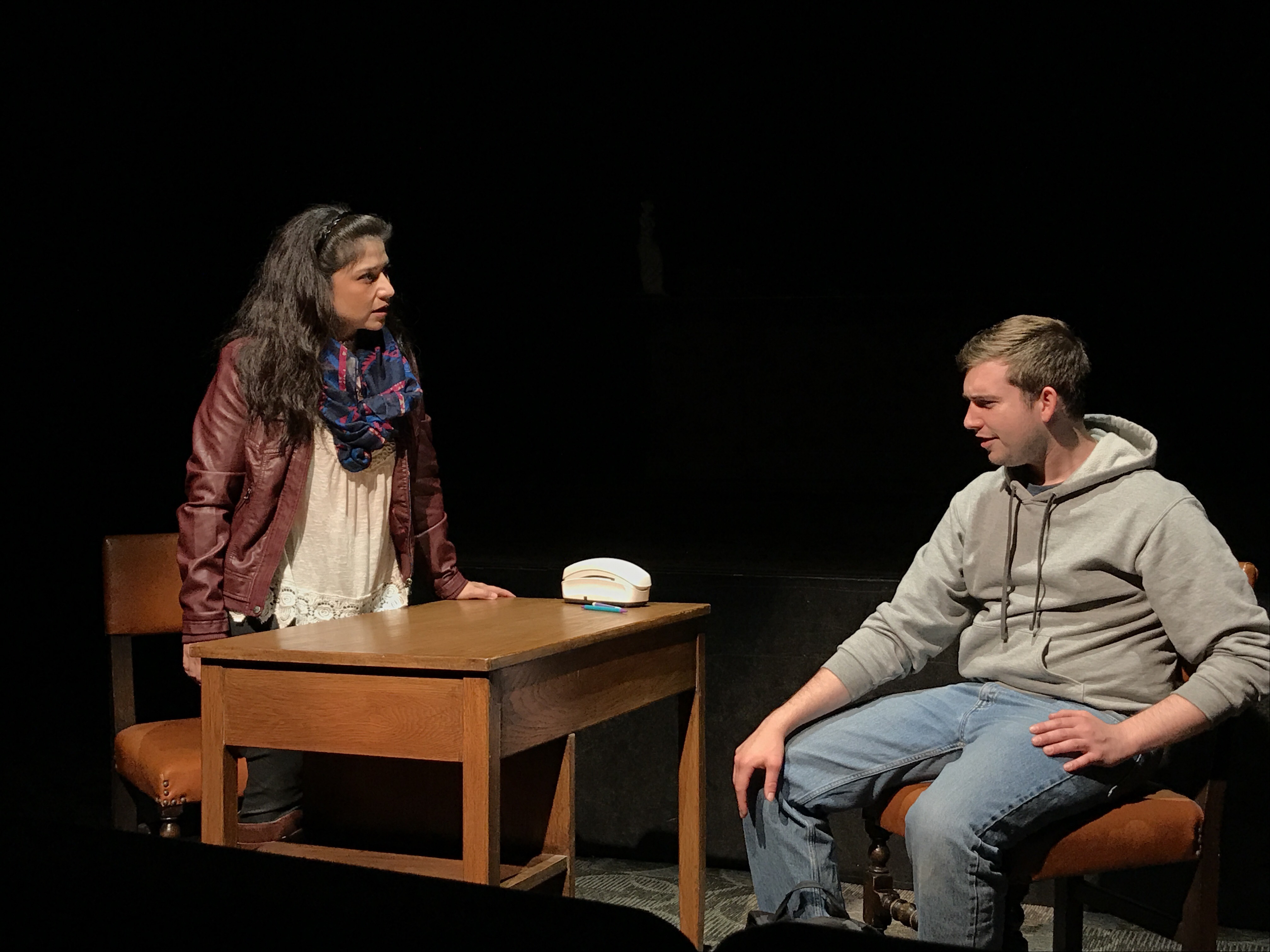 Tesseract Theatre's 'Honor Student' pits creative freedom against the need to feel safe
By
With gun incidents at schools and other public places seeming on the rise, and receiving non-stop media attention, we live in a United States that's wary of the potential for violence. But how much should a teacher of creative subjects intervene in the free expression of their students? And at what point does a student's writing crossover from imaginative fiction to thinly veiled threats worthy of alarm? Tesseract Theatre Company addresses this weighty subject in their provocative production of Michael Erickson's Honor Student, a pre-publication premier. 
Professor Naomi Orozoco-Wallace is the popular teacher of a creative writing course at a liberal arts college, and deep in an affair with the dean of her discipline. Jason Kemp, an honor student at the school, strikes a chord of fear and misgiving when he reads a violent work of fiction that seems to target the professor and specific students in the class. She raises her concerns with the dean and asks for the student to be expelled or at the very least removed from her class. The student protests that he is being treated unfairly and the dean, in an attempt to reach a compromise, has the student sign a behavioral contract. The professor is still upset, visibly frightened, and having nightmares; the student protests and takes steps to challenge the dean's decision, as well as insinuating amorous foul play on multiple fronts. The situation is all too real and the moral and ethical territory all too grey.
Christina Rios and Bradley Rohlf are well cast as the professor and student, reacting to each other with the intensity of an unrelenting conflict. Rios is terrified and increasingly distracted and disturbed by the suggestive story; Rohlf is increasingly emboldened and confident as the student. Rios' thoughts and actions become scattered and frenetic as she weighs the merits of the student's assertion, the fear in her voice draining the color from her face. Rohlf moves with a growing swagger, seeming to delight in the discomfort both the professor and dean feel. There's a brazen and menacing demeanor to his character and he clearly blurs the lines between fact and fiction, but is he really a threat or are we simply seeing him through his professor's perspective?
Taylor Gruenloh and Michelle Dillard provide strong support as competing deans Davis Herring and Donna Hellinger, with Gruenloh pulling double duty as the show's director and spineless lothario. Gruenloh feels trapped by multiple situations in his life and is clearly hesitant to act unless forced. Dillard is the prototypical administrator looking out for the school's interest. But she's not unkind or rash, and clearly trying to put personal judgment aside. There's an interesting subplot regarding a provost position, and Dillard's character is surprisingly sympathetic to the professor when we least expect it. 
Tesseract also steps up their production values, naturally benefitting from their residence in the .Zack Arts Incubator. The set is sparse, but believably academic and appropriate for the theater space. The sound design is striking and moody, conveying an expectation of conflict that amps up during each subsequent development. My one quibble with the production is that Rios' character begins the show at such a heightened and agitated level that it limits her character's emotional arc. Rios turns in an authentic, sometimes brutally honest performance that is genuine and thoroughly compelling, I only wish she had more emotional space in which to work.
Honor Student, running through May 28, 2017 at Tesseract Theatre Company, is an engrossing contemporary drama. The well-constructed script is interesting, if at times overly transparent in character and plot, as it examines the grey area between creative expression and content worthy of concern and alert. Strong performances and straightforward storytelling ensure the questions are clear, though a definitive answer remains elusive. 
Related Articles