Theatre Reviews
Theatre Reviews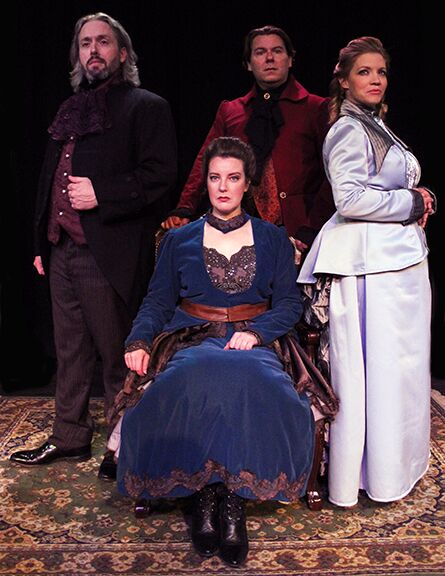 Summer Theater Season Offers Wide Variety of Shows
By
Just as the weather is getting warmer, theaters all around St. Louis are getting busier. Seeing a play is a great way to escape the heat and still get off the couch, so check out the previews and continuing productions and make plans to go see a show. This week, more musicals, a couple of intense and interesting dramas and a ghostly favorite add to your St. Louis theater options.
Last year, Stray Dog Theatre presented an excellent and engrossing production of Henrik Ibsen's "A Doll's House," featuring an excellent cast that included Nicole Angeli, Ben Ritchie, Rachel Hanks, Stephen Peirick, John Reidy and Susan Greenwald. That principle cast, along with Jan Niehoff returns in Ibsen's even more scandalous "Hedda Gabler," continuing through June 23.
Director Gary F. Bell, who hatched the idea of bringing the cast of "A Doll's House" back for "Hedda Gabler" as he was working to select shows for this season, notes "the characters have many similarities but are distinctly dissimilar. The show retains the same elements early feminist thought, but its perspective and lessons are viewed through very different eyes." Angeli, who played Nora and will be Hedda, and Ritchie, who plays her husband in both productions, nod with agreement.
"Whereas Nora was genuinely content in life," leading actress Angeli observes, "Hedda has been greatly dissatisfied the majority of her life. She has been viewed as her father, the general's daughter and as a potential wife and mate, but she has no inherent power. It's extremely frustrating to a woman of her intelligence and perception." Ben Ritchie quickly adds "Even the husbands are quite different, almost diametrically opposed. Torvald is distant, absorbed in his own world and he views Nora as his pet, his little bird. Jorgen is kind, sensitive and nurturing. Though he is dismissive of her intellect and curiosity, he dotes on Hedda as his wife."
The similarities between the men lie in their shared philosophies, particularly about women. The singularity of both women is their fierce, independent nature and capacity for thought and action. "Nora is ultimately hopeful, even hinting that she may return one day," Angeli concludes. "Hedda longs for freedom on her own terms and when she sees her manipulations begin to crumble, she is quietly resolute." The emotional and compelling "Hedda Gabler" runs through June 23 at Stray Dog Theatre and interested patrons should be aware the show is likely to sell out several performances.
STAGES St. Louis opens its summer season with a production of "I Do, I Do,' continuing through July 1. The musical ode to love and marriage features two rotating casts, with Corinne Melançon and Steve Isom in one cast and Kari Ely and David Schmittou in the other. From the highs of marriage and the honeymoon to the challenges of children, bills and fidelity, this love letter of a musical follows Agnes and Michael through 50 years of a life well lived. As a bonus, couples married 50 years or more are invited to reserve free tickets to any show during week one.
Slightly Askew Theatre Ensemble (SATE) presents "Run On Sentence," a play written and produced through Prison Performing Arts and featuring the experiences of incarcerated women. The play, originally produced at the Women's Eastern Reception, Diagnostic and Correctional Center in Vandalia, MO, tells how the cellmates in a prison find their lives thrown out of sync after a new prisoner arrives.
Actress Bess Moynihan notes that the show is "a 90-minute whirlwind of a story that paints a beautiful and honest picture of the human experience in prison while honoring the women who inspired Stacie Lents' beautiful script." SATE's professional premier of the thoughtful and sometimes painfully honest "Run On Sentence" continues through June 17.
Theatergoers on the western side of the St. Louis have a chance to catch a show in their neighborhood as Act, Inc. presents Noel Coward's "Blithe Spirit" on the campus of Lindenwood University through June 24. The lively and humorous play, directed by Jane Sullivan, features a talented cast of local actors and promises plenty of laughs. The witty comedy introduces audiences to Charles Condomine, an erudite socialite who hires a medium to conduct a séance for him, inadvertently inviting the pesky ghost of his first wife for a visit.
"Orfeo and Euridice," runs June 9 through 23 at Opera Theatre of St. Louis, joining the powerful "An American Soldier," the beautifully sad "La Traviata" and the wicked drama "Regina" in the 2018 repertory season. The operatic retelling of the classic myth finds Orfeo bravely traveling to the underworld to retrieve his beloved. Willing to face every challenge that comes before him, he fails to realize that his biggest obstacle may be his passion.
Monday, June 11 marks opening night of the 100th season of the Muny, and the season-long celebration kicks off in style with "Jerome Robbins Broadway." The revue pays tribute to the Tony-award winning director and choreographer in an evening filled with music, dancing and memories aplenty. Numbers from "Westside Story," "The King and I," "Fiddler on the Roof" and many of Robbins other productions are featured in the high stepping, feel good production.
Continuing this weekend:
The familiar tale of "Romeo and Juliet" is given a contemporary look and feel while remaining true to the original story in this year's Shakespeare Festival St. Louis production in Forest Park, continuing through June 24.
For something completely different, check out New Line Theatre's premier production of "Yeast Nation." The musical comedy, set on the floor of the ocean three-billion years ago and continuing through June 23, explores the very first lives on our planet – salt-eating yeasts.
Luche Libre and girl power take center stage in "Luchadora," a collaborative show produced by Mustard Seed Theatre Company with Theatre Nuevo. The play introduces audiences to Lupita, a young girl immersed in Lucha Libre wrestling and looking to understand her culture and place in the world. Directed by Anna Skidis, the family-friendly show continues through June 17.
"Life Sucks," a witty and comic twist on Chekhov's "Uncle Vanya," continues at the New Jewish Theatre through June 10. Vanya is still incredibly dissatisfied with life and Sonia is still poignantly resilient and hopeful in Aaron Posner's laugh-out-loud funny and upbeat retelling.
And remember, there's always much more art and culture happening in St. Louis than one reviewer can cover, so visit the KDHX Calendars for a complete listing of theater, performance, music, gallery exhibits and much more.