Theatre Reviews
Theatre Reviews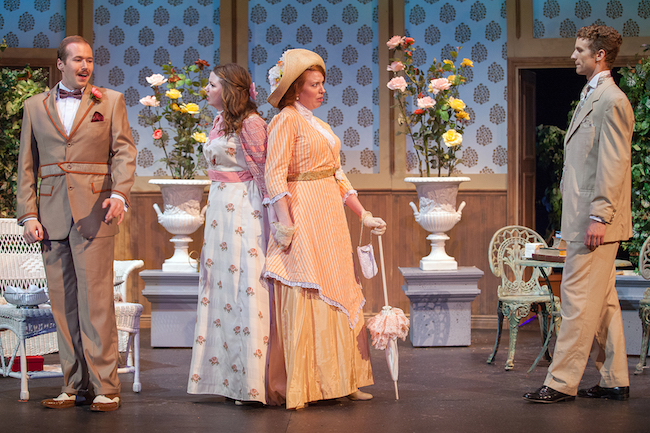 Strong performances ensure 'The Importance of Being Earnest' is a comedy that still resonates
By
Insight Theatre Company turns to a classic Oscar Wilde comedy for it's second production of the season and the results are delightfully engaging and comically spectacular. "The Importance of Being Earnest," which first premiered in 1895, is a perceptive skewering of the leisure class that's filled with double entendres, double takes, and a double dose of comic genius. Though times have changed, we may be a bit less formal and decidedly more digital these days, the show points out many ways in which contemporary society retains the same assumptions and habits as late Victorian England.
Jack and Algernon are good friends with a similar bad habit – each has made up an imaginary character that they go visit when they need to escape their present situation. For Jack, it's the opportunity to go to the city for fun and flirtation he doesn't dare engage in when he's in the country with his ward Cecily. For Algernon, it's a way to stall bill collectors and his meddlesome aunt, Lady Bracknell, and cousin Gwendolyn.
But Jack loves Gwendolyn, Algernon is curious about Cecily and pretty soon their fictitious mates come to haunt them both. Add in the amiable Reverend Chasuble, the studious but lively Miss Prism, a couple of overworked manservants, tea sandwiches, muffins and cake, and this farce of love and manners really takes off.
Pete Winfrey, as Jack, and Will Bonfiglio, as Algernon, are near perfection as the friends. Their comic timing is impeccable and the rapport between the two so natural and easy it can't help but add to the energy and fun of the spirited show. Winfrey is constant movement and sharp, confident determination; Bonfiglio counters with a more insouciant attitude and a philosopher's eye, however light and humorous his meanderings may be. Wilde is a master of witty but pretty dialogue and the two actors capably explore his playground.
Gwen Wotawa, as Gwendolyn, and Julia Crump, as Cecily, are as witty and captivating as Winfrey and Bonfiglio and nicely matched with their respective gentlemen. Wotawa gives Gwendolyn a slightly more studious and curious nature, with a touch of feminism, that feels fresh and works particularly well. Crump completely charms as Cecily, there's a hint of knowing more than she lets on to her character that compliments the other three and helps elevate the part while her voice has a lilting quality that conveys Cecily's girlish lack of interest in studies and the outside world.
Steve Springmeyer, Ruth Ezell and Spencer Kruse provide fabulous support, while Tom Murray brings considerable umbrage and deft humor as Lady Bracknell. Springmeyer and Ezell are flirtatious in a way that makes you root for them, albeit with more restraint than the younger couples, and Ezell represents the independent-thinking woman Gwendolyn strives to be without alienating the younger Cecily. Kruse is unobtrusive as the many servants, but makes distinct character choices that add to the humor. Murray is completely convincing, yet utterly himself, as the stern and quick to judge Lady Bracknell. Murray sashays in and out of scenes with the presumption of a lady who always gets her way, and the sideways glances and disapproving raise of the eyebrows are just right for the character.
Director Ed Reggi keeps the pace quick and, although a few extra hands would be useful during scene changes, the show starts off on a high note and never relents. Emma Hersom's costumes capture class status quite effectively and attention to individual detail helps the audience understand each character's personality. Lucas Shryock's scenic design is both practical and pleasing, and is nicely complemented by Tony Anselmo's lighting and James Blanton's sound. There are a few moments when certain lines seem to be swallowed up, I'm not sure if that's due to blocking or a technical error as the sound in the Grandel can be tricky, but the dialect is crisp and sharp and all the actors easy to understand.
There's plenty of physical comedy to accompany all the heady witticisms in the play, as emphasized by Bonfiglio's rapacious appetite, Winfrey's precise maneuvering, Wotawa and Crump's instant best frenemy back and forth and everything about Lady Bracknell. Reggi and the ensemble find a wonderful balance between over-exaggeration, naturalism, and skillful underplay that ensures the comedy is varied and doled out like candy to an eager audience. Considering the economic disparities and privileges prevalent in contemporary America, "The Importance of Being Earnest," continuing through July 22 at Insight Theatre Company, proves as insightful and cutting as it is charmingly funny.
Related Articles