Theatre Reviews
Theatre Reviews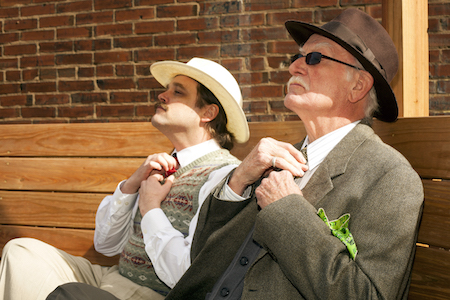 In Performance: Two famously scandalous musicals and a romance for the ages heat up the theater scene
By
This weekend we're reminded that America loves nothing so much as sensation and scandal, and love is possible at every age. Both "Anything Goes" and "Chicago" feature memorable songs and spectacular ensemble numbers, but you may be surprised by New Line Theatre's provocative take on the Cole Porter standard. Not in the mood for a big musical extravaganza? Try "The Last Romance," a gentle comedy that's likely to pull at your heartstrings.
If recent productions are any indication, veteran actor Joneal Joplin is starting to get a reputation as a bit of a heartthrob. Earlier this season, he played the romantic lead in the Reps' charming production of "Heisenberg" and this weekend he's opening in Insight Theatre Company's production of Joe DiPietro's "The Last Romance." Joplin is Ralph, a mature gentleman who loves life, opera and sticking to his habits. He's been happily living with his sister since the death of his wife years ago, but one day he shakes things up – taking his daily walk in the afternoon and choosing a new route that just might lead to love.
A natural storyteller with an affinity for his audience, Joplin asserts that it's the possibility in this play that makes the story so compelling. "No matter what happens," he asserts, "these individuals are reawakened to the idea of romantic love. That's something we can all relate to; it's touching and funny at times, but thoroughly life affirming." The story is filled with genuine optimism, hope and song, and Joplin quickly and appreciably notes Clark Sturdevant's featured role as Ralph's younger self, an aspiring opera singer. "DiPietro's characters are so rich and real," Joplin continues. "They have different personality quirks, with a weird, wonderful sense of humor, and just the right amount of depth to really hook you on the story."
As a company, Insight embraced the story because the characters are funny, warm, recognizable people. Even sister Rose, who moved herself into Ralph's house after his wife died and can be a little crabby, is "overprotective and a touch overbearing, but caring and lovely." As artistic director Maggie Ryan, who plays Rose, adds, "this is a show that connects with everyone. Although the characters are older adults we can all relate to their feelings." Joplin nods and chimes in, "during the course of the play, the characters realize that they aren't alone – no matter your age there are people out there who are interested in and care about you. Romance may or may not blossom, but age does not impair your ability to fall in love." 

Insight Theatre Company's performance of "The Last Romance" continues through March 18 at the Kranzberg Arts Center in the Studio Theater. Intimate and close, the small room is the perfect spot to celebrate this remarkable little ode to finding love wherever and whenever it presents itself.
New Line Theater turns the tables on musicals as usual with a decidedly adult and slightly sinister take on Cole Porter's whip-smart musical "Anything Goes." Set among the wealthy elite of the 1930s, the show skewers our obsession with celebrity, wealth and religious hyperbole in a way that holds true nearly a century after its debut. When approached with a critical eye, it's clear that the bawdy, rambunctious musical still holds up as socially perceptive American satire.
Company artistic director Scott Miller notes that over the years the musical has been "turned into a quaint, family friendly sketch comedy," losing much of its intended sting. Miller chose the 1962 version of the script in an effort to "return the show to its original, satiric adult roots." Sarah Porter, who plays Reno Sweeney, a role she's coveted most of her career, points out that, "while the approach is different, there are certain things that still have to happen because they're so indicative of the time and place. Giant production numbers are important because that's the way shows were framed, and this production doesn't skimp on that at all. The dancing and costumes are fantastic."
What's most interesting about this production is the way the playwright and lyricist's sharp wit and striking commentary resonates with modern audiences. The characters feel instantly familiar and the songs are memorable with a contemporary sensibility. Porter focused on finding Reno's humanity and reality among the broad stereotypes, "even in an over-the-top screwball comedy, the people have to be real." You can catch the daring and delightful "Anything Goes" at New Line Theatre through March 24.
The Fox Theatre brings the razzle-dazzle of "Chicago" to the heart of the Grand Center Arts District with a limited one-weekend run. The renown musical by Fred Ebb, Bob Fosse and John Kander has a little bit of everything theatergoers love about Broadway. In the fast-moving story set during the Roaring 20s, rival starlets Velma and Roxy compete for publicity and the attention of Billy Flynn after a series of murders finds them sharing a jail cell, the hotshot lawyer and the headlines.
A fan favorite, the musical has been produced thousands of times and was adapted into an award-winning movie starring Catherine Zeta-Jones, Renée Zellweger, and Richard Gere. You can catch the original stage version at the Fabulous Fox Theatre through March 4.
Continuing this weekend:
In its simplest terms, The Humans tells the story of three generations of the Blake family gathering together to celebrate Thanksgiving. Though they try to make the best of the holiday, each of them is struggling in one way or another. A 90-minute exploration of the American family, everyone will likely recognize something of their own family in the richly authentic characters. The Repertory Theatre of St. Louis' production of the Tony-award winning play The Humans runs through March 4.
Menopause the Musical continues at the Playhouse @ Westport Plaza through March 31. Set in a swanky department store where four women meet while fighting over a bra during a lingerie sale, the catchy musical comically addresses "the change of life" while encouraging feminine positivity and support.
To make sure you don't miss an event of note, don't forget to check out the KDHX Calendars for a listing of community art, music, and performance events.
Related Articles