Theatre Reviews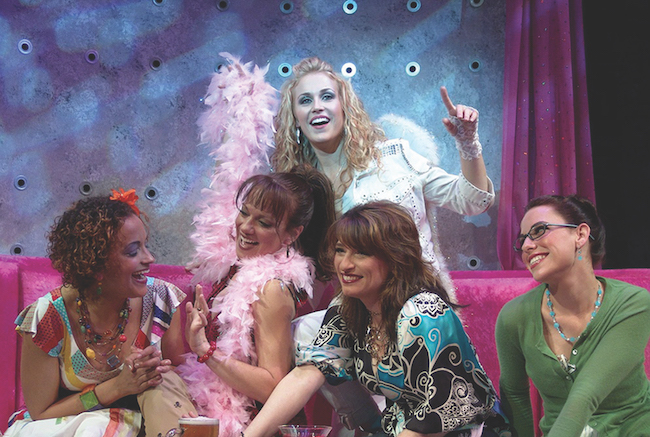 'Girls Night: the musical' gives voice to enduring friendship and the realities of growing up
Written by

Tina Farmer
"Girls Night: the musical," a boisterous comedy about life, love and friendship, recently returned to the Playhouse at Westport Plaza for a limited engagement filled with laughter and popular songs from the late 1980s and 1990s. Following a current trend in jukebox musicals, the show is small in scale, with an intimate, personal tone that draws audiences in and a friendly, conversational demeanor that embraces the receptive, mostly female audience.
Sharon is our guide and narrator through the show, and she introduces us to her best friend Carol, Carol's kid sister Katie, Liza and Anita, providing a little gossip about each to pique our interest. The friends are meeting up at a karaoke bar to celebrate the recent engagement of Sharon's daughter Candy Rose. As the drinks start flowing and their songs come up, the women reminisce about their past, sympathize and tease each other about their present and hope for a happy future for themselves and the bride to be.
Dina Desmone is bubbling with excitement and energy as Sharon, spilling secrets about the others with a slight east coast accent and attitude. She dishes in a conspiratorial manner about Carol's failed marriages, Liza's insecurities, Anita's mental health issues, and Katie's goodie, goodie perfection, but with obvious affection in her voice, even for that annoying tag along Katie. As the women catch up, each has a moment that personifies just what Sharon has told us, and Desmone's asides to the audience add to the humorous nature of the show.
Erin Baltsar is the vivacious life of the party as Carol, always ready for another round and constantly jabbing the others. She's got a big personality and the voice to match. Valerie Witherspoon is Liza, who after a few shots comes back from the bathroom and announces, with much relief, that she's not pregnant before ordering another round. Bethany Taylor is a bit fragile, a bit manic as Anita, but with a genuine nerdiness that makes her likeable and easy to relate to. Kathleen Campbell is spot on as the eager to please, straight laced little sister, though she causes more than a few raised eyebrows when she starts flirting with an unseen patron at the bar.
Witherspoon takes the lead on much of the singing and her voice is strong, with a good range that easily shifts from rock songs to ballads to pop favorites. Baltsar and Taylor carry the rest of the songs, demonstrating the chops to successfully take over on lead. Desmone and Campbell primarily provide harmonies, with a few solo moments, though most of Campbell's are intentionally and comically just off key. "Young Hearts, Run Free" feels like the show's theme song and the women harmonize nicely, recreating the peon to youthful love of the original. "At Seventeen" is sad and poignant, even though humorously interpreted and "I Need a Hero" is a raucous number, ensuring the audience is easily convinced to sing along.
Desmone has a terrific scene when she talks about how scared she was to find herself a pregnant teenager. The way she describes the moment she decided to keep her daughter, with her mom's support, is genuinely touching. And though Baltsar's Carol often seems like a mean girl for life, her lines are the most cuttingly caustic, it's clear she cares about these women. She anxiously monitors her sister Katie's behavior while simultaneously standing up for her and shows real tenderness both when Liza confesses she actually is pregnant and when her sister reveals the secret that has her acting so out of character. Witherspoon's character travels a gamut of emotional states, but the actress keeps her character grounded in reality as she unknowingly delivers some of the show's funniest lines.
The fast moving musical is filled with the elements that make a good show and the five actresses are quite talented, but the musical is stalled by a sense of the formulaic and a lack of a real standout number. The script, by Louise Roche, presents characters and lines that play out like a 90s sitcom rerun and too much of the action occurs off-stage. The other characters have to tell the audience what's happening, rather than showing us. Finally, Liza's heavy drinking after discovering that she is pregnant is frankly problematic and Sharon is noticeably absent from much of the other women's conversation, which is rather heartbreaking considering the story's primary plot twist.
"Girls Night: the musical" is a nostalgic look at very long friendships, and in that sense the show is quite entertaining. The selected pop songs are catchy, familiar and well executed, except when they purposefully aren't. The moments when Sharon breaks the fourth wall are surprisingly satisfying and Desmone really knows how to keep the audience involved. The show is an enjoyable escape from reality, even it's most real moments are presented with a light and humorous touch. If the musical returns to town and you're looking for something different to do with your friends, Girls Night: the musical" is a solid choice for a good time.
The Playhouse at Westport Plaza features both limited runs and longer engagements of shows on a smaller scale, filling a need in our community. Patrons looking to experience the full variety of live theater are encouraged to check their site regularly -- you're certain to find something of interest in the varied and well executed productions at the Playhouse.
Related Articles