Theatre Reviews
Theatre Reviews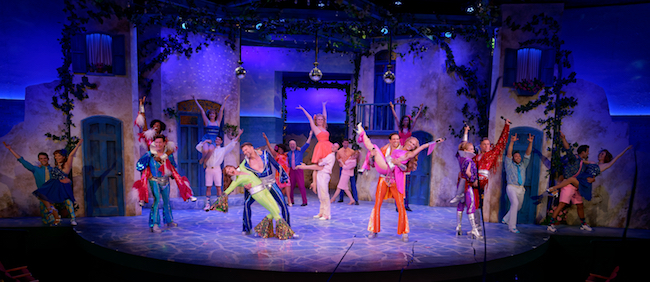 'Mamma Mia' delights audiences with pop tunes and light romantic comedy
By
Set in a cozy taverna and inn on a picture perfect Greek island and filled with friendship, romance and a heartwarming mother/daughter relationship, "Mamma Mia," is the perfect escape from the dog days of summer. The light as a feather story gets a significant boost from a score that features the music of pop sensation ABBA and an appealing ensemble that, as a pleasant surprise, looks almost realistic in terms of the diversity one expects at a Mediterranean tourist spot.
On the eve of her wedding, Sophie, daughter of single mom and proprietor Donna, is anxiously awaiting the arrival of her guests. She's particularly nervous about the arrival of three men, Bill, Harry and Sam, that she's invited without her mom's knowledge. All former flames of Donna, Sophie hasn't told her mom about the invitations, and she isn't ready to handle the consequences when Donna finds out. But one of them is her dad and she is convinced she needs him to walk her down the aisle to have the perfect wedding she's dreamed of. Sparks fly and songs are sung as Donna and Sophie proceed with stubborn determination and the planned festivities work out in their own way.
Summerisa Bell Stevens is charming as Sophie, with a pure and sincere voice that convincingly delivers both sappy dialogue and heartfelt songs. She is winsome and hopeful, with flashes of her mom's famous temperament that reinforce their relationship, and there's a joyful radiance to her performance. As her mom, Corinne Melançon perfectly expresses Donna's fierce independence and secret fears with an equally effective touch. Melançon's voice is so strong and her interpretation of the character so genuinely engaging she adds believability and much needed vulnerability. The two stars complement and embrace each other, creating a lovely balance of story elements that's sympathetic and warm.
The stand out cast features Gregg Goodbrod, David Sajewich, Dan'yelle Williamson, Dana Winkle, David Schmittou, Steve Isom, Aisling Halpin and Mariah Studebaker as the men and friend's in the women's lives. Goodbrod is perhaps the most convincing and winning Sam I have seen on stage or film. Comfortable in his skin, he has a solid and appealing voice and a big personality that suits his pairing with Melançon. Sajewich, as Sophie's fiancé Sky, starts out a little stiff, but he relaxes and his characterization grows on you as the show progresses, ensuring he's quite likeable by the final curtain.
Schmittou and Isom are well cast as the other rivals for Donna's affection, though Isom's wig is unfortunately off-putting. The two are game for the purposefully awkward and silly contortions of their characters, adding considerably to the physical comedy in the show. Williamson and Winkle are refreshing as Donna's best friends and former back-up singers and it is particularly gratifying to see the attractive and graceful Williamson in the role of Rosie. Rather than dowdy and tomboyish, she's a fit and fashionable woman with a fearless attitude and, naturally, she and Isom steal a scene or two with their not so subtle flirtation. Halpin and Studebaker are girlish and excited as Sophie's best friends and they, along with Winkle, have a lot of fun with Kyle Pollak's Pepper and Frankie Thams' Eddie.
There are a few misses in addition to the aforementioned wig. Both Sajewich and Isom look a little too old for their roles compared to the rest of the cast, and Winkle's voracious sexpot number is tepid. The choreography is solid but too often relies on gimmicks, particularly bare-chested men, double takes and lifts that the company struggles to execute cleanly. Finally, if you're a stickler for costumes that adhere closely to the prescribed time frame you'll find plenty to quibble about though the elements all work to create a bright, cheerful pop music palette. And, I do wish Donna wasn't forced to wear her overalls with one strap unfastened. After seeing the movie and multiple productions with the same touch it simply feels clichéd. Luckily these moments are rare and are countered with one of the most beautifully cinematic kisses I've seen.
You can't think too much about plot or logic with this show -- both are hanging on by a thread in the loosely constructed story -- the songs are the highlight here. From the plaintive "I Have a Dream" to the Fosse-like style of "Money, Money, Money," the flirtatious "Take a Chance on Me" and the empowering "Dancing Queen" to the ever popular "Mamma Mia" and "Waterloo," the company comes together with precision and considerable bounce. The numbers are well executed and there's a little something for everyone to enjoy in the choreography and staging.
To that end, every detail from the set and lighting to the bright, sparkling costumes serves the songs. Director Michael Hamilton, musical director Lisa Campbell Albert and choreographer Tony Gonzalez keep the pace brisk, the dancing energetic and referential with enough variation to keep us interested, and the focus on the music. Brad Musgrove's costumes are true to the character and tone of the movie, even Donna's tired overalls. The set design, by James Wolk, with well matched lighting by Sean Savoie, adds much to the sunny atmosphere of the breezy romantic comedy, and the moonlight effect the two create is a dazzling, charming coda to a delightful trifle of a musical.
The biggest surprise of "Mamma Mia," continuing through August 19 at STAGES St. Louis, is actually how well it plays in a smaller theater. There's a sense of intimacy and connection between the audience and the story that simply makes the show more compelling and the suspension of disbelief willing. For an evening filled with near-perfect pop songs and a lovely romantic fantasy, "Mamma Mia" has audiences happily singing, "Here we go again."
Related Articles