Theatre Reviews
Theatre Reviews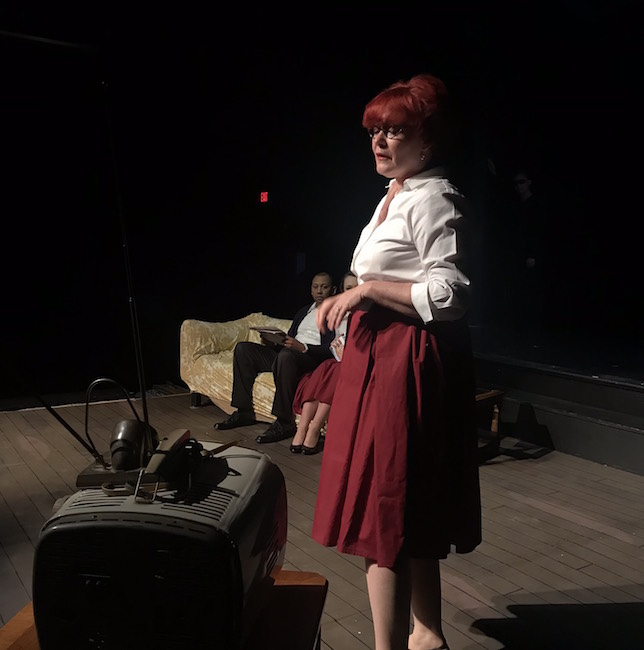 'Mama's Boy' offers a fascinating take on motherly love and assassination
By
Anchored by strong performances and a story that resonates with history, Tesseract Theatre's production of Rob Urbinati's new play "Mama's Boy" is one of the emerging company's best shows to date. Donna Parrone turns in a mesmerizing if often purposefully cringe-worthy performance as Marguerite Oswald. Brash, opinionated and fond of the spotlight, Marguerite constructs her own reality regarding her son, Lee Harvey Oswald, and his participation in the assassination of John F. Kennedy.
The show focuses on Oswald's life leading up to and immediately after the Dallas shooting, but not so much on Oswald himself. Instead, we learn his back-story through his brother, wife and domineering mother. Marguerite Oswald was convinced, or more likely convinced herself, that her son was acting as an agent of the government when he killed the president. She was interviewed several times and her ever-present documents were reviewed but largely dismissed. The play points out that she never felt she was taken seriously or treated with the respect she deserved and that her son never received a trial in a court of law to present his case. The fact that he was shot and killed while in custody does little to deter her demands for an investigation.
As presented in Urbinati's well-researched script, Marguerite Oswald is defiantly overbearing and cruel, meticulously doting on son Lee while being dismissive and unkind to his brothers Robert and John. Her relationship with all three is fragile to non-existent. Perhaps, Robert not so subtly points out, this has more to do with her self-centered and controlling nature than faults in her children. The story is relentless and scathing in so many ways, yet Marguerite captivates – she's intriguing, infuriating and at times tragically comic in a way that's genuine if abrasive. This is in no small part due to the powerful performance of Parrone, which is enhanced with convincing, sympathetic turns by the ensemble.
Parrone plays Marguerite with hurricane force. She's mildly offensive and unpleasant from the first moment, and early on it's clear she's going to get more intense before she's done. Her dominating spirit shines an almost sympathetic light on her son Lee, and Brandon Atkins' interpretation leans to the gentler side of the angry young man. He shares tender moments with his baby daughters and wife, has a strong relationship with his brother Robert and even appears to love his mother, flaws and all. His underlying distrust of the government and bitter disappointment are clearly conveyed, however, and his angry flare-ups may catch you off guard in ways that are uncomfortable and completely believable.
Jeremy Goldmeier strikes the perfect tone as brother Robert Oswald, demonstrating that he cares deeply about his brother but is also realistically honest and aware of the facts. His protective instincts and conflicted emotions regarding Marina are touching and a little heartbreaking. Carly Uding is vivacious as Lee's Russian-born wife Marina, finding meaning and purpose in the role though her character is the least developed of the four. Director Brad Schwartz guides the core ensemble of actors with certainty regarding motivation, and the story, which is well grounded in fact and reality, is compelling. Even though most of the audience is likely too young to have personal memories about Kennedy's death or the killing of Oswald, this is a part of American history that is well documented.
Brittanie Gunn's minimal set design captures a tattered, lower middle class environment and is enhanced by Kevin Bowman's reliably solid lighting design and sound by JD Wade, while Amanda Brasher's costumes reference the style of the period as well as revealing one of the more humorous threads of the show. But, true to the company's purpose, the focus is on the development of the characters and story and, when "Mama's Boy" sticks to the script, the show is captivating. Where it veers a bit off course is with the "shadows," Lydia Aiken, Kathryn Kent, Alexa Moore and Melody Quinn. Dressed in all black with masks painted across their eyes, they move around the characters creating an extra presence that frequently and unfortunately draws attention away from the story. This is never so noticeable as in the scene about Oswald's death, when the movement downstage pulls us away from a riveting and devastating moment between Marguerite, Marina and Robert. There are scenes that work, but the overall effect detracts from the inherently meaningful and engrossing story.
Tesseract Theatre Company's production of Rob Urbinati's "Mama's Boy" is a compelling show that presents a radically different perspective of Kennedy's assassination. Outstanding performances, particularly Parrone's turn as Marguerite Oswald, and effective personifications ensure that we see the family -- as flawed or troublesome as it may be -- that influenced the man who killed the president. Though the shadows feel superfluous and distracting, the show is interesting and deeply involving, ensuring audiences are likely to be thoroughly entertained. And you just might learn a little more about an important event in U.S. history.
Related Articles