Theatre Reviews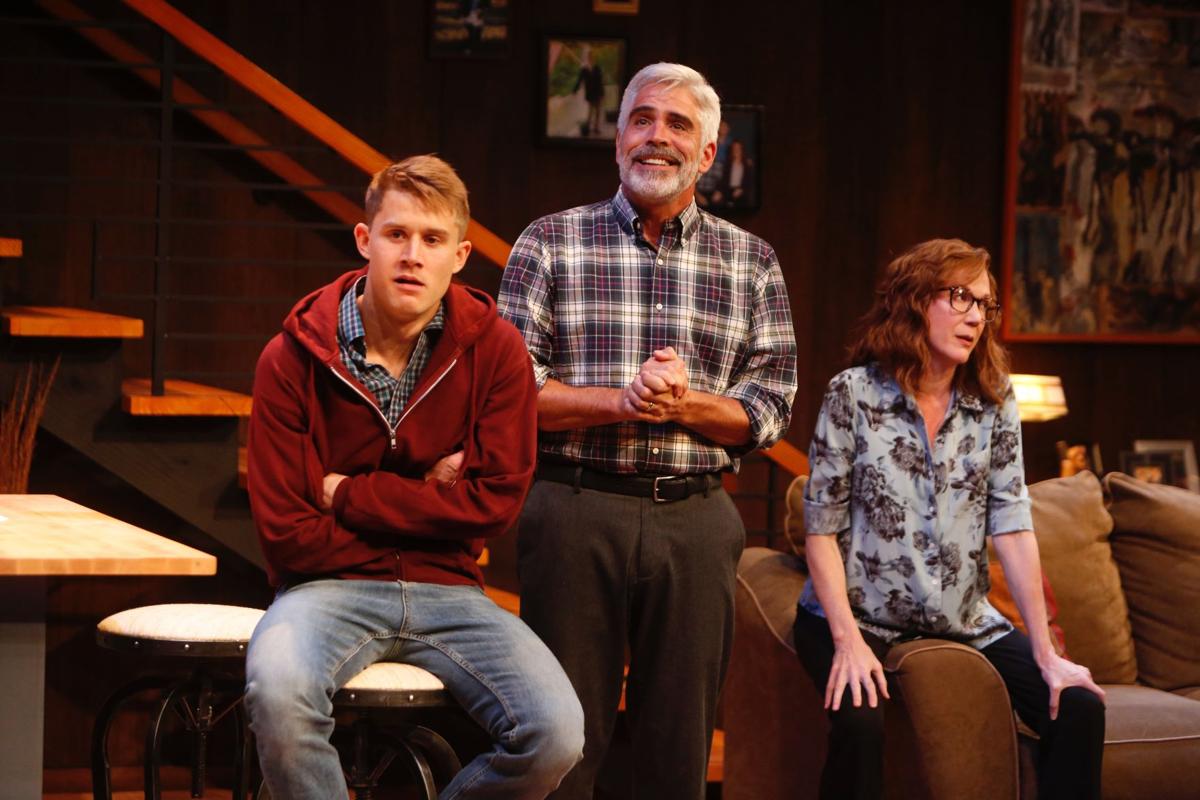 'Admissions' adroitly questions our conviction to the principles of fairness and equal opportunity
Written by

Tina Farmer
Charlie and his best friend have both applied for Yale. Products of a prestigious prep school, each has high hopes, and Charlie is stunned when his friend gets accepted while he is wait listed. In a brilliant fit of frustration and disappointment he questions if his chances were hurt because he's a young, white male.
His parents, an admissions director determined to get the school's diverse representation to 20% and her headmaster husband, are shocked by their sons outburst, and even more upset when Charlie declares he wants to go to community college and donate his tuition money for a scholarship. His situation is a true catch-22; it also makes for a riveting, bitingly funny production that delivers a pointed social statement or two.
Thom Niemann is fabulous as Charlie, believably filling the room with teen angst, tangled emotions and well-reasoned but flawed arguments. He moves naturally from indignation to confliction and anger to remorse and pointedly remarks how easy it is for someone to offer a seat at the table when it isn't their table or chair. The argument underscores a common complaint about progressive ideals. Charlie's father's position is even called into question when it's pointed out that a black teacher at the school, with equal or superior credentials, wasn't even considered for the headmaster position.
Henny Russell and R Ward Duffy are convincing as Charlie's high-achieving parents. Russell's facility with little white lies and her frustration with her assistant Roberta, played to near comic perfection by Barbara Kingsley, are compellingly authentic. Her interactions with Kate Udall, who poignantly crumbles before rising with indignation as family friend Ginnie, are genuinely distressing and their tenuous friendship realistic. Though she spins and misdirects with ease, Russell finds it more difficult to balance her maternal hopes with her professional goals and we see the conflict on her face and in her posture.
Russell and Ward's characters are doggedly committed to the principles of inclusion, diversity and opportunity, and they are passionately vocal to the point of over-celebrating a near success. Their son doesn't miss the irony of his situation, but his parents seem almost cavalierly oblivious. The moment Russell connects all her personal dots and understands the conflict between her job and her son's success is visually and palpably painful. Ward's character may be the most challenging of the play, and his stubborn outbursts and evisceration of his son is uncomfortable to watch. There's smugness to the character that Ward hits just right, while still ensuring he is interesting and only occasionally overbearing.
Bill Clarke's scenic design gives us an efficient, if impersonal, office space and a beautifully appointed mid-modern home. The family is clearly successful and financially comfortable, which Clarke's set capably emphasizes. Costume designer Lou Bird, lighting designer Nathan W. Scheuer and sound designer Rusty Wandall add subtle but important touches that direct focus and guide us through the show's time frame. The long, wooden staircase – perfect for amplifying a teenager's frustrated stomping – adds the final atmospheric touch to a compelling family drama with social resonance.
The story pokes and prods with plenty of veiled criticism towards progressives, but it isn't mean spirited and, in the end, everyone in the play retains bright, if altered, future prospects. It is interesting to note that there are no persons of color among the cast, and I only noted one in the audience the night I attended. I am curious to know whether the story comes across as a shallow diatribe on the "first world problems" of comfortably affluent white people to someone with a different perspective.
Under the skillfully measured direction of Steven Woolf, "Admissions," continuing at The Rep through November 11, takes a skeptical look at our assumptions and comfort zones. Honestly drawn characters reveal unexpected hypocrisy and resonance as the family's convictions are tested, but there's plenty of laugh out loud humor to cushion the blows.
Related Articles