Theatre Reviews
Theatre Reviews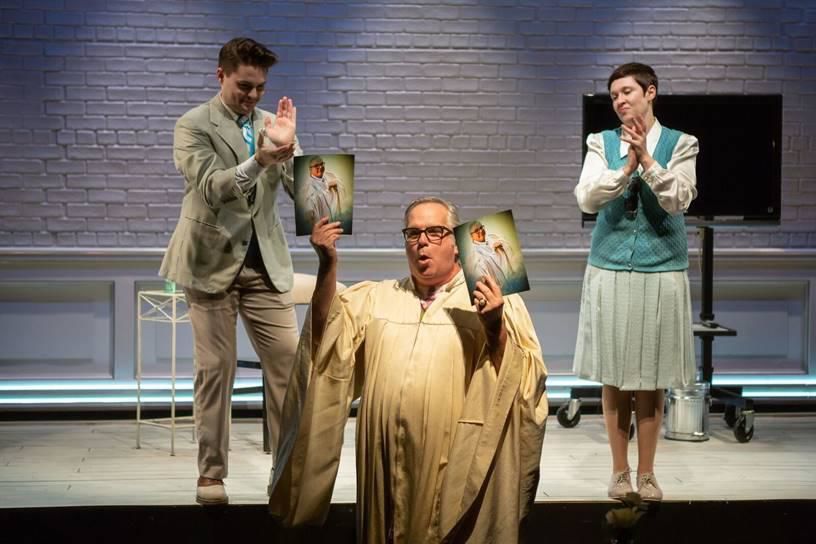 'An Act of God' is stand-up comedy with an almighty twist of humanity
By
In case you were wondering, the New Jewish Theatre would like you to know that God has been paying attention and would like to clarify a few things. Luckily for local audiences, St. Louis, Missouri and beloved local actor and all-round genial gentleman Alan Knoll has been chosen as the place and person to deliver a revised Ten Commandments. The humor ranges from uproarious to poking to thoughtfully skewered, but God provides fond acceptance with a nudge towards our better angels.
In a rambling piece, on a stage perfectly set for stand up comedy, the show pokes fun at organized religion without veering too far into irreverence. God makes it clear that they've simply borrowed Knoll to deliver their message, and that Knoll is not in fact God. God has also sent along the angels Michael and Gabriel, personified by Cassidy Flynn and Amanda Wales, respectively, to assist. The three are a chummy bunch, but Flynn's Michael is all questions and turbulence, while Wales' Gabriel prefers smooth, unruffled wings.
Flynn and Wales play well off each other and the audience, with affectionate teasing and occasional cajoling to keep the atmosphere light and spirited. There's a sibling-like tension between the two and each clearly wants to be favored by God, though Wales – forever the peacemaker – is quick to forgive Michael's inquisitive nature. Flynn may get a little presumptuous with some of the questions; he is one angel who isn't afraid to ask God anything. A champion of humanity, he earnestly questions his faith and steps on God's toes.
But Knoll is (the chosen voice of) God in the clever if occasionally repetitive script by David Javerbaum, and this is God's show. Knoll delivers with a genial patter that's at times self-deprecating and always perceptive, with plenty of truths sprinkled among the laughs. His impressions and gestures reference comedians, and comic styles, from the Catskills to Broadway to popular filmmakers and stars. God likes a show, apparently, and has chosen Knoll to deliver this message for his versatility and precise timing as well as his friendly, everyman demeanor. To put it simply, God has tired of the way we twist and use religion to justify our worst behavior. At a time of year when we celebrate the love of God, we are given new commandments that reflect contemporary faith.  
This isn't to say that the all-powerful one has abandoned the original Ten Commandments. But they have been rephrased, rethought and reframed in an effort to provide useful direction in modern times. The approach may be unwelcome by some, but the show is never unkind or dismissive of faith. Sure, God telling us they have three children, Zach, Jesus and Kathy (and, yes, Jesus is the middle child), might ruffle some feathers. When it's used as an introduction to ideas on love, forgiveness, empathy and following your beliefs it comes across more like "blessed are the middle children, for they are the peacemakers and filled with compassion an idealism." That interpretation is wholly this reviewer's, but the thought is representative of the interesting philosophic and faith-based paths this comic, hopeful show takes.
The audience is also peripherally involved in the show, particularly when the angel Michael decides to take questions. Though he introduces each guest and references them, the questions quickly turn to serious matters of existence, science and cruelty. How can God be so good and love humanity so much but still allow cataclysmic events that kill thousands and wars, prejudice and injustices that take others? These are real and important questions. While neither Knoll nor the playwright have the answers, the plea to balance every question and discovery with compassion, acceptance and an emphasis on caring for each other and our world is clear.
Though some of the messages are deep, the tone and tempo of the show remains upbeat and fun. The script wanders off into a few soapbox moments and over-emphasizes some of the message, but the capable cast and strong direction from Edward Coffield prevent the show from becoming belabored or pedantic. In this visit God wants to be funny and approachable and Knoll ensures the audience is laughing even as he delivers tender words and encourages us to be kind. And to stop using God's name in vain, as a curse, in a prayer for any trivial matter, or as the reason you made a big play and carried your team across the finish line. God does hear every prayer after all, but God does not care which team wins this week's big game. The funny show is made less preachy and more entertaining through these everyday observations, and some veer slightly adult in nature, so this isn't a show for younger children.
For a refreshing look at faith that's not holiday based, "An Act of God," continuing through December 16 at the New Jewish Theatre, is thoroughly and comically compelling. Knoll turns in another reliably funny and nuanced performance and he receives outstanding support from Flynn and Wales. The commandments are thoughtful and compelling, and encourage us to use the power of faith to celebrate and support the best in human nature. You may shed a tear or two at more touching moments, but even then you'll still be laughing and smiling.
Related Articles