Theatre Reviews
Theatre Reviews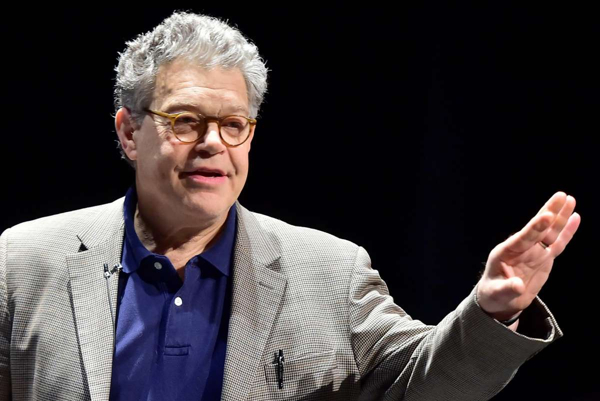 Al Franken finds laughs in the lava at The Sheldon
By
Although generally considered a satirist, Tom Lehrer once dismissed satire as leaving audiences "satisfied rather than angry, which is what they should be." Writer, actor, and former Senator Al Franken's appearance last Sunday (November 21st) at the Sheldon left the audience feeling a little of both, so perhaps Lehrer would approve.
Running a little under two hours, Franken's performance was a mix of political comedy and commentary. His jabs at far-right luminaries were well received by a packed and friendly house, with stories about the insufferable Ted Cruz—notorious for being detested even by his fellow fascists—earning especially enthusiastic laughter. "I like Ted better than most Senators do, " he quipped, "and I hate him."
One such story struck me as especially relevant in that it captures the essence of the decaying corpse of the former Republican Party. Back when Franken was in the Senate, Cruz upbraided him for supporting the assault weapons ban, telling him that his support was "sophistry" because the government's own report showed that it was "a failure" and that Franken should just "read the report."
Franken took the time to do so and realized that Cruz's description of the report was wildly inaccurate. The next time he saw Cruz he walked up to him and said, "you told me my support for the assault weapons bill was sophistry." Cruz's reply: "No I didn't!"  
The point being that Cruz will lie to you even when the lie is obvious and both of you know it.
There were equally pointed stories about the likes of Betsy DeVos, Mitch McConnell and, briefly, Donald Trump. One of biggest laughs of the evening came at the beginning when Franken thanked everyone present for getting vaccinated (the Sheldon requires proof before you can enter the door) and then remarked that research has shown that "the number one cause of death in America today is Tucker Carlson." His jokes about the superficial coverage of politics by corporate media also struck home—a particular problem during his campaigns, when some reporters seemed unwilling (or unable) to distinguish between a serious statement and a punch line.
And, of course, that was back in the days when it was easier to distinguish between politics and parody.
A question and answer session at the end of the show (based on cards submitted by audience members in advance) was, perhaps, less successful. Faced with the question on the minds of so many of those present—what can we do to prevent "Republicans" from retaking the House and Senate in 2022?—he came up short on answers. His suggestion that the recently passed infrastructure bill would change many minds seemed a bit naïve to me, especially in light of the apparent success of Steve Bannon's strategy to "flood the media with s**t" in order to drown out positive messages from the Democrats.
On the other hand, he answered those questions while drawing an astonishingly accurate map of the USA freehand, so there was that.
"Things I once thought were funny are scary now," observed Tom Lehrer in 2002. "I often feel like a resident of Pompeii who has been asked for some humorous comments on lava." I suspect this must be true for many of the anti-fascist majority in this country right now. Al Franken, to his credit, can still find laughs amongst the lava. Bless him; I just wish he were still in the Senate instead of on the road.
Related Articles