Theatre Reviews
Theatre Reviews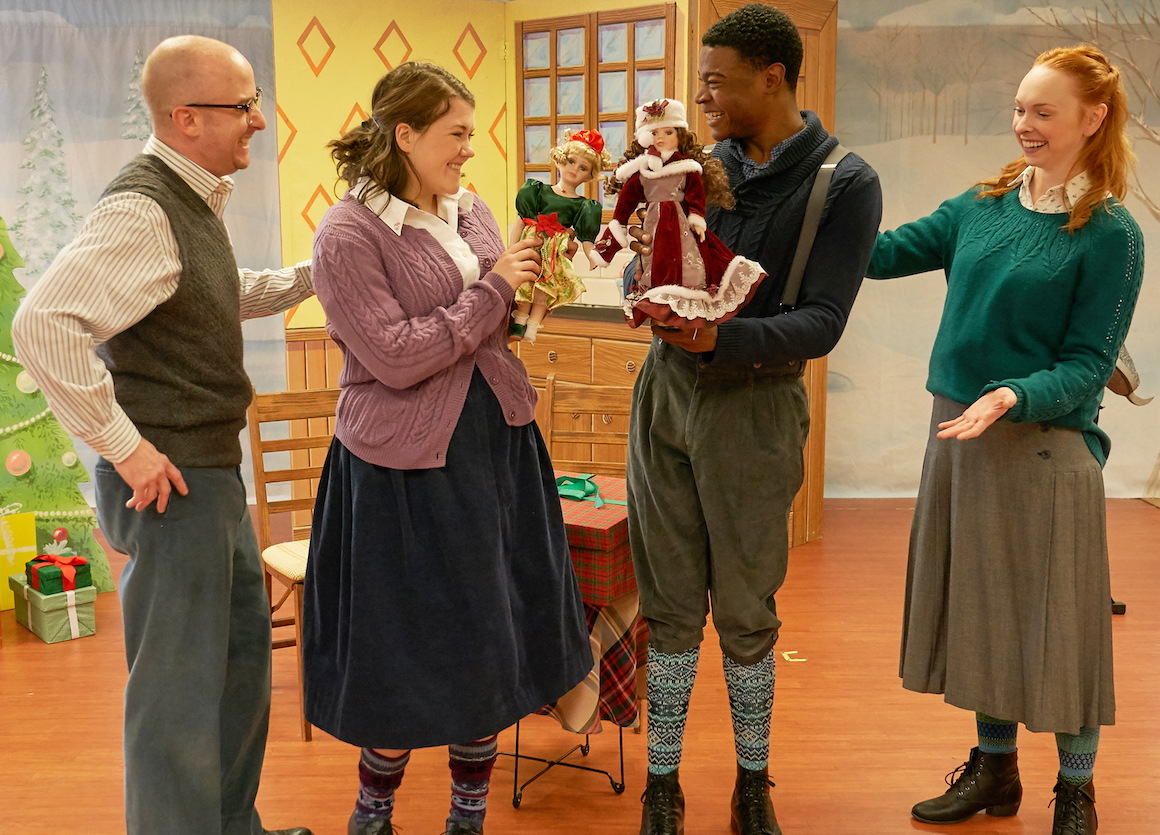 'The Christmas Skates' gives an old-fashioned holiday story a musical update
By
The Repertory Theatre St. Louis' Imaginary Theatre Company produces a variety of children's shows throughout the year, primarily for school audiences. Their holiday show, intended for the very youngest theatergoers, offers the opportunity for families from all across the region to enjoy a positive, uplifting play in a welcoming environment. Though geared to the pre-school and elementary set, "The Christmas Skates" weaves in plenty of sly pop culture references and humorous quips to keep the whole family entertained.
Tom, a young boy eagerly anticipating the holidays and wishing for a new pair of ice skates, is a bundle of energy and enthusiasm. When his parents decide to let Tom and his sister open a present early, Tom lights up the stage with his smile as he opens his present and is thrilled to see his wish come true. That is until well to do Ralph shows up at the skating rink with an even fancier pair of skates. 
His holiday spirit dashed by Ralph's declaration that Tom's skates are only second best, the young boy decides to get a job so he can buy himself better skates. Along the way, Tom learns important lessons in gratitude and friendship from Harvey, a friend who must work to help his family survive, as well as his family's constant encouragement to think of other people and not just himself.
Myke Andrews brings Tom's warm, eager personality to life in a slightly exaggerated performance that perfectly suits the character, providing lots of laughs for kids and parents. Charlie Barron, Lana Dvorak and Delaney Piggins each play a variety of characters with individual personalities and moods. The small ensemble dances, harmonizes and works together with genuine enthusiasm that keeps everyone in the audience engaged in the story. In addition to successfully conveying interesting characters, the four actors, and stage manager Carolyn Ivy, are also to be commended for the enthusiasm and friendly patience they demonstrate during scene changes and in the after show question and answer period. It's clear the ensemble are all happy to be sharing their passion with the kids, and the kids seem genuinely interested and receptive.
Smart direction from company veteran Alan Knoll along with quick, well-choreographed scene changes and bright, colorful costumes and props ensure the show is as visually pleasing as it is entertaining. While older children may find some scenes a bit childish for their tastes, Tom's sister and parents throw in an occasional aside that will get them laughing and Harvey's story develops nicely along side Tom's. Kids ten and under and their parents (or grandparents) will find plenty of laughs in the short, upbeat production.
The Imaginary Theatre Company's public performances are held at Nerinx Hall, near the Repertory Theatre's home, during the weeks leading up to Christmas. Each year, the company presents a new show created specifically for young audiences and followed with a question and answer session where kids can learn more about how the magic of theater is made. Families are encouraged to arrive at the theater early and participate in a number of holiday-themed activities and the printed program includes games, definitions, and a summary of the story to help youngsters relive the memory and perhaps learn something new.
Designed to inspire a love for theater, imagination and curiosity, the 2018-2019 season includes touring shows "The Tortoise and the Hare" and "Greek Myths: Heroes and Monsters" in addition to "The Christmas Skates," which closed on December 22. With animated characters, bright colorful costumes and easily maneuvered sets as well as genuinely enjoyable productions, the company continues a tradition of bringing engaging theater to student and family audiences. The storytelling is focused and direct, and the songs feature simple but catchy melodies that deliver a positive life lesson. To follow the company, visit the Imaginary Theatre Company page on the Rep's website.
Related Articles