Theatre Reviews
Theatre Reviews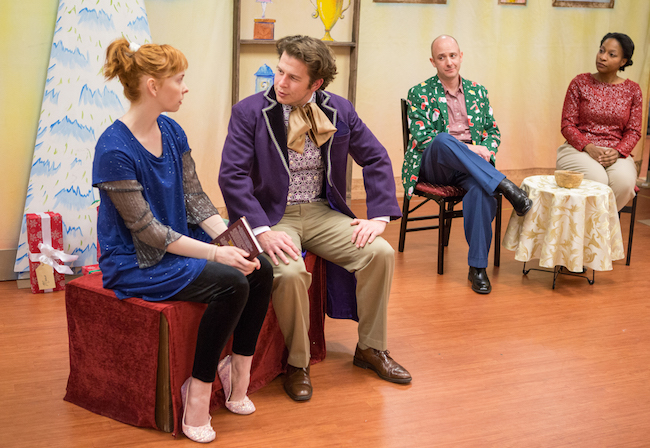 Simplified for very young audience members, 'The Nutcracker' is still a charming holiday tale
By
Each year the Repertory Theatre of St. Louis's offshoot Imaginary Theatre Company presents public performances of its touring holiday show. These short, entertaining retellings of familiar stories help foster a love for the theater, as well as educating youngsters on common theater techniques and etiquette. The show is designed with a mix of storytelling, music, and dancing that engages and entertains but doesn't tax the patience of young children, their parents, family, and friends. The familiar story of the brave nutcracker and his battles against the mouse king gets an imaginative retooling and spirited performances from the small cast.
The most notable difference in the updated story is a new framework, instead of Clara and her family, we are introduced to Marie, an only child who has just moved to a new town with her mom and dad. She's feeling lonely, bullied by the other children, and missing her old home and friends. Marie's godfather, Dross (short for Drosselmeyer), suggests the family open his gifts on Christmas Eve and while mom and dad are thrilled with their presents, Marie is less enthused about the nutcracker she receives. Her opinion changes after he springs to life and invites her to accompany him on his journey. The tale of the heroic nutcracker and his battle with the fierce mouse king is familiar, plus it features not one but two sugar plum fairies, and Marie eagerly jumps into the adventure. The happy ending finds Marie with a new friend and a positive, more comfortable feeling about her new home.
Lana Dvorak is sympathetic and quite likeable as Marie, she easily captures the emotions and attitudes of a tween girl with plenty of sighs and the conflicts of someone just beginning to transition from childhood to young adult. In contrast to the silly, whimsical fairies, Dvorak's dancing and singing are polished and refined and her voice is particularly pleasant.
Jeanitta Perkins, Aaron Baker, and Charlie Barron successfully play multiple roles, creating characters that are clearly defined and distinguished. Barron is enthusiastic and bold as the nutcracker, he immediately recognizes and confirms Marie's character and kindness. Baker is wise and delightfully anachronistic as Dross, he encourages Marie to have patience, curiosity, and an expressive imagination, and he's fabulously hammy as the mouse king. Perkins is warm as the mother, timid as the second mouse, and wonderfully zany as a sugar plum fairy, she mirrors and boosts Marie's sense of fun and adventure.
Director Suki Peters keeps the show moving along and the simple songs and incorporation of familiar themes from Tchaikovsky's "Nutcracker Suite" add familiar touches. There is a lot of exposition to the show and the opening lags a bit, but just as I notice a few children starting to squirm in their seats, the action really picks up and the youngsters are once again completely engrossed in the enchanting tale.
The Nutcracker, a modern simplification of the holiday story in performance through December 23, is suitable for age two or so and up. As with all of the company's public productions, the show lasts less than an hour and there's a talkback with the audience where kids are encouraged to ask any questions they want about the story, the actors, and the theater craft they just witnessed. While the very youngest audience members won't have much to say, children between the ages of about four and seven are quite curious about the "how" of theater, creating some wonderful conversations. The Imaginary Theatre Company's engaging interpretation treats young audiences to a full compliment of engaging storytelling, theater tricks, and, naturally, a little sugar plum fairy dust.
Related Articles