Theatre Reviews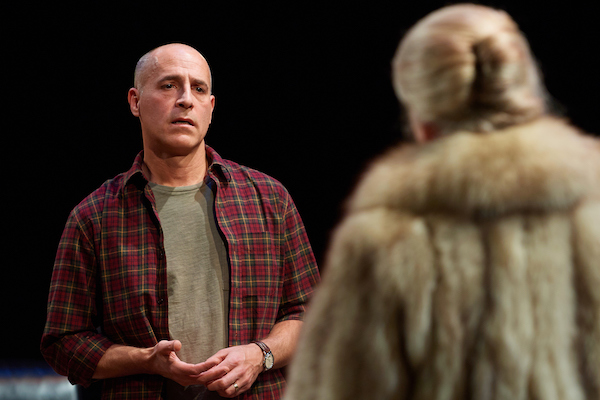 Taut and complex, 'Mothers and Sons' finds a current truth in an emotionally charged past
For what seems like the first third of The Repertory Theatre of St. Louis' production of Terrence McNally's evocatively powerful Mothers and Sons, the audience understands Katherine only as we see her: with her back to us. A tall, imposing figure, with perfect posture and an even better head of perfectly coiffed white hair, her voice is crisp and articulate. And she is filled with disdain and barely controlled anger. It is an incomplete picture that nonetheless speaks volumes.
In Mothers and Sons, McNally revisits two characters first introduced in his short play Andre's Mother with quiet tension and emotional pull. Twenty years have passed since Andre died from an AIDS-related illness. Katherine, who buried her son, and Cal, who lost the first love of his life, have not communicated with each other since the funeral. Yet, for reasons not initially clear, they have reunited today in Cal's apartment.
There's a nervous energy that fills the room, most of it emanating from Cal as he paces back and forth, chattering in the pretense of polite conversation. He and his husband have a young son and a successful, happy family life. So Cal has moved forward, but he has not completely forgiven Andre. Katherine has not moved nor forgotten nor forgiven.
She stands at the window, regal and still, occasionally looking out, peering down on familiar New York landmarks her son loved. Without turning to the room, Katherine provides crisp, curt answers to Cal's prodding questions. He wants to ask her why the hell she's here, stirring up memories and feelings from the past, and what the hell she wants. Katherine wants to know, once and for all, who killed her son. And then, she'd like to destroy him.
Darrie Lawrence gives Katherine, a woman with a sharp tongue and quick judgment, an icy perfection. Cal, played with empathy and guarded curiosity by Harry Bouvy, wants to resolve the tension, but isn't willing to go as far as accepting Katherine's version of the truth to do so. After several tense minutes of forced pleasantries and not so veiled insinuations, Cal's husband Will, a warm and earnest but savvy Michael Keyloun, and young son Bud, a charmingly restrained and articulate Simon Desilets, return home.
Bud is filled with curiosity and the intuitive acceptance of a child. He quickly invites Katherine to be his grandmother. The reaction by the adults in the room to this kind and innocent gift is electric and immediate. This is, in fact, the turning point to the play, setting up a precariously balanced resolution that may bring a tear to your eye. But there is considerable revelation, accusation, and begrudged forgiveness to fight through to reach that point.
Set in the round, with a thoughtful modern design by James Wolk, none of the actors can ever completely hide from view, and every reaction is telling. The clean lines and décor create an atmosphere where tension can easily bounce and increase, but director Michael Evan Haney ensures the resolution is gentle, more waterfall than torrent. Smart blocking as well as focused lighting and sound, by John Wylie and Amanda Were, respectively, effectively set the tone and shift focus. The contemporary costumes, by Elizabeth Eisloeffel, reflect personality and perspective, adding an impressive finishing touch that wraps the show well.
Director Haney has provided the actors a solid character core on which to layer their veils of pain, anger, betrayal, sadness, grief, stubbornness, and so much love. The action is motivated by the need for Katherine and Cal to forgive each other and, perhaps most importantly, to forgive Andre so that they can both move on. As importantly, Katherine's rigid character is the shell around a vulnerable, lonely woman who desperately needs to find a connection with someone. Through their shared love for Andre, de facto, Cal is her remaining family. The beauty of McNally's script and Haney's well-executed interpretation is that we are shown the impact of LGBTQ issues relevant to our lives through a well-focused story of much needed redemption. Aspiring playwrights would do well to study McNally's script as exemplary in craftsmanship, style, and storytelling.
Katherine's hurt and anger are heartfelt and palpable, but she must accept the fact that neither she nor Cal can change the past. And no one person is to blame for Andre's death, or the deaths of a generation of young, gay men. The show is exquisitely sad and wrenchingly human. In many ways, Will and Bud are essential elements of hope, forgiveness, and moving forward for both characters, and the delicate unwrapping of this revelation is touching and sweet, without feeling coy or manipulated.
Someone once said that a parent burying their child goes against the laws of nature. As Will quietly but forcefully points out, that feeling is magnified when an entire generation and community is nearly lost years before their time. Mothers and Sons, running through November 13, 2016 at the Rep, is presented in the round, creating an intimate, personal setting for a story that speaks volumes on life's fragile nature. Beautifully acted and directed, by Michael Evan Haney, the show resonates with warm-hearted tenderness.
Related Articles