Theatre Reviews
Theatre Reviews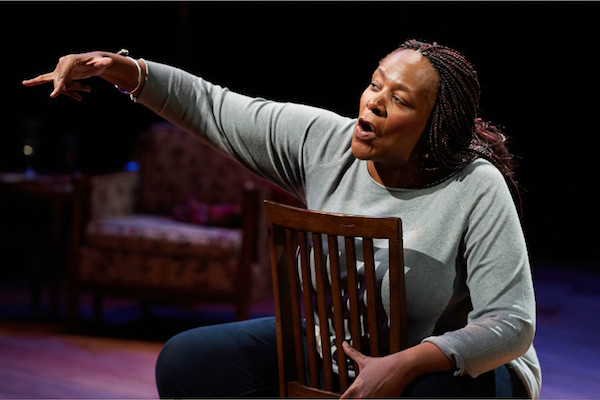 Conflicting perspectives meet unanswerable questions in the tense yet pointedly effective 'Until the Flood'
By Tina Farmer
The Repertory Theater of St. Louis' world premier of Until the Flood is a poignant, forceful, and often times unsettling one-woman show. Each part explores the repercussions of the death of Mike Brown in our community, though the evening news demonstrates time and again that St. Louis is not a required setting. 
Writer and performer Dael Orlandersmith, under the even-handed direction of Neel Keller, constructs a memory play in which the main characters are missing. It is important that art constructs a response to the continuing racial, economic, and socio-political struggles that we face, that artists speak, feel, and create in response to the now. By showing us the varying perspectives of an audience to history, Orlandersmith gives voice to the stories of the bystanders and participants. 
Through eight sharply drawn characters and a moving spoken word closing, Orlandersmith challenges easy assumptions while making the case for continued conversation. As an actor, she is thoroughly engaging, with a clear purpose and focused action. Her characters are distinct and teeming with authenticity, though at times they wander towards pointedly generalized.
We are introduced to an elderly black woman who has experienced change, and continuing racism. With a warm, caring tone she patiently explains her perspective, acknowledging that she has been subjected to racist remarks from whites and blacks alike. An older white gentleman, his conservatism announced the moment he mentions Missour-ah, demonstrates stereotypical attitudes, before admitting that he is conflicted and confused.
A white man in his 30s refutes privilege because lots of white people are poor and face challenges. His persona is tough and carelessly racist, though Orlandersmith chooses barely contained restraint. He is poetically countered by two black, male teens, both as sharp and observant as they are aware. The three have similar economic and educational backgrounds, but their stories, like their lives, are strikingly different even as their goals and hopes may align. 
There's also Reuben Little, a barber in his 60s, who just wants genuinely equal opportunity, to feel that there's a fair playing field; Connie Hamm, a white teacher who minimizes other's experience by always leading the conversation back to herself; and Edna Lewis, a universalist minister looking to reconcile those seeking peace and understanding with those pushing hatred and violence.
The characters are dense, not always sympathetic, and not easily pigeonholed. Orlandersmith draws us in with convincing portrayals, and a voice that whispers, entreats, and cajoles us to listen to the context behind each story. Her subject matter and construction challenges us to see people and not simply issues, and director Keller ensures we remain focused, guiding us from story to story. 
The scenic design by Takeshi Kata, lighting design by Mary Louise Geiger, and projection design by Nicholas Hussong create the necessary ambiance for storytelling and guide us from monologue to monologue. Kaye Voyce's costumes are smartly effective, creating a neutral base on which Orlandersmith can layer jackets, hats, scarves, and other accessories to quickly transition from character to character. The most spectacular stagecraft is reserved for the spoken word conclusion. While several passages get the tears flowing, the enveloping effect of these last few minutes is all-consuming resulting in the welcome release of a flood of tears.
Until the Flood captures your attention and prods you with challenging questions delivered in the off-the-cuff style of conversation. Orlandersmith states that she is looking for truth, not the truth, through her interviews and the development of this evocative one-woman show, and she has delivered a production that thoughtfully pushes continued conversation. Moments are likely to linger in your mind, yet the show feels somewhat incomplete and unfinished. The stories feel unconnected in many ways, and the spoken word piece doesn't quite tie the threads together. Perhaps this is because there is still so much work to be done if we are to achieve racial, social, and economic justice in our communities.
Until the Flood, in performance through November 6, 2016, was commissioned by the Rep in response to the death of Mike Brown and community unrest that followed. This relevant peace speaks volumes on race relations and issues that remain prevalent today. Orlandersmith has created stories that deserve to be seen and listened to broadly, the topics and questions reach far beyond St. Louis. 
Related Articles