Theatre Reviews
Theatre Reviews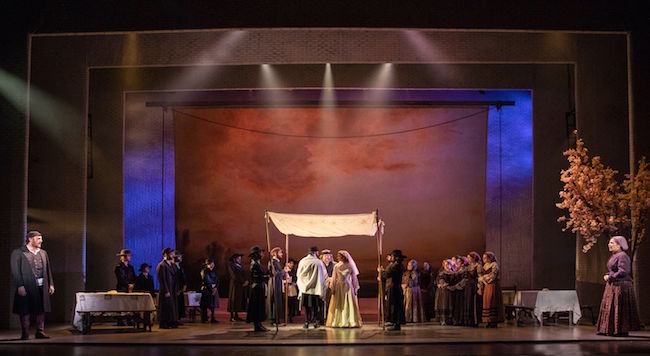 A dynamic interpretation adds new energy to a gorgeous production of 'Fiddler on the Roof'
By
If you're a fan of musical theater, chances are you're already familiar with the tale of Tevye, the devout, Jewish dairy farmer, his family and the little town of Anatevka, where they live and worship under the suspicious eye of the Russian army. The current touring production at the Fabulous Fox Theatre is true to the story and traditions, but takes a refreshing, less traditional approach that adds energy and potency to the story without losing any of its warmth or spirit.
Father of five daughters, Tevye and his wife have built a comfortable but modest life. They wish to live in harmony with their neighbors of all faiths and, most importantly, to find good husbands for their girls. But the times are changing, and not always for the better, as rumors of pogroms and the eviction of Jewish communities reach the small town. The education of the daughters and their emerging independence clashes with ages old traditions of matchmaking, but through it all Tevye remains faithful and hopeful. Like the fiddler precariously perched on the roof, the simple farmer, his family and friends do their best to keep balanced.
Yehezkel Lazarov is captivating as Tevye, bringing a more youthful, vivacious energy to the role without losing an ounce of the character's piety, wry commentary or standing among the community. He may only be a dairy farmer, but his thoughtful, at times loquacious, opinions and observations are respected and he has the ability to get along with everyone, even the Constable.
Lazarov gives us a more modern-leaning Tevye, one who loves his daughters enough to question the way things have always been, even as he tries to convince them to embrace the way things have always been. Lazarov's phrasing in familiar songs are not what we've come to expect from the oft-performed character, but he easily charms and delights the audience and there's a sincerity and tenderness to his performance that's undeniably compelling.
Maite Uzal brings a similar sensibility to Golde, the bickering between the couple is good natured and their mutual affection clear long before their somewhat playful, up-tempo take on "Do You Love Me." In this production, the three daughters capture our attention with truly distinct characters with modern, forward-thinking attitudes. Mel Weyn's practical but wistful Tzeitel, Ruthy Froch's integrity and willingness to fight for her beliefs as Hodel, and Natalie Powers' quiet internal revolution and thoughtful rebellion as Chava are distinct and engaging. There's an emphasis on the characters that compels audiences to see the three girls as agents of change and independent women.
Jesse Weil's hesitant but loyal Motel, Ryne Nardecchia's passionate but respectful Perchik and Joshua Logan Alexander's small but forward-thinking turn as Fyedka aptly complement the sisters. These core characters are fully realized, shifting the story's tone from downtrodden followers to one filled with courage and an openness not frequently expressed in a show that is essentially about change. Jonathan von Mering, Carol Beaugard, Danny Arnold, Jeff Brooks and fiddler Paul Morland lead the supporting cast, which is uniformly in step and harmony, though I wish Beaugard would show a little more energy and vocal variety in her interpretation of Yente the meddling matchmaker.
Though the songs and choreography stay close to the familiar, slight changes and inventive phrasing enhance several of the numbers.  Unexpected humor enlivens "Tradition," the "Sabbath Prayer" and "Sunrise, Sunset" are filled with reverence and quiet awe, and "Matchmaker, Matchmaker" gets a convincingly more realistic, less fairy-princess sensibility without losing its hopeful longing. "Miracle of Miracles" is even more joyfully exuberant and "Do You Love Me," more playfully flirtatious. But it's "Chaveleh," one of the show's lesser-known numbers that is truly elevated in this production. Lazarov's stunningly poignant rendition is overflowing with love and regret, ensuring the song lingers with haunting beauty.
Elements of modern dance seamlessly integrate into the stunning choreography recreated by Christopher Evans and inspired by Jerome Robbins and Hofesh Schechter's original work. Audience members hoping for a faithfully traditional reprise may be surprised by the changes, but all serve the story and this production well. The current touring production will completely satisfy your longing for the familiar songs while reinvigorating the beloved tale with some decidedly untraditional new twists. Even the set, which is primarily sparse and suggestive excepting the beautifully detailed houses of the village that fly in and out above the stage floor, adds a more modern feel to this show about tradition.
The story is the same, and audiences members who likely recall every tradition and each sunrise and sunset will embrace them once again. But this "Fiddler on the Roof," continuing through February 10, pulsates with a sense of urgency, of the burgeoning modern world, that revitalizes and lifts the show. The new production at the Fabulous Fox Theatre retains the story, easily identifiable characters and importance of faith celebrated in the original, but gives it a fresh new look and richly vibrant tone that keeps the show energized and interesting for fans new and old. This reviewer welcomes the updates and encourages audiences to give the beloved musical another look.
Related Articles