Theatre Reviews
Theatre Reviews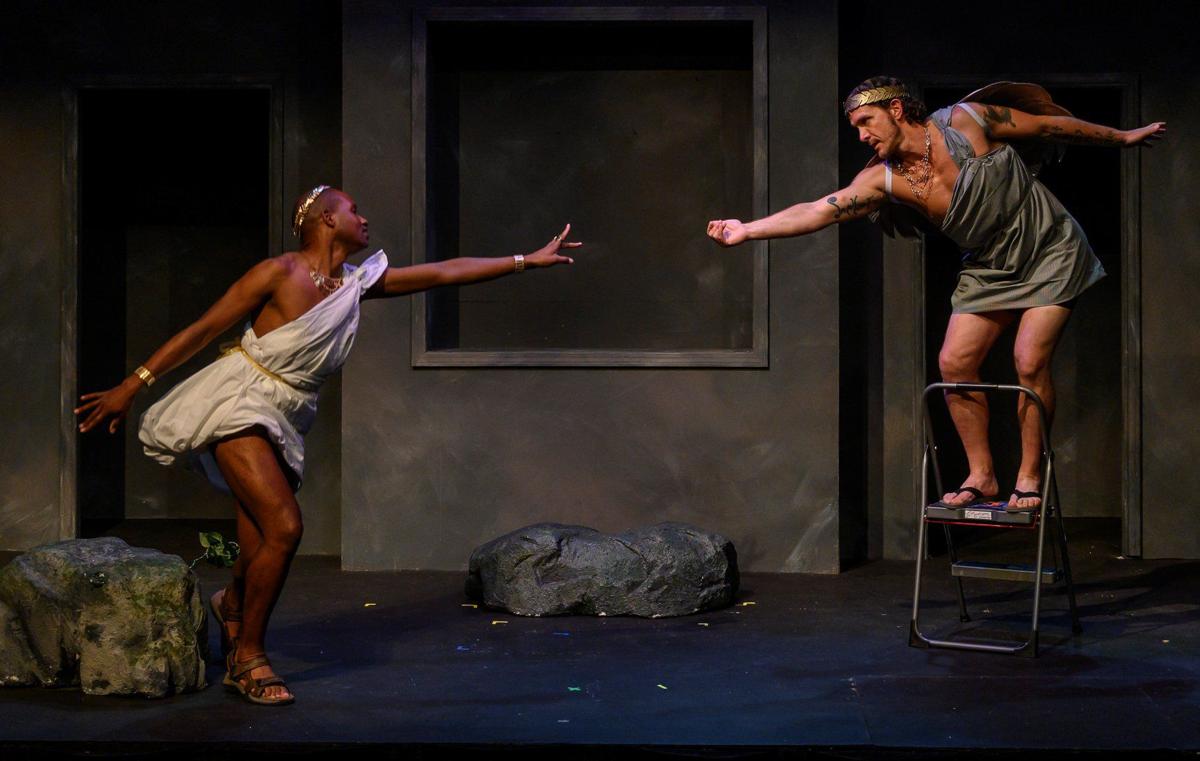 Intriguing situations and characters with a contemporary edge standout at St. Louis Actors' Studio
By
St. Louis Actors' Studio returns with three new shows for the "LaBute New Theatre Festival Set II," the second half of their annual new play festival. The three short plays making their debut in the second set receive well-focused direction from Wendy Greenwood and present engaging and thought provoking work that provides plenty of fodder for reflection and conversation. A reprise of namesake Neil LaBute's "Great Negro Works of Art," directed by John Pierson, which had its St. Louis premier during Set I, closes the show.
"Predilections," by Richard Curtis, introduces audiences to a comfortably middle aged Laura, played with a sharp-eye and protective instincts by Kim Furlow. Concerned about her dying mother's legacy, Laura sets up a meeting with Sparlin, an obituary writer with a gossip columnists' sensibility played by Tiélere Cheatem. Furlow plays out her cards carefully, but with the knowing assurance of a woman holding all the aces. The obituary reporter arrives is clearly suspicious, his instinct suggests there's no reason for anyone to request a meeting with him unless they are trying to influence his writing. Proud of his clever headlines, if a bit bored by the business of writing about the dead, he naively steps directly into Furlow's trap.
"Henrietta," by Joseph Krawczyk, takes a humorous swipe at modern technology, specifically the assistant devices that are becoming more and more present in everyday life. Chuck Brinkley is an accountant on his way to a rendezvous with a new client – at least that's what he tells his in-car assistant when the distinctly computer generated pleasant female voice questions him about his destination.
The device, named Henrietta, informs the accountant that Alexa has been terminated, in a calm, unaffected voice. The accountant thinks nothing about the change until his plans is abruptly altered by the increasingly insistent voice. Carly Rosenbaum is by turns helpful, scolding, and threatening – demonstrating dark comedy chops that are a credit to both the actress and director. With out appearing on stage, Rosenbaum's performance standout the best of the night in a funny sketch comedy piece that features strong work from Brinkley on a roller coaster ride of emotions and roadways.
Both shows are well written, but overly static, suffering from a lack of action, movement or elevated stakes. Even Brinkley's accountant seems somewhat nonplussed during a rather terrifying turn of events. Although humorous and well performed, the stories play out like sketches that continue too long after they've made their point.
"Sisyphus and Icarus: a Love story," by William Ivan Fowkes, is a more complete and successful play, though still a bit light in substance. A comic take on modern love, the play features two mythological characters as the lovers and an astrological sign come to life in the form of a therapist. Cheatem, as Sisyphus, attracts the attention of a fluttering Shane Signorino, as Icarus, while perpetually pushing his rock uphill. The two fall for each other at first glance, but soon learn that sustaining that love is tough. Can Colleen Backer's Libra help them rekindle their love and learn to appreciate each other again?
The men are facing very different trials in the realm of the gods, and there's no established connection between them in mythology. However, the character's different objectives suit the play's thematic message. Falling in love may be easy, but too often it's the things that first attract you that become most annoying. With the help of Backer's quirky therapy, Cheatem and Signorino's characters learn that love isn't just about accepting differences but embracing and encouraging each other in their passion.
LaBute's "Great Negro Works of Art" closes out the second set and, though I find the play a problematic complaint on perceived over sensitivity, the script brings up relevant points on the difficulty of dating someone who is a member of a different race, culture or upbringing. Additional cogent observations on the ways institutions continue to diminish the contributions of persons of color are also timely and relevant.
After the opening weekend of Set I, I spoke with St. Louis Actors' Studio artistic director William Roth about the fact that all selected plays for this year's festival were written by white men. The company follows a blind selection process where the readers do not know the identity of the playwrights until after the selections are made. Additionally, 60 semifinalists were chosen from more than 300 submissions, and the company strives to be inclusive by encouraging all interested playwrights to submit and selecting readers with a wide sensibility. Roth stresses that the focus of the festival is on storytelling, and that the identity of the produced playwrights did not intentionally influence selection.
The "LaBute New Theater Festival Set II," continuing through July 28, presents four compelling pieces, most of which feel like strong sketches rather than complete stories. Still, the stories are intriguing and well acted, with contemporary themes that inspire reflection and consideration. The festival's focus on presenting new and interesting works, with a minimalist approach to set, costumes and technical effects is effective and smart. The resulting short plays are largely successful, even when they fail to deliver a dynamic plot or complete arc, and may leave you wanting more, but in a good way.
Related Articles