Theatre Reviews
Theatre Reviews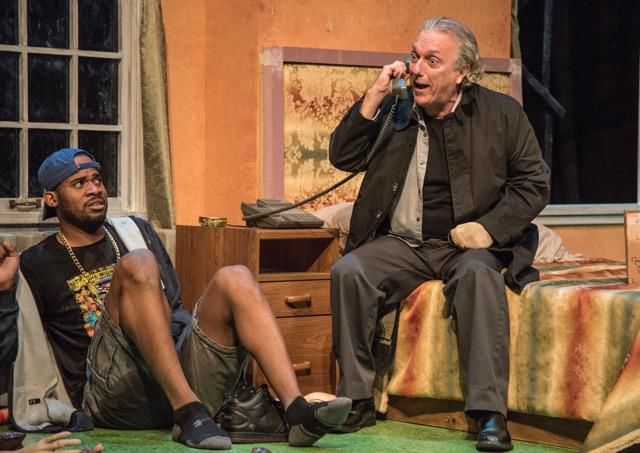 Strange and darkly funny, 'A Behanding in Spokane' benefits from strong performances
By
St. Louis Actors Studio once again shakes up the holiday season by presenting a show that, at least at first glance, seems antithetical to all things bright and cheery. A Behanding in Spokane is a loud, querulous, and darkly comic play filled with quirky characters and convoluted conversations that are as interesting as they are illogical. The one-act play, written by Martin McDonagh, entertains by mixing oddly distinct personalities with a few surprises that are quite welcome and unexpectedly satisfying. Engaging performances by a talented cast and pointed direction from Wayne Salomon make the most of this unconventional comedy.
At the tender young age of 17, Carmichael was attacked and beaten, then held down as a train ran over his arm and severed his hand. To add insult to injury, the gang that abused him mocked him as they ran away, waving back to him with his dismembered hand. The scene is one Carmichael cannot erase from his mind and, for nearly fifty years now, it has propelled him to seek out his attackers and recover his hand. Truth be told, he's long ago reckoned with his attackers, but he remains committed to the quest for his missing hand, useless as it may be.
Marilyn and Toby are a couple of pot dealers looking to make a quick buck. They've stolen a hand from the local museum and intend to pass it off as Carmichael's so they can collect the money he's promised. Always suspicious, Carmichael is holding Toby in the closet of his hotel room while Marilyn retrieves the hand. Toby's incessant scratching on the closet door clearly annoys Carmichael, so he fires his gun near Toby's head to scare him. The gunshot piques the interest of the loquacious hotel desk clerk Mervyn. He comes to investigate and, curiously enough, doesn't get shot by Carmichael who instead attempts to convince Mervyn that he heard the sound of a car backfiring and not a shot.
Unfortunately, the hapless drug dealers have stolen a hand that in no way matches Carmichael's. In a bit of quick thinking that's nearly derailed by Marilyn, Toby tells Carmichael that Marilyn grabbed the wrong hand. Things go downhill quickly, but comically, from there and are complicated by calls from Carmichael's mother and Mervyn's bored meddling. Everything falls apart and reassembles a couple times, leading to the surprisingly warm and oddly "buddy film" like final scene.
Jerry Vogel is spot on as Carmichael, a curmudgeon with a conscience and a soft spot for his mom. He's spent so long fixated on revenge and his missing hand that true resolution may be his undoing. Léerin Campbell and Michael Lowe ensure that our hapless potheads are much more than caricatures, and there's tenderness in the way they care for each other that adds a ton of sympathy. Finally, William Roth plays Mervyn with a matter-of-fact attitude and deadpan tone that combine to great comic effect. He's chatty and perceptive in an offhand way and bursting with a near constant stream of random facts and opinions. Roth's interpretation ensures Mervyn is more endearing than annoying, though both characteristics are present.
The play succeeds best when the various characters' eccentricities lead to confusion or conflict, creating a mishmash that's part crime caper, part situation comedy. Several of the plot devices are a bit thin and require the audience to buy into the inherent absurdity of the situation. Director Salomon doesn't dwell on these shortcomings, however, and it's fun to watch the ways he and the cast resolve these moments.
There are also important, essentially American idiosyncrasies that the Irish born playwright doesn't seem to fully grasp. Carmichael's persistent use of racial slurs feels a bit forced and though there's something amusing about his mother's racism, neither seem authentic. The show also lags just a tick during the troublesome scenes, drawing attention to the clumsy dialogue in an otherwise intriguing and humorous script. Luckily the stumbles don't detract from the overall enjoyment of this darkly funny tale.
St. Louis Actors Studio's production of A Behanding in Spokane, continuing through December 17, is a genuinely entertaining and funny alternative to traditional Christmas shows. In fact, there's not a single holiday or seasonal reference to be found in the quick moving, foul-mouthed show. While not for all audiences, as some may object to the language and subject matter, and decidedly not McDonagh's best script, the play is thoroughly engrossing, oddly compelling, and laugh out loud entertaining.
Related Articles