Theatre Reviews
Theatre Reviews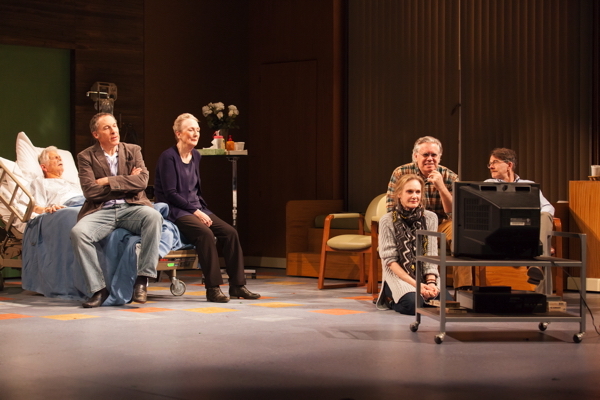 At the Humana Festival, 'For Peter Pan on Her 70th Birthday' doesn't quite take flight
By Chuck Lavazzi
"Having been unpopular in high school," observed Fran Lebowitz in her 1978 essay collection Metropolitan Life, "is not just cause for book publication." If she had seen Sarah Ruhl's For Peter Pan on Her 70th Birthday, the world premiere of which is part of the 40th Humana Festival of New American Plays, she might have added that a death in the family is not just cause for play production.
As the play opens, five adult siblings are gathered in the remarkably large hospital room of their comatose father George. (The oldest, Ann, is 70; the others are in their 50s and 60s.) In what feels like the strongest of the play's three scenes, the siblings ruminate on death, the afterlife, and what it means to really be an adult. The tension of waiting for the end that they both dread and anticipate is palpable and believable.
The remaining two scenes are less impressive. In the first, Ann and her brothers and sisters gather in George's house for an impromptu wake. Fueled by liberal doses of Jameson, they tell stories from their childhood, share jokes, and engage in political arguments which, given the play's setting during "the Clinton era," feel rather dated. Meanwhile, the ghost of George wanders in and out, repeating the routines of his daily life -- and generating some of the funniest moments.
Finally, everyone toddles off to bed and Ann, who serves as the play's narrator, dreams of repeating the role of Peter Pan -- the part she played at a local theatre before heading off to college -- with her siblings as the Darling family and brother Jim as Captain Hook. Like the previous scene, it has no real dramatic shape and doesn't really go anywhere. A final scene between Ann and her ghostly father suggests that she is coming to terms with his departure, but it essentially comes out of nowhere, dramatically speaking.
Kathleen Chalfant leads a strong cast as a sympathetic and engaging Ann. There's good work here as well from Keith Reddin as Michael, David Chandler as Jim, Lisa Emery as Wendy, and Ron Crawford as the spectral George. Barney O'Hanlon was a late substitution in the role of the youngest brother, John, but you wouldn't have known that from his assured performance.
Les Waters directs with a sure eye for both the comedy and drama in the script, but even so For Peter Pan on Her 70th Birthday is a bit too specifically autobiographical for its own good. It feels less like a play for a general audience than a home video. Ms. Ruhl is a highly regarded playwright with a string of frequently performed and justifiably praised shows, though, so I'm inclined to cut her a little slack with this one.
For Peter Pan on Her 70th Birthday runs through Sunday, April 10 in the Pamela Brown Auditorium at Actors Theatre of Louisville as part of the 40th Humana Festival of New American Plays.
Related Articles