Theatre Reviews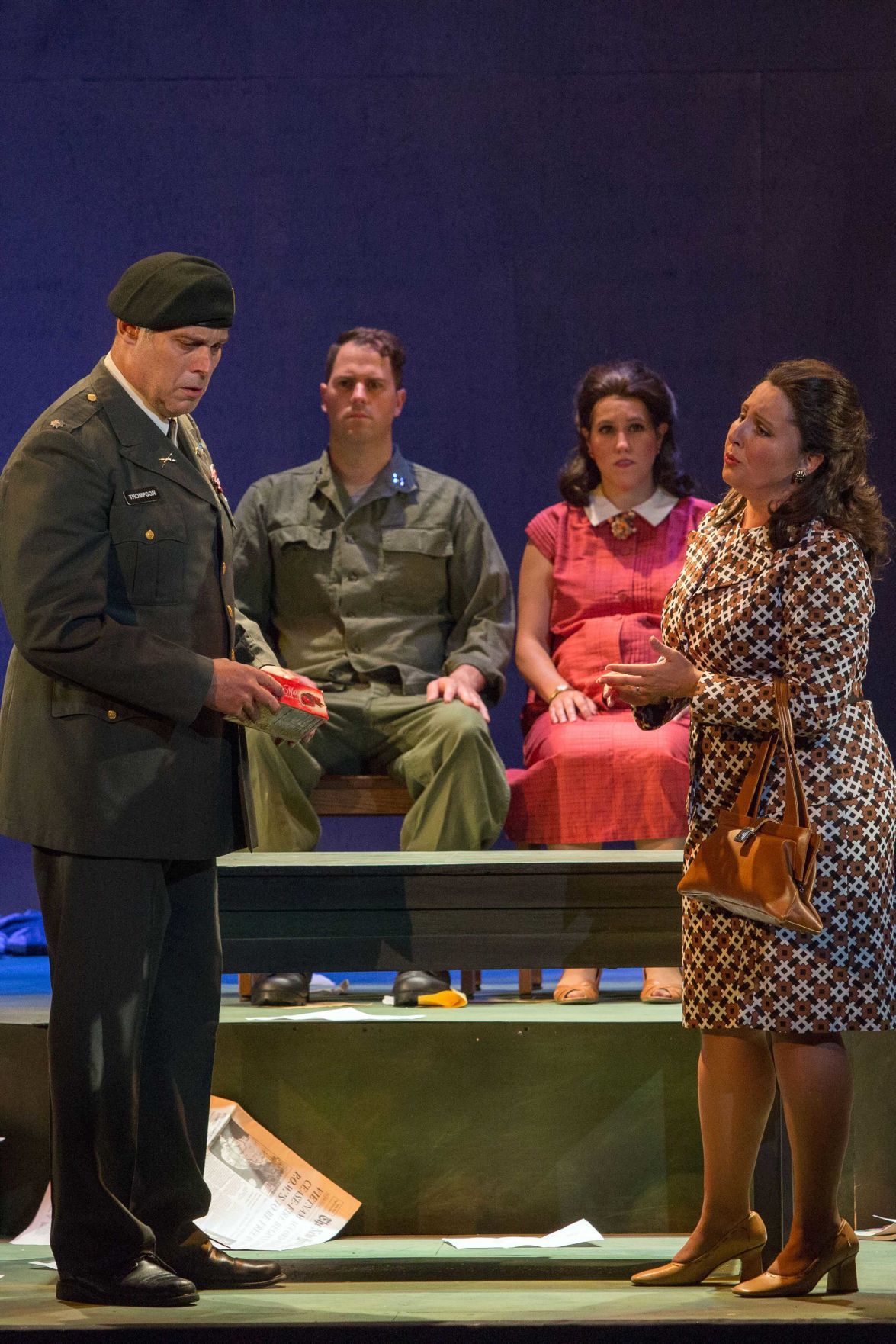 'Glory Denied' is a brilliantly bold and captivating new opera
Written by

Tina Farmer
Union Avenue Opera closes their 25th season with an emotional and weighty opera about war and its aftermath. Set during the Vietnam War and its immediate aftermath, audiences learn the compelling story of Colonel Floyd James Thompson, America's longest held prisoner of war. A fact-based account of a not too distant war, the integration of personal photography and the nature of the story may be triggering for some, particularly active duty and veteran service members and their families. But the show is fascinating and important, with themes that resonate today.
Thompson spent nine years in captivity, suffering frequent abuse and at times forced into a confining cage for long periods of time. His story is disturbing and intense, the mental and physical toll it took cannot be overlooked, but he was not the only one who suffered from his imprisonment. His wife Alyce paid a steep price of her own. Though less overtly torturous, the challenges she faced -- the pain, fears and sense of loss combined with the uncertainty and responsibility were no less real. Tom Cipullo's music and libretto, based on the book by Tom Philpott, takes a deep dive and thoughtful dive into the subject matter. The show successfully maintains Thompson and Alyce's perspectives with a sometimes inventive and always interesting approach.
The small four person cast, playing the two characters at different ages, is surprising to find in an opera, but they fascinate, delivering heavy subject matter with a deft, compassionate touch. The show is framed as a memory play, with Peter Kendall Clark, as Old Thompson and his pleasant voice, a well balanced mix of warmth and gravitas, at the center, carrying the story forward. Clark delivers a measured, almost reserved performance that emphasizes the soldier and the events he lived through, during and after the war. David Walton, as Young Thompson, physically and vocally complements Clark while still creating distinct and unique moments when he owns the character narrative.
Similarly, but with an absolutely different set of difficult circumstances, Karina Brazas is light, bright and melodic as the hopeful Young Alyce. Her character is reflected with heightened clarity by Gina Galati who adds an earthy quality that longs for hope while acknowledging the depth of her own experience. Costumer Teressa Doggett enhances the mirrored nature of the characters with costumes that visually connect each actor to their counterpoint without distraction. The detail is just one of the many subtle touches that director Dean Anthony and conductor and company artistic director Scott Schoonover employ to add texture and emotional resonance.
"Glory Denied" brilliantly captures the evolution of the two characters in a show that successfully weaves their disparate but intimately related stories, emotionally and musically. From a theatrical standpoint, the opera creates and releases tension with satisfying realism, the actors are well motivated and revealing without either one being a saint or villain. And the musical approach is spectacularly inventive and effective. Thompson's score has a much more modern and dissonant voice, while Alyce's is significantly more lyrical and the contrast is nothing short of brilliance. Each character's story and experiences are given a distinct voice and tone that starts with the composition of the score. Clark and Walton almost argue with each other in shared movements, while Brazas and Galati are more harmonic, as reflected in their individual arias and shared duets. Anthony's choreographic direction emphasizes the moments, creating dramatic pictures that subtly suggest issues of dominance, control and self-revelation.
Scenic designer Roger Speidel, lighting designer Joseph W. Clapper and senior media and technology advisor O. Dan Smith create a compelling mixed media backdrop that ties the opera to the truth on which it's based. Stark, serviceable settings and plain walls are enhanced by projections of photographs from Thompson and his wife Alyce's life. The combination stirs an emotional connection that's intimately personal, and may be overwhelming for some. It is impossible to gloss over the harsh realities of war, even with still portraits and candid snapshots presenting a happier, or at least more content, picture of the family. There's a lingering sense of uncertainty for both characters that instinctively feels true, and the four performers manage to embrace the uncertainty while creating whole, well integrated personalities and the sense of a genuine and caring relationship.
Union Avenue Opera's presentation of the St. Louis premier of "Glory Denied," continues through August 24. Fans of opera and modern music in particular will find plenty to embrace in the respectfully provocative production, though some audience members may find the subject matter triggering. Strong stage and music direction support a spectacular cast, including a commanding performance by Clark that both grounds and elevates the moving story of Colonel Thompson and his wife Alyce.
Related Articles