Theatre Reviews
Theatre Reviews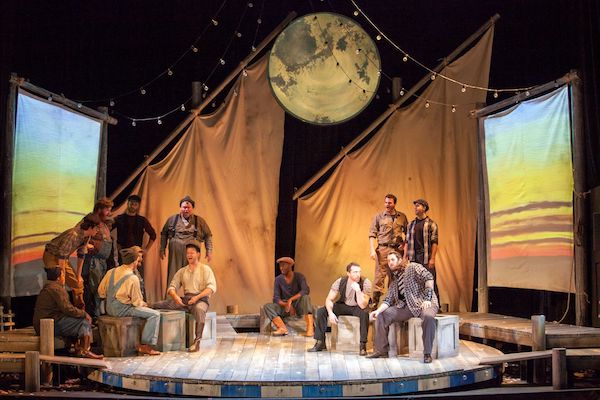 'Carousel': Our first anti-hero is redeemed by love
By
The Union Avenue Opera is so good at fulfilling our expectations -- our expectations of really fine traditional opera. But once in a while they enjoy surprising us, jerking us out of that normal path. For instance, with "Trouble in Tahiti" several years ago the orchestra was a jazz trio. Now this splendid little company surprises us again with a lovely production of Rodgers and Hammerstein's 1945 Broadway classic, Carousel. It's the familiar story of a young mill-worker who makes the tragic mistake of falling in love with a rough but beautiful carnival barker.
You will never hear finer voices than these singing the roles of Julie Jordan and Billy Bigelow and their friends. The whole cast does wonderful work with beloved songs like "If I Loved You," "June is Bustin' Out All Over," "When I Marry Mr. Snow," "This Was a Real Nice Clambake," "You'll Never Walk Alone." In their intimate venue the Union Avenue Opera gives us these great singers without amplification -- a rare treat with musicals these days.
We arrive at the theater and find ourselves in the carnival. On stage great stretches of canvas give the sense of tents under a romantic full moon. Even before the orchestra begins vendors drift among us offering cotton candy, balloons and those chintzy carnival toys. Canvases at the sides bear projections of side-show posters. As that insistent, glorious "Carousel Waltz" flows over us we meet the Strong Man, the Bearded Lady, the excited folks flocking to the show -- and we meet Billy Bigelow, the barker who runs the carousel. He's handsome, tough, always ready for a fight -- and all the girls are simply drooling over him. 
Wes Mason, who did such fine work as Fr. Flynn in last season's Doubt, triumphs as Billy. He's physically perfect for the role and his voice is rich, clear and strong, seeming to grow in endless power when it rises to those highest notes. His "Soliloquy," where he sings his macho anticipation of being a father is a highlight of the evening. 
Julie is sung by the very lovely Maria Lindsey. She's blessed with a beautiful purity in her sustained tones. Her duet with Billy, "If I Loved You," is memorable indeed.
The plot centers on Julie and Billy, whose star-crossed love leads to both of them losing their jobs. It's no surprise that Billy is not a good husband. When Julie gets pregnant Billy, in desperation for some way of supporting a family, is lured into an attempted robbery. This all ends badly! But Billy (like Emily in Our Town) is given the chance to return from the afterlife for just one day -- to meet the daughter he never knew. There's a poignant, redemptive ending to the tale of Julie and Billy. 
There is of course a secondary romantic couple -- a comic one. Christine Amon sings Julie's friend Carrie. "When I Marry Mr. Snow" is a charming showcase for her beautiful voice with it's easy access to range. Ms. Amon is also a natural actress with a fine sense of comedy.
And Anthony Webb shows a remarkably fine, strong tenor in the role of Mr. Snow. Such power!
Debbie Lennon sings Mrs. Mullin, the owner of the carnival, who also has her eyes on Billy. Ms. Lennon gives a lovely touch of Irish tongue and temper to the role. 
Merry Keller as Nettie shines as she energetically leads the romping "This Was a Real Nice Clambake," and Robert McNichols, Jr., is very strong as "the Starkeeper" and in two smaller roles. Andrew Wannigman is utterly convincing as the wicked Jigger and Caylee McGlasson is at once charming and almost feral as the young daughter Louise. Emma Gasset does beautiful work as Louise's dancing alter ego. 
Director Ken Page has captured the dark, lyrical mood of this dreamy carnival world. He manages his large cast well, though there were moments which were a bit too physically static.
Patrick Huber, who designed the set and lighting, gives us a superb visual world. Lighting is rich in romantic and moody colors. Amazingly, with a single turning carousel horse, inventive projections and a swirl of dancers the sensation of a spinning carousel is very convincing.
Excellent choreography is provided by Yvonne Meyer Hare.
Teresa Doggett again does beautiful costumes, though I think that to move the show from 1873 to the 1940s is a mistake. The entire sensibility of the piece is pre-World War 1. To bring it into the modern era makes some of the lyrics and dialog seem just a little corny.
Artistic Director Scott Schoonover leads a fine large orchestra. The harp is central to this score -- it's almost like a character in the play. Megan Stout plays gorgeously throughout. But the harp seemed strangely dominant, as if this instrument alone was amplified. The large chorus deserves praise -- especially for their finely coördinated diction.
There were odd acoustical problems.  I've never had difficulty before in hearing the lyrics at Union Avenue Opera, but with Carousel I found myself relying more on the super-titles than ever -- especially for the many scenes of spoken dialogue. Only the several more vocally powerful principals consistently came through very clearly.
Carousel was adapted from Ferenç Molnar's play Liliom, which opened in 1909. Liliom was a failure initially; the Budapest audiences were puzzled by its anti-hero and it's supernatural elements. However, a revival of Liliom after the Great War was a resounding success. It seems that the traumatic loss of so many young lives caused a great surge of interest in spiritualism and contact with the afterlife all across Europe.
A little about daring: Liliom is viewed as the greatest play by Hungary's greatest playwright. Molnar never surpassed it. He was so afraid of failure that he never again dared to risk such a break with convention. But his plays made him very rich. They were translated and adapted scores of times. P.G. Wodehouse and Tom Stoppard successfully adapted Molnar plays. Many movies were made from them. Both Puccini and Kurt Weill wanted to do musical versions of Liliom, but Molnar refused permission. It was only after seeing Oklahoma! that he permitted Rodgers and Hammerstein to make it into a musical. They were fairly faithful to the play, though they gave it a happier ending. 
After their ground-breaking Oklahoma! Rodgers and Hammerstein also lost their daring and went a little cautious, sticking to safe, commercially tested conventions. Many of their later works bear the burden of a song or two laden with an almost corporate banality; consider "Climb Every Mountain," "Doe, a Deer" (or almost anything in The Sound of Music), the sententious "You've Got to Be Taught," and, in Carousel, "You'll Never Walk Alone." (I know! It is the class song of four thousand graduating high-school classes, but still...)
Ah, if only Puccini had set his hand to it! (Or Weill!! Now, there's a man who's not afraid of the dark!)
Nevertheless, Union Avenue Opera is a daring company. For Scott Schoonover to start such a venture at all was a feat of daring-do. Now they continue being daring by offering their opera audiences a work that is (let's face it) a far cry from opera. But such voices! And it's a really lovely production.
Carousel continues through August 5.
Related Articles